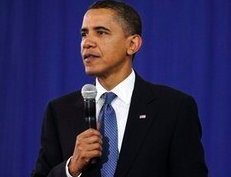 Mr. President, Respectfully Decline:
Let Capt. Kirk and Spock have it!
I must confess when I heard that President Barack Obama won the Nobel Peace Prize for 2009, I was in total disbelief! So I decided to take a week to let things settle down and the multitude of opinions by political pundits to ebb and flow, being revised over time and reflection.
I held out hope that President Obama would do the honorable thing and respectfully decline the Nobel Peace Prize. He could have delivered an eloquent speech about finishing his visions before accepting such a prestigious honor. However, our dear, President Obama smiled broadly and accepted the honor without hesitation. I am still trying to understand why such an intelligent and astute politician could allow himself to be lassoed into what many consider a political abyss. Whatever President Obama attempts to accomplish in the domestic or foreign policy arena, will be viewed in the context of him pandering to justifying his Nobel Peace Prize sitting on his mantle. Over the last month, the Congress and the American people have certainly raised the tenor about their disapproval of his actions, in a nonpartisan way.
In a Rose Garden press conference, describing himself as surprised and deeply humbled, Obama said he would accept the award as a "call to action" to confront the global challenges of the 21st century. A "call to action" for the benefit of whom?
Let's be clear, we the people want from our President the following:
Put America's interests and those of the people and our constitution first.
Our President is not the caretaker of the world at our expense.
We guard our President's time and attention like a 5 year old, he is ours and Barack's no different.
Recently, Mr. Obama has gone around the world apologizing for U.S. involvement in world affairs, we forgave him after a few days. He and his administration act like a group of Junior Varsity crybabies. I am really glad we have a tough-minded, professional, pragmatic and intellectually competent, former first lady, and U.S. Senator, Hillary Rodham Clinton as the Sec. of State. I feel confident that Sec. Clinton will deliver the proper message to our friends, allies, and enemies around the world. She is one of two cabinet members with the strength and intelligence to make tough decisions that are not popular with the rest of the world, the cabinet, the country, or the president.
Lynn Sweet of the Chicago Suntimes, (an Obama cheerleader) noted that, "When Obama was a freshman U.S. senator, he joked at the end of his 2006 keynote to a Gridiron Club dinner, "When I actually do something, we'll let you know." Well, we are still waiting for the substance to begin and the campaigning to end.
To the current Members of the Nobel Selection committee I would like to make the following recommends for consideration for the Peace and Science awards for 2010:
Admiral James T. Kirk and Ambassador Spock of the U.S.S. Enterprise for the Nobel Peace Prize for their exploration of the universe in the pursuit of peace for the Federation and all new contacts. In addition, consideration for the Nobel Science Prize should be extended to the aforementioned and their crew for scientific contributions in the area of beaming human forms and travel in warp speed.
In the Wall Street Journal, White House Chief of Staff Rahm Emanuel said Mr. Obama had nothing to fear from raised expectations or possible attacks from critics that the prize outstrips his accomplishments, "because this is associated with the content of his work." WSJ Oct. 12 '09
The choice of President Obama as Nobel Peace Prize winner should be truly an embarrassment to the American people. This is not about party affiliation, it is about deeds performed for the good of mankind and peace. For those of you that cannot remember past winners let's review a few and their respective accomplishments:
2008: Martti Ahtisaari, Finland, for his important efforts to resolve international conflicts
2007: Albert Gore, for the disproved global warming Powerpoint presentation
2006: Muhammad Yumus, Bangladesh, founder of Grameen Bank, "for efforts to create economic and social development from below"
2002: Jimmy Carter, "for decades of untiring effort to find peaceful solutions"
1998: John Hume and David Tremble, "for their efforts to bring peace to N. Ireland"
1994: Yassar Arafat, Shimon Peres, Yitzhak Rabin, "for their efforts to create peace in the Middle East"
1993: Nelson Mandela and Willem de Klerk, "for their work in ending apartheid in S. Africa"
1990: Mikhail Gorbachev, "for his leading role in the peace process ... of the international community"
1986: Elie Wiesel, United States, chairman of the President's Commission on the Holocaust
1984: Desmond Tutu, "work in ending apartheid in S. Africa"
1983: Lech Walesa, "Poland, founder of Solidarity trade union, which led to the fall of the Communist government in his nation"
1978: Anwar al-Sadat and Menachem Begin, "Egypt and Israel peace agreement"
1964: Martin Luther King Jr., "United States, leader of Southern Christian Leadership Conference"
1951: Ralph Bunche, United States, acting mediator in Palestine
The Nobel Prize dates back to 1901 and is generally awarded to people whose accomplishments spanned many years. To my understanding, this is the first time the recipient has yet to do anything except smile and promise hope and change.
Mr. President, please let us know "when you do something"!
Calling all HuffPost superfans!
Sign up for membership to become a founding member and help shape HuffPost's next chapter