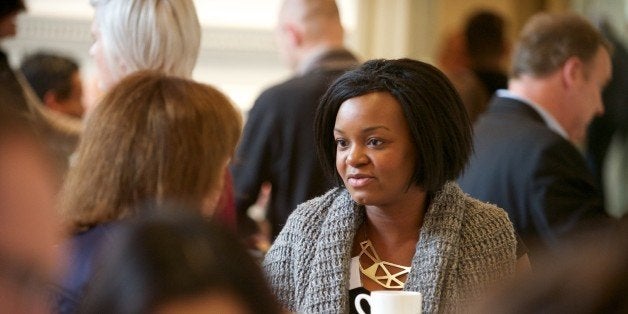 During his recent State of the Union address, President Obama asked, "Will we accept an economy where only a few of us do spectacularly well? Or will we commit ourselves to an economy that generates rising incomes and chances for everyone who makes the effort?"
The President's questions reflect a growing global chorus confronting economic inequality. The nation faces a choice as to the kind of economy it will accept. Will we have an economy of incumbent, limited competitiveness or travel the harder, just road seeking Inclusive Competitiveness?
Inclusive Competitiveness
For most of the last century, women, Blacks and Latinos were not able to contribute their full potential to the national economy. In those days, America could economically lead the globe with proverbially one hand tied behind its back. In other words, without optimal productivity from more than half our population. This is no longer the case. The rest of the world has closed economic gaps in many important areas. Our nation cannot continue maintaining the walls that separate too many Americans from opportunities to successfully compete and prosper. Without an economy opened to more contributions from more Americans, especially underrepresented populations, we accept spectacular success for a few, at the expense of a resilient, globally competitive national economy.
If policymakers strive to fully tap and unleash the talents of Blacks, Latinos, and women, we stand to build enduring competitive advantage and sustain resilience in our economy. We describe this shift as one toward Inclusive Competitiveness -- an interdisciplinary framework to improve the productivity and performance of underrepresented Americans within the 21st century's Innovation Economy.
Ohio is blazing the initial Inclusive Competitiveness trail. Demonstrating groundbreaking leadership to empower underrepresented Ohioans to compete in the Innovation Economy, the Ohio Board of Regents formed the Subcommittee on Inclusive Competitiveness. This effort is the first time stewards of a statewide university system have unanimously promoted economic inclusion and competitiveness policies, strategies and practices. Also, adopting Inclusive Competitiveness concepts, the Ohio Academy of Science and Entrepreneurial Engagement Ohio launched the Ohio Urban STEM Mentor Network to increase the number of mentors for underrepresented students participating in the Believe in Ohio Youth STEM Entrepreneurship Program.
Ohio is answering the latter of the President's queries in the affirmative, demonstrating an early commitment to creating an inclusive and competitive economy.

Global Competitiveness and Innovation Ecosystems
Our current economy, the Innovation Economy, is marked by radical socioeconomic changes caused by the simultaneous convergence of globalized forces (e.g. commerce, democratized information, entrepreneurship growth, accelerated discovery and interconnectedness of everything). Together, government, philanthropy, business and private sector investors have responded to these changes with massive financial outlays and other forms of support.
Over the past half-century, America has invested heavily in developing the world's most robust national network of regional innovation ecosystems that support innovation, entrepreneurship and job creation. However, policymakers have done little to connect such forward-looking investments to underrepresented populations and communities, which undermines prospects to grow and equip a deep and diverse enough pool of Americans to power national prosperity for generations to come.
Inequality is the rule in the current economy. The median net worth of white households is about 13 times that of Black households and more than 10 times that of Latinos. In terms of business productivity, Blacks and Latinos comprise nearly one-third of the U.S. population (and growing), and have entrepreneurship rates three times and twice the national average, yet their businesses account for less than 3.5 percent of GDP and employ just over 1 percent of the workforce. Women are more than half the population. Yet women have only 36 cents for every dollar of wealth owned by men and their businesses generate just over 10 percent of GDP and employ only about 6 percent of the workforce.
This promising, yet staggeringly low, productivity is the result of these Americans being disconnected from the nation's best economic opportunities. Though not advocating standardized quotas for economic contribution, by illuminating and connecting underrepresented Americans to the Innovation Economy, and increasing Blacks' and Latino's share of GDP from 3.5 percent to 5.5 percent, and raising women's share from 10 percent to 15 percent, more than one trillion dollars and countless new jobs would be added to the U.S. economy!
It's time for us to catalyze an Inclusive Competitiveness Movement. Our goal should be to trigger new market behaviors across the nation from a host of entities -- education, community and innovation economic development organizations, government, business and philanthropy - designed to build an economy for all.
Inclusive Competitiveness is certainly a matter of national equity. What's more, it is also a national economic imperative.
This article is the first in a series of three articles Johnathan M. Holifield and Henry A.J. Ramos will contribute to The Huffington Post over the next few months of 2015. Holifield is Architect of Inclusive Competitiveness and Co-Founder of ScaleUp Partners LLC. Ramos is the CEO of the Insight Center for Community Economic Development. Their articles focus on Inclusive Competitiveness - an interdisciplinary framework of policies, strategies and practices that can be employed to improve the productivity of underrepresented Americans in the Innovation Economy - and will feature new solutions and promising practices that are emerging to address these challenges and opportunities.
Calling all HuffPost superfans!
Sign up for membership to become a founding member and help shape HuffPost's next chapter