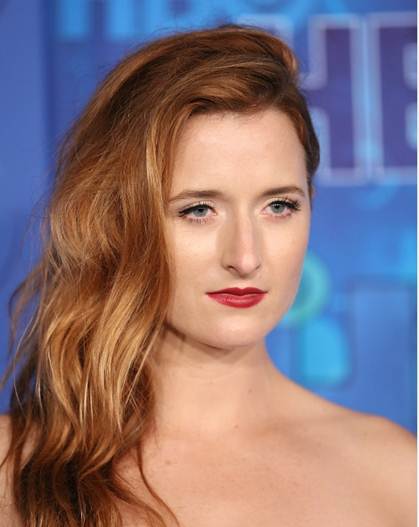 Grace Gummer, who plays FBI agent Dom DiPierro on the critically acclaimed and Golden Globe-winning MR. ROBOT is a star to watch. The brooding character Gummer inhabits fits the "apocalyptic angst and anxiety" of the series to perfection. MR. ROBOT follows Elliot Alderson (Emmy Award winner Rami Malek), a cyber-security engineer who, along with Mr. Robot (Golden Globe winner Christian Slater) and fsociety, starts a revolution to change the world. The Season 3 Premiere of MR. ROBOT airs on the USA network on Wednesday, October 11 at 10/9c.
Gummer, daughter of Meryl Streep, has got an "it" factor that's all her own and of her own generation. I had a chance to talk with Gummer about MR. ROBOT, acting, and social issues.
What can we expect from MR. ROBOT this season?
You can expect the same feeling we got in season 1. It's dark, full of a lot of action and gets deeper into the split between Elliot and Mr. Robot. In terms of, Dom, my character we see her going deeper into the case and trying to figure out whose side she's on.
What do you like most about playing Dom?
What you see isn't necessarily what you get with her. I like that she's coming up against all these men that keep telling her no and she hurdles over the roadblocks. She's pretty bad ass.
The show is such a good fit for this moment in time. What statement do you feel MR. ROBOT makes?
It's an alarm bell going off. It's dealing with everything that's paralyzing society right now. Rising wealth disparity, a rigged Wall Street, and the idea of control and who has control over us, and who we are to ourselves versus who we are online.
The show brings up a lot of social issues. Are you interested in making your own voice heard on social and political issues?
I'm definitely more interested in it now than I ever have been because of the election and because of what's going on, and the dire need to pay attention to everything… and to be very much awake to everything. I'm realizing that I have a voice and a platform for change as a public person.
You were also in FX's American Horror Story. How does doing some of the darker stuff affect you?
It takes me a few days to calm down...
How do you come down from it?
I try to write down the way I'm feeling so I can remember that feeling. I'm not a dark person, so it can feel cathartic to go to a dark place or places I didn't know were there. It's like a relief in a way.
What do you like about acting?
I like everything about it… I love bringing people joy and I like the craft of it. It makes me feel alive and makes me feel like I can bring something to the world.