I have to say - I haven't given a whole lot of thought to Mr. Rogers lately. By lately, I mean since I was four years old.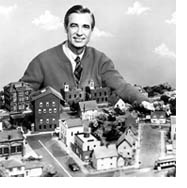 So when I recently had an opportunity to take a trip in the way back machine, I found more lurking than I could have imagined.
I remember the sweater. And the sneakers. And the warm, accepting, supportive tone of his interaction with children.
"Won't You Be... My Neighbor?"
Frankly, he was one of the very few adults who seemed to speak to me as a peer. I understand the irony of saying 'speak to me' as of course he was on television. But I was pretty sure he was talking to me. And I think his message of understanding, and acceptance, and of being who you are was very personal.
But, here's what I didn't know.
Unlike almost everyone on TV who's invented a persona, Mr. Rogers was the same person off screen. His life and his work touched children, politicians, celebrities and religious leaders. He did it in a way that was both humble and authentic.
I learned this watching a profoundly moving film - "Mr Rogers and Me" by Benjamin and Christofer Wagner. I've known both Ben and Chris for more than ten years, and always thought of them as a rare combination of storytelling and creative talent. The film took me on a journey along with Benjamin, as he met, and was befriended by Fred Rogers when his he and his mother rented a summer house on Nantucket, next to Mr. Roger's summer cottage.
It has to have been an awkward moment when Rogers told Ben - who was then a rising star at MTV, "I feel so strongly that deep and simple is far more essential than complex." After his death in 2003, Ben and Chris struck out to understand the Mr. Rogers message, and to follow the simple request that Rogers had made of Ben: "spread the word."
The journey is a surprising one - as I learned Mr. Rogers's impact reached far beyond children. From NBC's Political Anchor of Meet the Press anchor Tim Russert, to NPR's Susan Stanberg, Nickelodeon's Linda Ellerbee, Children's Author Marc Brown. In each case, their connections with Fred Rogers are deeply personal and profound. But Ben and Chris don't just interview famous folks - and in fact Tim Madigan's connection with Mr. Rogers is perhaps the most moving of the film. Madigan, deeply depressed and in need of a human connection, asks Mr. Rogers to be proud of him. The letter Rogers sent back may have saved Tim's life.
The film is both inspirational and troubling. Ben pulls no punches as he examines the media in children's lives today - both in terms of how advertising targets the young, and how there's really no voice like Fred Rogers in today's children's lives.
The film reveals the roots of Rogers values, and reveals the personal hunger that drew Benjamin to Rogers - and his need find a "Deep and Simple" understanding of his life and the world around him.
"Mr. Rogers and Me" is a gem of a film. Nostalgic and relevant. A revealing personal journey that asks important questions about our human connections. And important questions about how media connect with our children today.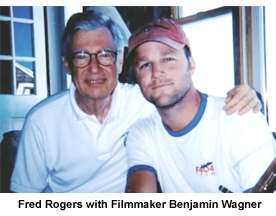 Is it possible to find a Deep and Simple existence in a world of where kids are always connected and subject to a firehose of marketing messages? There's no doubt that Mr. Rogers message was right for the time. But today, as media comes at our children from phones, screens, and almost every surface in their world - is it possible to find a way to reach them with a powerful, simple, supportive message that reads as authentic and honest?
"You Are Special" Mr. Rogers told me through the TV set. And a generation of children took his kind, supportive message to hear.
Who's telling children that today?
Calling all HuffPost superfans!
Sign up for membership to become a founding member and help shape HuffPost's next chapter