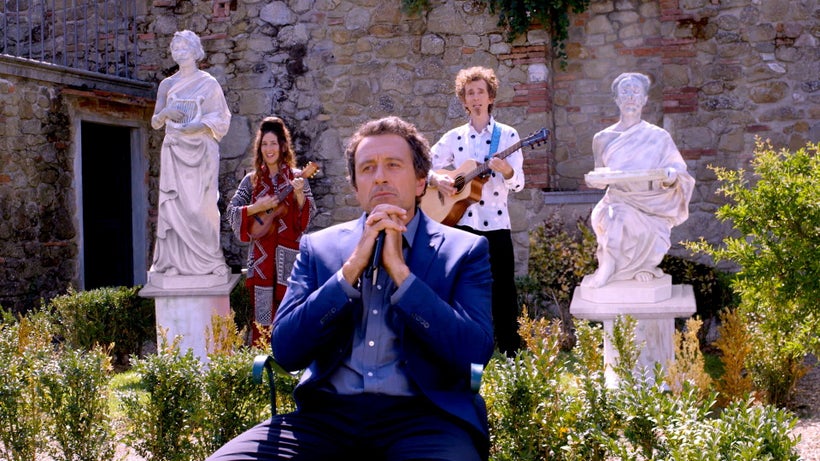 Mr. Rudolpho's Jubilee is a genre-defying mash-up of romance, comedy, musical, and crime-drama. Emmy winner Christiane Paul and Francesco Mazzini lead a strong ensemble cast. I saw this delightfully complex film in Los Angeles, where the director/producer team, Michael Glover and Robyn Rosenkrantz (musically known as Bright Blue Gorilla), played a concert before the screening. The pre-film concert wasn't just an add-on, it fit neatly into the film's structure: Bright Blue Gorilla appears in the movie as a Greek Chorus, singing the story to the audience, providing clarifying commentary and adding comic counter-points to dramatic moments. I caught up with Michael (writer/director) and Robyn (producer), who were just back from a 3 month cinema tour of Europe.
Michaela Haas: Can you give our readers an idea of what Mr. Rudolpho's Jubilee is about?
Michael Glover: Rudolpho is an Italian fashion designer, rich and famous and miserable. He decides to kill himself in Berlin during fashion week, but he botches the suicide. He's thrown together with some off-the-grid artists. Real hippies: No TV, no iPhones, no internet. They just live and love and make art. They think Rudolpho is destitute and take him in. It's a king-in-rags story. Cops, killers, Interpol, reporters, all are searching for Rudolpho while he's hanging out with these Bohemians. It's a romantic comedy, so there's plenty of love-energy in the Boheem house.
I loved the Greek Chorus. Where did this idea come from?
Robyn Rosenkrantz: We've been touring as Bright Blue Gorilla since 1990 - we were musicians before we were filmmakers. This is our 6th feature, and though we have cameos in the others, Michael wrote us in this time as the Greek Chorus. It adds a surreal element.
What's the backstory behind Bright Blue Gorilla? How did you meet?
Michael Glover: We met at the Coconut Teaser, a club in Hollywood, in 1989. They had an acoustic room downstairs. I walked in and Robyn was onstage. The audience loved her. She was fearless and that impressed me.
Robyn Rosenkrantz: After my set, Michael was setting up and I was talking to people. I had to go, but I saw his first song. We didn't meet but I asked my manager to give him my card. We got together and wrote a love song - and we fell in love.
Michael Glover: Then we quit our jobs, sold everything we had, and bought one-way tickets to Amsterdam!
Robyn Rosenkrantz: I had this dream to travel and play music, just live with a backpack and guitar. I told Michael and he said, "Lets go!"
Now you`ve been traveling for more than 25 years! I found it interesting that Rudolpho is in three languages.
Robyn Rosenkrantz: Funny, but Michael and I don't speak other languages! But Michael has a good method for directing in different languages.
Michael Glover: I write the scripts in English and writer friends translate for us. When I'm directing a performance I'm looking at body language, actor's energy, the status they're playing - all non-verbal communications. On set I have a native Script Supervisor who tells me if one of the actors skipped over a word or changed anything.
What was the motivation behind the genre-blending and complexity of the film?
Michael Glover: I like complex stories. I also like it when directors take risks and trust the audience to understand subtlety and complexity. One of my favorite directors, Ernst Lubitsch, said, "The director's job is to suggest two plus two. Let the viewer say four." Don't explain everything. Let them figure it out.
Robyn Rosenkrantz: We've been performers for most of our lives, so we respect the audience. If you tell a story properly the audience will get it.
Tell me a little about the production.
Michael Glover: We made Rudolpho with almost 300 artists from 36 countries. A beautifully harmonious group. In 27 years of touring we've met some truly great artists.
Robyn Rosenkrantz: We shot in Berlin, Florence and Milan. It was truly inspiring!
You've been married for 25 years. How do you manage to live, work, and travel together?
Michael Glover: We have a few rules: No name calling, for one. When we have a disagreement we try to stick to the facts, stick to solving the problem.
Robyn Rosenkrantz: We also meditate together every day and that helps a lot. And we really are best friends, that's the basis of it all!
You just got back from a tour with Mr. Rudolpho's Jubilee. What's next?
Michael Glover: More touring with Rudolpho!
Robyn Rosenkrantz: We're performing in the USA this summer. We head back to Europe in fall. We're going to Australia/New Zealand in early 2018. Our first time there! Also, Michael is working on several new scripts, so we'll have to build up our Gorilla film fund! Art lovers from around the world help us make these labors of love!
How did Christiane Paul, the German movie star, get involved?
Michael Glover: We met her at the Beijing Film Festival when they picked Go with Le Flo for the "German Retrospective". (It's in German and French.)
Robyn Rosenkrantz: We spent a few days with her and got to know each other. Later, we sent the Rudolpho script to her. She loved it and said yes. She's great to work with. She laughs easily - and on our sets, even though we work hard, we laugh a lot!
Michael Glover: If you don't laugh, you'll cry!
Mr. Rudolpho's Jubilee, written & directed by Michael Glover, produced by Robyn Rosenkrantz. Music by Bright Blue Gorilla. A Bright Blue Gorilla/Under The Milky Way Production. In select theaters now. Coming soon to iTunes and other VoD platforms.
REAL LIFE. REAL NEWS. REAL VOICES.
Help us tell more of the stories that matter from voices that too often remain unheard.
This post was published on the now-closed HuffPost Contributor platform. Contributors control their own work and posted freely to our site. If you need to flag this entry as abusive,
send us an email
.