Following a time-honored tradition of democracy, two ordinary citizens head to Washington, D.C. today with a message for the President and Congress. Their message is simple: "Please keep our drinking water safe."
The two citizens, the actor Mark Ruffalo, nominated for an Oscar for his performance in The Kids Are All Right, and the documentary film-maker, Josh Fox, nominated for an Oscar for his film, Gasland, are holding a press conference, meeting with Congressional representatives, and screening the film, in an effort to safeguard the people's right to the life essential, safe drinking water. As detailed in Gasland, hundreds of news stories, state and federal government reports, and expert scientific analysis, this right can no longer be taken for granted, thanks to widespread water contamination by hundreds of proprietary chemicals used in hydraulic fracturing, (or fracking), a novel form of an old gas drilling practice. Fox and Ruffalo are calling for an immediate federal moratorium on drilling, permitting, and fracking until appropriate safety measures are in place.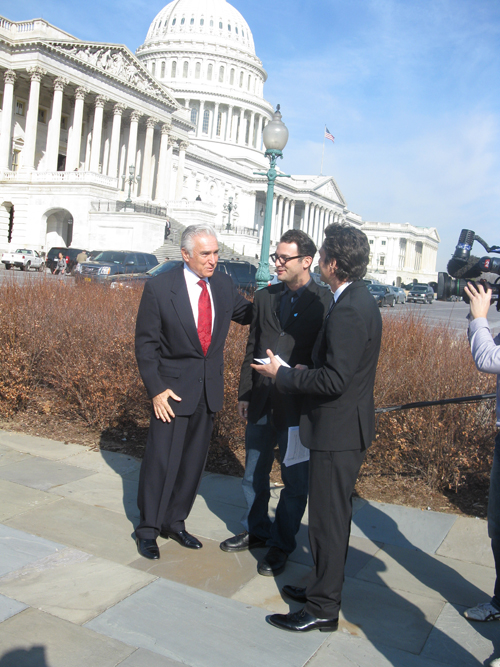 Fox points out that, "Fracking has never been proven to be safe. Thousands of contamination cases, and testimonials across the country, point to a massive failure to protect water, air and human health."
In an open letter to Congress and the president, Fox alerts these leaders to
"the numerous dangers, hazards and injustices created by hydraulic fracturing for natural gas and urge(s) them to take immediate action to address" the "severe environmental, public health, and human and civil rights abuses that the deregulated Natural Gas Industry has wrought on the citizens of the United States as a result of the massive gas drilling campaign that has been ravaging the country over the past decade."
It all began with the Halliburton Loophole, inserted into the 2005 Energy bill by former vice-president Dick Cheney. That exempted the novel practice of horizontal hydraulic fracturing, which first introduced the use of over five hundred proprietary toxic chemicals from compliance with the Safe Drinking Water Act, the Clean Water Act, the Clean Air Act, and the Superfund Act.
Fox calls for an immediate end to these exemptions.
Five years ago, no one could have foreseen that the Gas Rush, with its ever-growing track record of hazards, spills, leaks, explosions, water and air contamination, and health dangers, would have strained the monitoring capacities of state governments, and over-ridden the rights of ordinary citizens to the extent now seen.
Calling for bi-partisan support, Fox calls for an end to federal subsidies, reporting that "fossil fuel industries receive three times the level of federal subsidies as compared to renewable energy sources," creating an "unfair advantage in the marketplace for fossil fuel drilling technologies," like fracking.
Based on the "dire crisis occurring across America," Fox recommends:
1. Expanding the planned EPA study to extend beyond 2011, to address issues of hazardous and cumulative emissions from gas drilling, and to be conducted by scientists without conflict of interest.

2. Conducting a five-year parallel health impact assessment in all of the most areas by an independent third party working alongside the EPA, either from an unbiased charitable foundation or an esteemed University.

3. Requiring EPA, and state and local departments of environmental protection/planning to oversee and issue permits for fracking

4. Managing immediate health and ecological crises in drilling areas to include:
The use of vapor recovery units to control emissions at existing well-sites, separators, refineries, compressor stations and condensate tanks
The provision of replacement water via municipal pipelines in areas where aquifers have been contaminated
The restoration of areas that have been industrialized with compressor stations, refineries and other gas drilling and refining machinery to a state appropriate for residential use.
The compensation for loss of property and physical injury to communities experiencing irreparable damage.
Fox further asks that the burden of proof for safety be shifted to the gas companies, requiring them and their associated industries to:
Publicly disclose chemical ingredients in all products used to drill and frack on well-by-well basis.
Tag each chemical product with a non-radioactive isotope to help track its possible migration into drinking water supplies.
Cover costs for independent baseline water testing for all chemicals used in drilling, prior to drilling.
"if a chemical listed by the product manufacturers is found in a citizens private well or in a municipal water source, and is not found to be naturally occurring in the geology before drilling, both the product manufacturer and the drilling and extraction companies should have the burden to prove that contamination was not caused by the drilling company."
In addition, due to widespread reports of "illegal dumping and improper disposal/treatment" of vast amounts of toxic drilling waste, generated by fracking, Fox recommends that "Every drop of drilling waste, drilling fluids, produced water or drill cuttings should be identified by its contents, tracked and reported in trucks that carry hazardous waste placards and must have a detailed and outlined waste management program for disposal and/or treatment." To read the complete letter with all of Fox's recommendations, please go here.

Fox hopes that on their visit to Washington, they will persuade the President and legislators to "swiftly act in the public's interest to address this crisis."

Sign up for health and environmental news, and radio programs here.


Popular in the Community