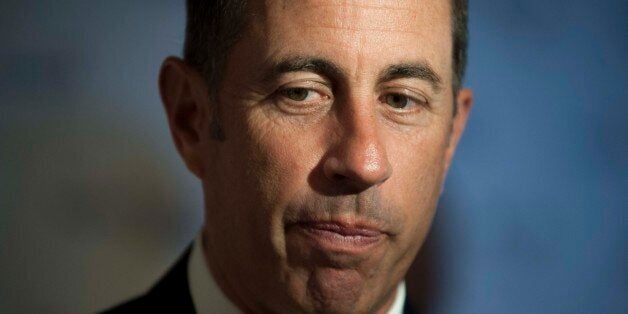 I caught the Seinfeld bug early and hard, while working and studying in the US. I even caught your act in Ohio, while a professor at Ohio State University. I was ecstatic to read of your Indian trip.
Your managers must have updated you about the ongoing brouhaha over India's first Insult Comedy Roast. A group of young comedians called All India Bakchodhs (AIB) collaborated with three young Bollywood stars to create an event that will go down as a seminal moment in Indian entertainment. It will also, if the history books are written with care and accuracy, go down as a transformative moment in Indian history.
Indians in general aren't good at laughing at themselves. Internally, each community feels at ease laughing at another community, religion, but dare the humor be directed at their community or religion and then comedy becomes persona-non-grata. Comedy becomes an act of criminal conspiracy. When AIB roasted Bollywood superstars Ranveer Singh, Arjun Kapoor and Karan Johar (doubling as the Emcee), it was refreshing to see some in Bollywood finally laughing at themselves. It was satire at its best, most cutting-edge. Held at NSCI's Sports Stadium (where you will perform) more than 4,000 consenting adults were entertained.
Suddenly, people started getting "offended" by the Roast; calling it porn, disgusting, crude, blasphemy with alarming regularity.
You, along with luminaries in your arena -- Joan Rivers, Whoopi Goldberg, Robin Williams, to name just a few -- have been roaster and roastee alike. Annually, the US President hosts a Roast with the Press Corp. Proceedings in the U.K. Parliament often resemble a Roast. Roasts are by nature raw and brash. Like many, I feel uncomfortable watching people being insulted. But so what? Nobody is forcing us to participate.
Criminal charges -- including criminal conspiracy -- have been filed against the participants of the Roast. But wait, we didn't stop there! As Indians trying to protect the moral fabric of our nation, criminal charges have also been filed against two Bollywood actors in the audience -- Deepika Padukone and Alia Bhatt -- who laughed at jokes aimed at them. This may be a first in world history, where audience members have been charged with criminal and other offenses.
So partly, I urge you not to come, for your own good. Who knows what moral brigade may take offense at something you say and press criminal charges against you? Who knows what small word/gesture you deliberately/otherwise use shall cause harm/offense to someone who has the right to pursue this in our courts of law? Who knows what audience member(s) may be charged with criminally conspiring with you, just because they laughed at what you said and did?
Have your hosts given you the recently banned words? Do you know your script has to be pre-approved/censored by our Home Ministry and Ministry of Information and Broadcasting? In not doing so you will be breaking a plethora of laws. They decide what is appropriate or umbrage-inducing. If you ad-lib/go off-script you will be impugning more laws. Your performance venue is a sports arena. Hosting of any other kinds of event there is a legal violation. You will be entering India already having broken laws.
I know that this is not likely to happen, but these days, where moral brigades are rewriting history books with mythology, reframing science with religious miracles, and reshaping the secular fabric of our nation with Hindu dominance, anything is possible.
This is where I hope my second exhortation to you to not come will move you to agree. You have global power and celebrity. If you stand in solidarity with AIB and those of us remaining few who believe in absolute free speech, you have the ability to help change the course of things. If what is being done to our comics, our artists, moves you enough to take a stand and boycott our country till the laws and situation improves, people will notice. In fact, the public will increasingly understand that they can no longer sit quiet as the fanatic fringe take over.
I plead with you to decline this invitation even though it will hurt your pocket mightily. But if I didn't at least try to convince you, I would be aiding and abetting the other side.
Artistic embargos can be quite powerful. If you refuse to come, people will notice. Audiences will be outraged. This will make us all a bit more alert, a bit more ready to make change. I am hoping that all artists and comedians being invited here will say NO in the near future so that we can build a critical movement to stand up and demand a country where free speech, no matter how offensive to some, is allowed to exist.
I have no power, celebrity. Nor am I a particularly elegant wordsmith to convince you to not come; just a regular citizen profoundly adamant about everyone's absolute right to free speech. Without that right, none of our other rights even begin to make sense.
If you still decide to come, I fully support you and hope and pray you leave without incident. I guarantee our audiences love you and will give you the experience of a lifetime.
But I am hoping against all hopes that you will stand up in your inimitable way, with that sparkling glint in your eyes, and say to India: "Thanks for your invite, but for now I cannot come because in the spirit of je suis Charlie, I say to India, 'Mai hoon AIB! Main hoon Ranveer Singh. Main hoon Deepika Padukone. Main hoon Karan Johar'."
With much love and peace,
Calling all HuffPost superfans!
Sign up for membership to become a founding member and help shape HuffPost's next chapter