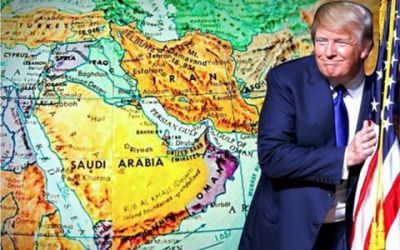 Aside from some hard feelings on both the left and right, the sun has finally set on our divisive presidential election and a new day is about to begin when security analysts and global strategists try to construct a blueprint of what American foreign policy under President-elect Trump might look like. Will a stream of forceful if sometimes confusing tweets be enough to do the job? Hardly!
We all need to think more seriously as to where our country is headed. Presumably, President Trump will quickly discover this on the job.
Come Jan. 20, Trump will raise his right hand and swear to faithfully execute the office of president of the United States and will to the best of his ability preserve, protect and defend the Constitution of the United States. While I leave much of this to constitutional experts to deal with in case Mr. Trump bends the law, shreds the Constitution or deploys any tactics that undermine our long-standing traditions, the focus of many will be our relations with the rest of the world.
Three key areas involving foreign policy will require Mr. Trump's immediate attention, each of which I'll deal with in a series of columns before and after his inauguration. This way, I can present my argument to readers in a simple, concise and digestible format. While there are three main topics (Middle East, China and Russia) I believe Mr. Trump will have to address immediately, this week I address the Middle East; next week will be about China; and we'll conclude this series with Russia.
Given furor recently over Israel, Syria and Turkey, the Middle East must take the lead. It's not as though the entire region is lacking in conflicts. It now must add another in the person of Trump himself, clearly a foreign policy novice, no matter how well-intentioned he might be.
While pundits inside the Washington Beltway fear that Mr. Trump will pursue an isolationist foreign policy, current events on the ground -- Syrian civil war, Yemen's upheavals and Iraq's ongoing sectarian violence, just for starters -- may end up shaping his policies toward the region. But don't assume for a second that Mr. Trump's approach is a furtherance of President Obama's seeming semi-detachment of the United States from Middle East problems.
On the Syrian front, for instance, I predict Mr. Trump will coordinate with the Syrian regime (an effort facilitated by Russia) to deal with Islamic State terrorism. The United States will adopt a stance far removed from that of the Obama administration. Mr. Trump's objective is to restore calm through restoration of the Assad regime as the latter now calls Trump a natural ally for fighting terrorists.
Call it another instance of strange bedfellows. After all, some argue that confronting Hitler in World War II made strange allies of Josef Stalin and the Allies.
As to the Iran deal, Mr. Trump needs to understand that ditching the admittedly controversial deal the West reached with Iran would free Iran from any restrictions vis-à-vis uranium enrichment. One thing is sure: If Trump moves forward with his campaign rhetoric, Russia and China will not support any re-implementation of sanctions. That in itself may start to show cracks in the Trump administration approach to global affairs, including his supposed friendship with Russian President Vladimir Putin.
After all, the two could easily end up on different sides in one of the most politically provocative foreign policy issues of the 2016 presidential campaign. Such are the dilemmas that arise in actual foreign policy.
Conversely, Mr. Trump could wait and see the outcome of Iran's upcoming presidential election. Will Iranian President Hassan Rouhani be re-elected? Or will a hardliner ascend to power? I do not see how Russia and China will relinquish their newly found access to the Middle East through Iran. Complicating the picture further: Western companies lining up to enter the Iranian markets will be furious and might hinder Trump administration efforts if and when it becomes clear that entry into Iran is suddenly being sabotaged by the American president.
As to Iraq and Yemen's ongoing turmoil, it's very hard to ascertain where Mr. Trump stands given his limited understanding of cores issues there. I am hopeful members of his cabinet will advise him well, so long as they do not pursue a militarized U.S. foreign policy, given how some retired military brass have been nominated to cabinet positions. Note: To defeat Islamic State terrorism, Mr. Trump must understand that without the cooperation of Iran and Russia, his efforts are doomed.
Another wild card: How Trump's fierce support of Israel and settlements in the Palestinian West Bank complicate prospects for peace in the Middle East. Complication rests not only with Trump's policy toward these settlements but also on the outcome of the investigation of Prime Minister Benjamin Netanyahu and if he's charged with corruption. There's also the possibility of emergence of another intifada or uprising by Palestinians.
General sentiment in the region about the United States is negative, regardless of who occupies the White House. There are, however, those in the Middle East who see a silver lining in that at least Mr. Trump has spoken openly about his animosity toward Muslims, thus bolstering campaigns to portray the West as the enemy. Whether this will hinder Mr. Trump's foreign policy toward the Middle East remains to be seen, but expect plenty of tumult in coming years.
Calling all HuffPost superfans!
Sign up for membership to become a founding member and help shape HuffPost's next chapter