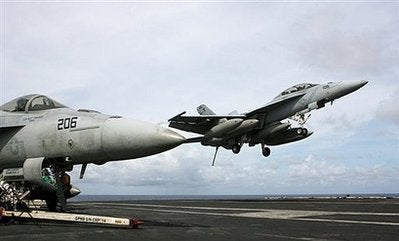 A little over two years ago, because of an article I wrote about the Christian nationalist history revisionism that was showing up in the Junior ROTC American history curriculum, I was pulled away from my work fighting the history revisionists by an organization I had never heard of -- the Military Religious Freedom Foundation (MRFF). It was just before Memorial Day 2007, and my first assignment from MRFF was to investigate the issue of military participation in evangelical Christian rallies disguised as patriotic events. Concerns had been raised about one event in particular -- an annual event held at Stone Mountain in Georgia. Scheduled to be a major part of this weekend long evangelical rally were a plethora of military exhibits, speakers, color guards, and bands, with the highlight being the hourly military flyovers, including a B-2 flyover during the Sunday worship service while U.S. Air Force Major Brian "Jethro" Neal, a B-2 pilot, was giving his personal Christian testimony.
Looking into this issue for MRFF (in what I wrongly thought was going to be a very temporary job), I found that the Stone Mountain event was far from an isolated incident. The military was regularly providing flyovers at countless evangelical Christian events all over the country, not only violating the regulations prohibiting military participation in religious events, but spending millions of dollars of taxpayer money in the process.
MRFF began exposing these events, which included flyovers on the five holidays when flyovers at civilian events are permitted, and even a few at National Day of Prayer events, and began to see some decline in their frequency, but we weren't sure if the number of flyovers at these events was really decreasing, or if the military and organizers of these events were just being more careful not to make the nature of the events so obvious.
Thank you for your request for Air Force aviation support during God and Country Festival on 01 Jul 2009 in Nampa, ID.

We have carefully reviewed this particular event. As you may recall from the request form's instructions, the Department of Defense (DoD) authorizes the Air Force to participate in flyovers for those recognition events held in direct support of the five patriotic holidays (Armed Forces Day, Memorial Day, Independence Day, POW-MIA Day and Veterans Day) and for aviation-related events, such as airshows and airport dedications. Sporting events that fall on one of the five patriotic holidays mentioned above are not considered to be events held in direct support of a holiday commemoration and will require a waiver.

Your Air Force aviation support request doesn't fall into either approved category, as such, we are unable to approve it. Air Force and DoD policy prohibit support for events which appear to endorse, selectively benefit, or favor any special interest group, religious or ideological movement.

With an increasingly high operations tempo and limited resources to meet our training and operational commitments, we are required to take a hard look at all of our requests and carefully follow our policies and guidelines. In denying your request, we are not questioning the worthiness of the event, but rather enforcing DoD and Air Force policy to preserve the operational and training requirements of our aviation units and to practice the prudent stewardship of taxpayer-financed resources.

We hope that you can appreciate and understand our position. We believe that your event will, nevertheless, be a success. Any further questions can be referred to me at 703-695-9664.

Tech. Sgt. Roy Utley

Aviation Support

703-695-9664 Phone

703-693-9601 Fax

www.airshows.pa.hq.af.mil
Upon seeing the above letter, MRFF founder and president Mikey Weinstein issued the following statement:
"The Military Religious Freedom Foundation offers its most profound support to and thanks for the U.S. Air Force's correct constitutional decision to deny the flyover request of its aircraft in support of the clear Christian sectarian mission and purpose of Nampa, Idaho's 'God and Country Rally.' It may have taken 42 years to get this right decision from the Air Force, but better late than never. The United States Constitution allows everyone's religious faith, or no particular faith at all, to gloriously prosper but no American's faith is allowed to dominate the others by engaging the awesome power, prestige and financial heft of the State. The requested flyover in question would have done just that, yet again! To those in the fundamentalist Christian cabal who vigorously oppose this long sought, terrific decision by the U.S. Air Force, may I suggest that they consider holding their event next year in Kim Jung Il's North Korea or the Kingdom of Saudia Arabia as neither of those countries have a separation of Church and State as we do in beautiful America."
The organizers of the event are, of course, blaming the Obama administration for putting an end to the use of the U.S. military to promote the clearly Christian agenda represented by their "God and Country Rally."
From the Christian Newswire article:
The group is concerned that this new policy may indicate an open hostility toward public expressions of faith by the Obama Administration.

Rev. Patrick J. Mahoney, Director of the Christian Defense Coalition, states,

"For years, flyovers have been allowed by the Pentagon at the 'God and Country Rally' in Nampa Idaho. These flyovers were not to endorse or promote any one religious faith tradition. Rather, they were held to honor and pay tribute to our heroic men and women who have served or are currently serving in our armed forces.

"For the Obama Administration to deny a flyover for the first time, is a slap in the face to all those who proudly serve our country especially when we are at war. These flyovers have been a special part of the 'God and Country Rally' for many years.

"Will the new policy of President Obama be that a person has to surrender their faith tradition to honor and pay tribute to our courageous men and women who serve in the military?

"With respect to the economic concerns that the Pentagon mentioned, I would answer this way. If we can pay hundreds thousands of dollars for President Obama to go on a date with his wife to see a Broadway show and have an expensive dinner in New York City, we can certainly find a way to honor our brave men and women who serve in the armed services with a simple flyover.

"The Christian Defense Coalition will diligently work to reverse this unjust policy and determine why this flyover was denied in the first place."

Brandi Swindell, national Christian activist and Director of Generation Life, based in Idaho, adds,

"For the Pentagon to deny this flyover for the first time in the history of our state is deeply troubling and disturbing.

"During a time of war and especially around the 4th of July we should be doing all within our power as a nation to honor and respect our military.

"It must be stressed that the flyover was not to honor Christianity but to honor our fallen heroes who have proudly given their lives to protect our country and advance the cause of liberty around the world.

"Does this mean in the future that all public rallies must be stripped of any expressions of faith to respect our military? This Administration should be protecting religious expression in the public square not crushing it.

"I hope that President Obama will reverse this unjust policy and next year we will be allowed to give the military the honor they deserve."
In reaction to the Christian Newswire article, one MRFF supporter emailed:
"This is why I will always continue to be a huge supporter of the MRFF and what you do. I am amazed that anyone would think that a rally called the 'God and Country' rally, organized by a Christian group would not be religious. I have to laugh that it's the 'Christian Defense Fund' that is saying this -- if it wasn't a Christian event, why is that group defending it, and not the ACLU!"
So, while those who seek to use the U.S. military to inseparably combine religion with patriotism might find the Pentagon's decision "deeply troubling and disturbing" and will certainly get a lot of mileage out of this decision to spread the notion that the Obama administration is bent on "crushing" religion, we at MRFF see it as a good sign that, under our new commander in chief, the Department of Defense might just finally be starting to obey its own regulations.
Calling all HuffPost superfans!
Sign up for membership to become a founding member and help shape HuffPost's next chapter