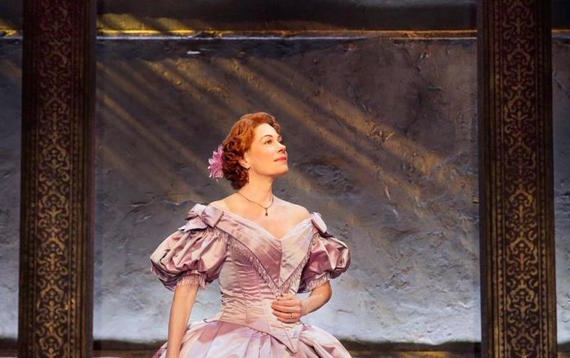 One year ago last March, I was working with her on a recording of Misia, my Vernon Duke musical (you can read about that HERE, if you like). Marin, of course, was our star, singing the title role of Misia Sert absolutely spectacularly. On the 17th of March, we concluded the initial sessions. Marin was slated to return and record a final few numbers at a later date.

And that was the last I saw of her, until a performance of The King and I recently that now proves to be similarly fleeting. On May 6, 2015, Marin was diagnosed with advanced ovarian cancer. The diagnosis was a shock. It also, initially, was a big secret. Understandably.
Over the ensuing months, supported by her extraordinary husband, actor Jason Danieley, Marin endured countless medical procedures, hospitalizations and two 12-week bouts of chemotherapy. Not only did she survive it all, Marin lived to see the cancer go into remission. She then picked herself up and returned to performing.
I stand in awe of her resiliency. One year almost exactly from her initial diagnosis, she stepped into the starring role of Anna Leonowens in the celebrated Lincoln Center Theater production of The King and I, replacing Tony winner Kelli O'Hara, as you may have heard.
Anna is an exceedingly demanding role. Onstage for virtually all of the show's three hours, Anna does not sit still for long. Playing her is a stamina challenge for even the healthiest actress, to say nothing of the substantial vocal demands. It also must be noted that The King and I 's original Anna, the great Gertrude Lawrence, died of undiagnosed liver and abdominal cancer after fainting backstage following a matinee performance in 1952.
I rushed to catch Marin in The King and I. I brought my daughter Sara with me. Sara is especially enamored of The King and I, which she first saw with Kelli O'Hara. She had been itching to go back and was already smitten with Marin Mazzie, after watching and listening to her from the control booth during our Misia sessions.
Sitting there with Sara, I imagined two camps of theatergoers surrounding us: those who were present to see The King and I, and those who were aware of Marin's heath history and were waiting with bated breath to see how Marin was, in The King and I.
Then the great red and gold curtain parted on Bart Sher's sumptuous production, the grand, life-sized sailing ship shifted into gear, and Marin Mazzie as Mrs. Anna sailed into view.
But how would she sing? How does a voice as fine as Marin Mazzie's survive chemotherapy and so many other physical depredations?
Far better than I ever would have expected. When Marin opened her mouth to deliver Mrs. Anna's opening song, "I Whistle A Happy Tune," what emerged was sheer velvet, a rich, perhaps moderately deepened, tone that filled the theater with depth and sheen. It really was breathtaking. It also was difficult to comprehend. How does one retain such vocal strength under such draining circumstances? Physical tribulation seems to have intensified the beauty of Marin's sound, ripening it, maturing it, in the sense of a peaking fine wine. It isn't easy to put into words. But it was impossible not to hear it.
Her performance was intense, more animated than Kelli O'Hara's, more emotionally direct, more furious in a way. I mean this not as a critical comparison but merely to report what I heard and saw. When Marin hollered at the King, her cries shook the theater.
Finally, inexorably, she danced. The waltzing exertions of "Shall We Dance" are, of course, one of American musical theater's most thrilling experiences. They also are the musical theater equivalent of an inside the park home run. Both runners are winded at the end. The breath has been knocked out of them.
Marin "Shall We Danced" with the best of them. The King (nicely played by Daniel Dae Kim) whirled her around the floor and if, at moments, I sensed Marin clinging to him a little more than intently, well, that might just have been me.
When it was over and the ovations had rolled away, Sara and I went backstage to share with Marin our unadulterated joy in her performance. With the weight of her wig and billowing hoop skirt removed, Marin looked thinner. And absolutely triumphant.
Just days ago, Lincoln Center Theater unexpectedly announced that they will be closing The King and I on June 26. The announcement was yet another surprise, another twist, in Marin Mazzie's extraordinary survival story. Another dimension of urgency has been added -- thankfully, with an absence of danger, but surely with another specter of finality. Go see Marin Mazzie as Mrs. Anna while you can. You will not get another chance. The great thing is that, whatever her next role, Marin Mazzie already has.
REAL LIFE. REAL NEWS. REAL VOICES.
Help us tell more of the stories that matter from voices that too often remain unheard.