Oh hello! "Mrs. Doubtfire" cast members talked about the late Robin Williams as they sat down to reflect on what's changed in the 25 years since the classic film was released.
Pierce Brosnan, Matthew Lawrence, Mara Wilson and Lisa Jakub talked with NBC's Gadi Schwartz for the anniversary, with Jakub saying there was a feeling "that no time had passed" in the quarter-century.
Jakub, who played Williams' daughter Lydia Hillard in the film, said Williams was candid about his mental health issues on set. His willingness to talk about his struggles has stayed with her, she said.
"One of the most powerful things for me about working with him is that he was very open and honest with me talking about his issues with addiction, depression, and that was so powerful to me at 14. I have struggled with anxiety my whole life," she said.
Williams' widow, Susan Schneider Williams, penned a heartbreaking account of her husband's final year of life and his Lewy body disease diagnosis, which she described as something of a "terrorist" living inside Williams' brain. Schneider Williams said the disease caused him to forget his movie lines, plagued him with delusions and paranoia, and engulfed him in fear, anxiety and depression.
Matthew Lawrence, who played Williams' son Chris Hillard in the film, told Schwartz that Williams was like "a guiding force."
"Like he would just, all of a sudden out of the blue, look over to me like, 'By the way, don't do drugs! Really messed up my brain! I'm serious. Do not do them.' I was like 'OK!' That stuck with me," he said.
The group, of course, remembered Williams' comedic genius, showcased in the "Mrs. Doubtfire" restaurant scene in which Williams as Mrs. Doubtfire goes off on a tangent about Sally Field's character Miranda Hillard to Pierce Brosnan's Stu.
"Robin is there as Mrs. Doubtfire and he just unleashed the most bluest, the craziest innuendos about Sally's character," said Brosnan, adding that he "couldn't really" keep it together while filming.
Mara Wilson, who played Williams' daughter Natalie Hillard in the film, said: "We did a lot of takes. … It'd be like, 'OK, take 25!' And Robin would be, would be different every time."
Lawrence added that "every take was something new and different and obviously amazing."
Excuse us, but we need to go rewatch this movie immediately.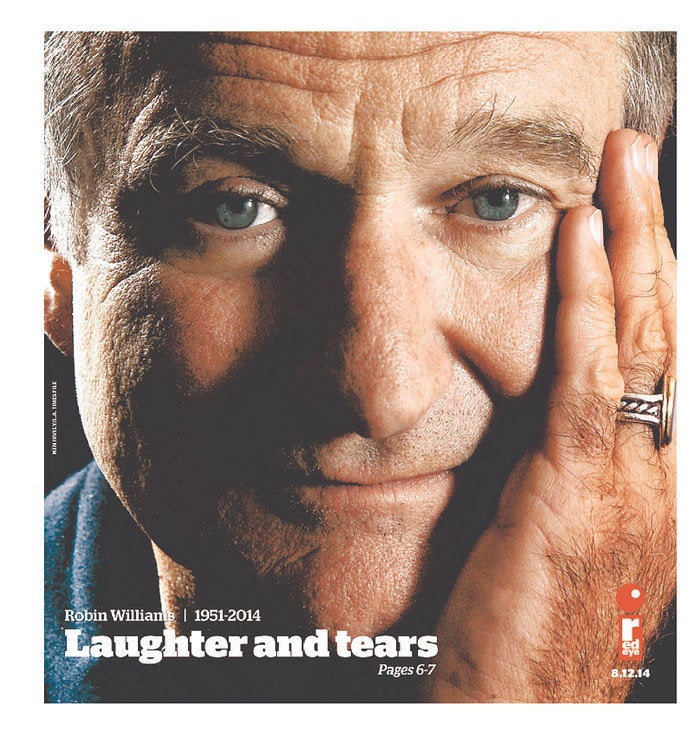 Remembering Robin Williams