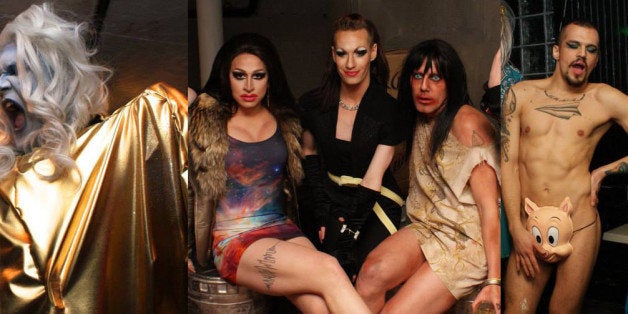 This is the twentieth installment in an ongoing series that explores drag culture and the nightlife scene in Brooklyn, N.Y. Over the past several years, following the large-scale exodus of artists across the East River and into northern Brooklyn, those engaged in drag culture in this outer borough have created a new, queer world entirely their own. Accompanied by a larger movement to understand drag culture outside of the pageant circuit, many individuals engaged in the drag community in this borough approach drag culture through a nontraditional lens of "alternative" drag or performance art, enabled largely by the malleable and queer nature of this part of New York. Visit HuffPost Gay Voices regularly to learn not only about the individuals involved in Brooklyn's drag community, but more about the culture of the community itself.
Note: The video featured below contains graphic content and may not be suitable for viewing in work and other sensitive environments
Over the past several months, this project has provided a platform for the wide-ranging spectrum of artists, performers and events that intersect and collectively form the Queer New World of the drag and nightlife scene in northern Brooklyn, N.Y.
As we move into the closing weeks of this 25-part series, this showcase examines possibly the most expansive annual event to occur within the context of Brooklyn Drag Culture: the Mr(s) Williamsburg competition.
Building on notions of both traditional drag pageantry and similar nightlife events over the last several years in northern Brooklyn, Mr(s) Williamsburg is a unique and developing competition that seeks to be inclusive of all forms of artistic performance, expression and identity. The competition is currently in its second year and has given rise to an explosion of interest, with the number of performers doubling from 25 in 2013 to roughly 50 this year.
Mr(s) Williamsburg functions as a round-robin tournament spanning three prominent bars frequented by the Brooklyn queer community. Both Metropolitan and This N' That played host during the 2013 premiere of Mr(s) Williamsburg, alongside recently closed Sugarland Nightclub.
The nine-week tournament consists of six weeks of preliminaries, with a winner and runner-up chosen by a panel of judges each night of competition. The seventh week, dubbed the "Wildcard" round, allows all runner-ups from the previous six weeks another shot to place in the semifinals of Mr(s) Williamsburg.
During the eighth week of competition, all previous winners come together to contend for a coveted spot in the final three and the title of one of the tournament's three bars: Mr(s) Metropolitan, Mr(s) This n' That and Mr(s) Sugarland Nightclub in 2013.
During the ninth and final week, these top three contenders once again compete against one another for the ultimate title of Mr(s) Williamsburg.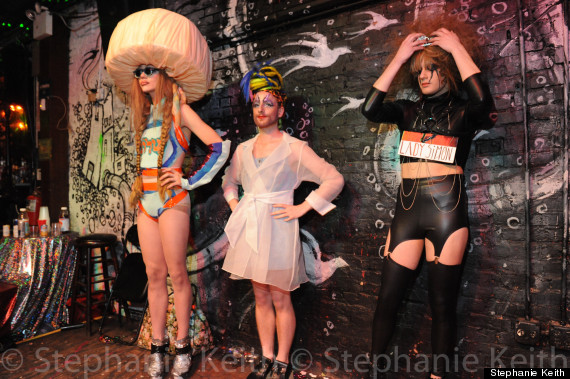 With the recent closing of Sugarland Nightclub, Greenpoint's LuLu's has joined the round-robin rotation for the nine-week tournament, bringing with it a fresh face to accompany founders Merrie Cherry and Alotta McGriddles as the three hosts of Mr(s) Williamsburg: prominent burlesque performer Darlinda Just Darlinda.
"I think I was a bit naive to think anyone would be comfortable enough to do a 'pageant' that was run solely by drag queens," Alotta McGriddles told The Huffington Post. "This year, along with myself and Merrie Cherry, we have the FABOOSH Darlinda Just Darlinda joining us as a hostess at Lulu's. We want all the colors of the rainbow represented this year and, I am happy to say, we have already had a boy singer contestant and the rest of the competitors are almost equally divided between drag artists and burlesque performers."
As noted by the hosts at the time of the event's announcement, Mr(s) Williamsburg is a nonrestrictive competition open to all of Brooklyn. This is in no way a drag pageant in the traditional sense of the word, nor are there boundaries or expectations on performers of performance styles. Alotta McGriddles reinforced this by telling The Huffington Post that "make-up" and "outfit" are not even categories on the judges' score sheets. "It's about the show, not your contour."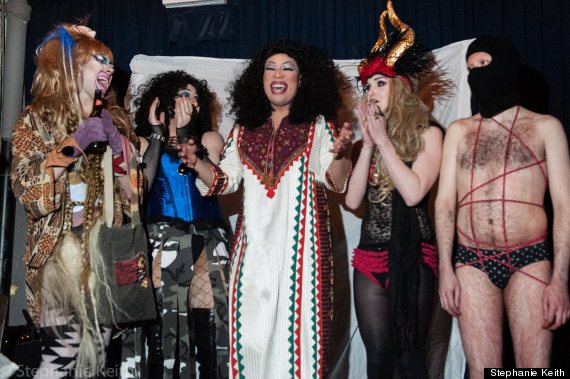 "The performance community can be somewhat segregated," Merrie Cherry noted. "There are so many ways for a performer to express themselves and most of the time performers stay in their group. Once in awhile the groups come together for special events and in the last year you see it even more. I hope Mr(s) Williamsburg will help to thin that divide. We are a family of people that are living our dream as performers. It is already hard to make it -- we should be the ones to further all of our careers and create better stability, in every since of the word."
The 2014 Mr(s) Williamsburg competition kicked off at This n' That bar on Feb. 24 following the premiere of "RuPaul's Drag Race" and will run until the final installment and crowning on May 3 at LuLu's. The winner of each preliminary round is awarded a cash prize of $100, with the overall victor walking away with $500 and the title of reigning Mr(s) Williamsburg for a full year, as well as a one-of-a-kind piece of jewelry designed by Kurt Fowl.
The Mr(s) Williamsburg feature continues after the slideshow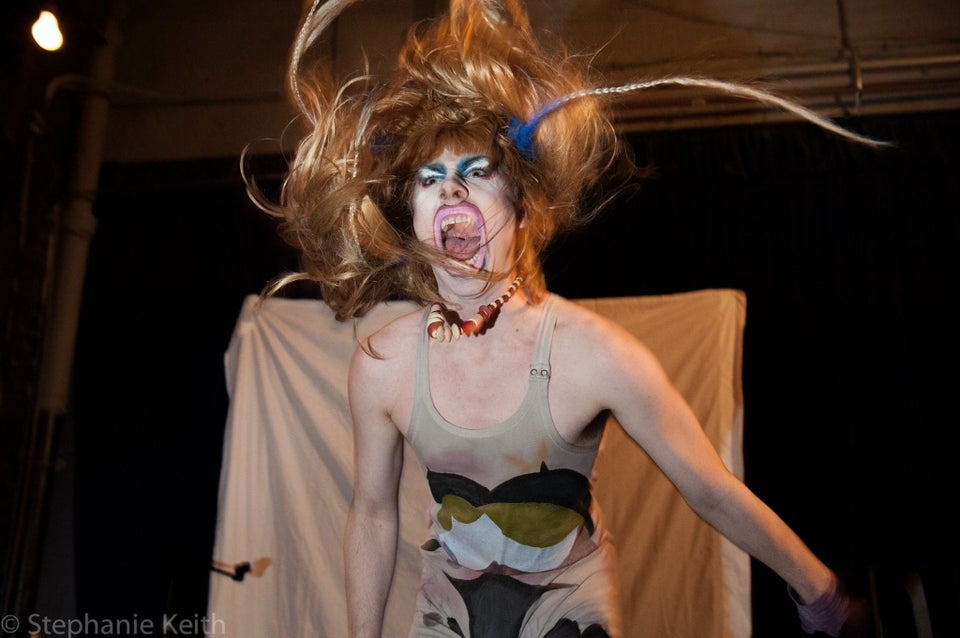 Mr(s) Williamsburg
Brooklyn drag legend Thorgy Thor is the only permanent judge on the weekly panel, with every contestant coming under the scrutiny of the performer's eleven years of drag expertise.
"It's important to have a 'pageant' like this for the entertainment value of course, but also to keep things fresh," Thorgy Thor told The Huffington Post. "I hosted a pageant each month for two years just to be able to feature all the new talent coming out of the woodwork. All of these performers spend time and energy decorating themselves and going out, but don't always have a platform to be seen and featured. Pageants do that! And Mr(s) Williamsburg allows performers of all types to compete against each other in a fun, creative and alternative nature. You will see some shit you won't see anywhere else -- it's also just a great event to come together, support each other and spray fake blood all over the stage"
The opening round of Mr(s) Williamsburg saw some intense competition for a small sampling of the 50 performers involved. While Lady Havokk took the title of runner-up, Charlene shut the bar down with her performance and walked away with the winning title from the first week of preliminaries.
"Mrs Williamsburg is equal parts a celebration and a self-curating showcase of the artfulness that our community is known for," Charlene told The Huffington Post. "Our usual shows have a low-key vibe, like best girlfriends dancing to their favorite songs at a slumber party, so really we're making fun of Artpop more than we're mapping out acute performances that communicate with an audience. The competition gives us circumstance for the latter, because Thorgy Thor has no time to see half-baked bullshit."
Check out Charlene's winning performance from the first round of Mr(s) Williamsburg 2014 (watch until the end -- you won't be disappointed).
As drag culture and the nightlife scene continue to develop alongside the malleable nature of northern Brooklyn, competitions such as these provide a valuable outlet for young performers to network and form an identity with the broadly-defined Brooklyn queer community, as well as within the boundaries of drag culture itself.
However, at the end of the nine weeks Mr(s) Williamsburg isn't about the competitive nature of the traditional drag pageant, or even who ultimately walks away with the title. Rather, it is about the outpouring of love and support the individuals engaged in this scene offer one another through these performative settings, and the chance to create and augment something collectively -- simply because they all feel and have the drive to produce culture, build community and recognize the radical potential invested in this Queer New World.
With three rounds of preliminaries completed, six weeks of competition still remain before Mr(s) Williamsburg comes to a close. The winners of these initial weeks include Charlene, Rify Royalty and Chris of Hur. For a full list of Mr(s) Williamsburg dates head here.
Missed the previously featured drag performers and installments in this series? Check out the slideshow below.
Before You Go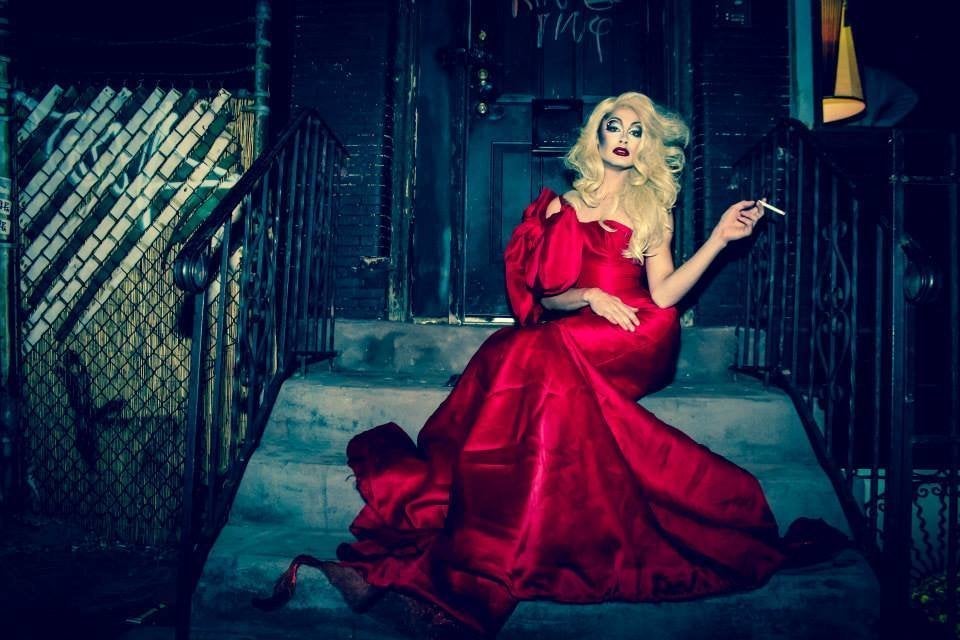 Queer New World: Brooklyn Drag Culture
Popular in the Community