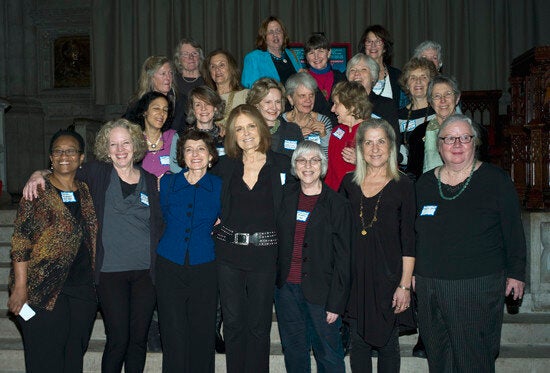 "To this day, it's one of the ways I define myself: I worked at Ms. It's my badge of pride" -
Hagar Scher
We came together to celebrate our collective pride and three generations of connections as a "family." To remember the conversations we started with each other that became articles, sparked a dialogue with our readers -- with women everywhere -- and transformed our lives and theirs. To revisit the women's issues we helped shape, the writers and ideas we nurtured that were garnered from the thousands of manuscripts and letters we received, the testimonials collected at Speak Outs, and the notes that Gloria Steinem brought back from her travels.
We came together to recall the daily challenges we faced in the beginning with media, the advertising world, the bulging bags of mail, the lack of desks and sometimes a lack of understanding from our own families about our decision to be part of the women's movement and this fledgling magazine. To acknowledge our debt to Wonder Woman whose values we still cherish and to celebrate the "Ms. Kids" we watched grow up.
We came together to remind ourselves of what we have accomplished. As contributing editor Jane O'Reilly, author of "The Housewife's Moment of Truth" in the Preview Issue, wrote on the morning after the election:
"It is important to remember how brave we were 40 years ago. We thought we were expressing common sense, when we in fact were fighting what was understood as natural law. We expected, in the beginning, a clear path, and we got Clear Channel. But we also got who we are today, who our daughters and grandchildren are, and, the election last night. Good for us!"
Beginning with the Preview Issue, which generated 20,000 letters and hundreds of unsolicited manuscripts, we had an extraordinary and profound relationship with our readers. Letters often began with: "This is the first letter I have ever written to a magazine..." or later "Ms. is a good old friend. We've been together since her birth."
Plowing through the unsolicited manuscripts, Phyllis Rosser found a piece by M.L. Moore, English Department, Cornell University. "We didn't know if it was a man or woman. Everyone at
Ms. wanted to publish it and we did. Every time I see her name -- Lorrie Moore -- I think, maybe I discovered her." In another daunting pile of manuscripts, Donna Handly discovered Meghan Burges Collins's, The Green Woman. Published in Ms., it was nominated for a National Magazine Award and included in Ruth Sullivan's anthology of Ms. fiction, Fine Lines.
We came together the day after the Presidential election, which reminded us of our bonds with so many of our country's female leaders. Trailblazer, hero and friend, Senator Barbara A. Mikulski (D-MD) the longest-serving female Senator and the longest-serving woman in the history of the U.S. Congress, shared these words in a recent letter to Ms.:
"Congratulations to the Founding Mothers and all the Editors of Ms. magazine on turning 40 with no signs of hormonal imbalance! You helped us make sense of ourselves and our nation. You also taught us how to make the personal political. You changed our lives and the culture and made it fun, fiery and feisty along the way. From one wonder woman to all the others at Ms. magazine, may the force continue to be with you..."
Along the way we popularized "Ms." as a form of address for all women, while making it commonplace for women to keep or reclaim their own names and sparked the use of hyphenated names. No small feat. And, neither was organizing the Ms. 40th Birthday Party.
The mother of the vision "to find everyone who had ever worked at the magazine" and invite them to the party was Pat Carbine, the founding publisher of Ms. "When I heard the date chosen by our committee was November 7th -- the night after the election - because Gloria would finally be free after months on the campaign trail, I thought this is either a wonderful idea or a really terrible one."
To make this happen, a small group of former staffers led by Joanne Edgar, set out to find more than 400 people, names compiled from mastheads -- by former editors in New York and the current team in Los Angeles (home of the Feminist Majority Foundation, the current owners of Ms.), social media and the small circles of friends from various Ms. departments who have dinner together.
While in the early years, many holidays were pot luck dinners at the apartment of editor Harriet Lyons; this larger event required feminist generosity usually associated with a fundraiser. Everyone who made it to the church that night -- contributed $15. Still the budget was not huge, and as name tags fell off the night of the party someone was heard to say: "Typical Ms. I guess we got a deal on name tags without adhesive on them."
"I'm flying in from Wales for this. That's what you all mean to me." - Susanne Skubik Intriligator, Ms. staffer, 1990-1995
Members of the Ms. family can now be found in several countries (Wales, Canada and Australia that we know of) and many states. Still more than 150 former staffers, grown-up Ms. kids, spouses, writers, sisters and Kumi Silver Loubet -- a third generation Ms. baby -- made it through the snow storm that followed Hurricane Sandy to a church on the Upper West Side of Manhattan, led by Reverend Rosemary Bray McNatt, a former Ms. editor. Among them:
Mary Kay Blakely, contributing editor to Ms. since 1981, came from Missouri where she is an associate professor of magazine journalism at the university.
A hardy group of four made their way from the Sophia Smith Collection at Smith College in Northampton, Massachusetts, where the Ms., Gloria Steinem and Suzanne Braun Levine archives reside. They came to New York to "check on the Ms. group and celebrate with the people whose lives they know so much about."
New York City Council Member Gale A. Brewer stopped by in between community events focused on hurricane disaster relief. With City Council President Christine C. Quinn, she presented Ms. magazine with a Proclamation at City Hall in New York in June of this year.
Dr. Catharine [Kate] R. Stimpson, the feminist scholar with "impeccable scholarly credentials," as Pat said introducing her, represented the magazine's original Board of Scholars. Kate said, "Ms. gave me a place and public voice, published my two most widely reported pieces, and permitted me to watch history in the making. How I enjoyed writing for you and scheming with you."
In true Ms. style, our "greeters" in the church vestibule were terrific young women -- Molly Golda Pogrebin Shapiro, age 13 (daughter of Ms. Kid Abigail Pogrebin and David Shapiro), students from Fordham Law School and New York University (volunteers recruited by Pat Carbine's niece) and Andrea Malatesta's daughter Vicky. And like any family party where guests range in age from 8 months to 80-plus years -- everyone wanted to hold the baby and everyone had stories to tell.
Letty Cottin Pogrebin, a founding editor of Ms. and proud grandmother of Molly, said she has a million memories of Ms., and shared this one:
"I remember Alice Walker's daughter, Rebecca, and my son, David, playing on the floor beside my desk with some of the non-sexist toys I was writing about for our annual holiday feature, "Toys for Free Children." Rebecca, David, my daughters, Abigail and Robin, Phyllis Langer's daughter Alix, Mary Thom's nephew Thom, and all the other kids who spent time in the Ms. "Tot Lot" were my first responders and toy-testers."
"Reverend Rose" as she is known in her community, welcomed us to her church, The Fourth Universal Society of the City of New York, which she calls the bastion of liberal religion on the Upper West Side because they are so engaged in social justice work:
"In the name not only of our own joy and our own peace, but in the name of women everywhere who have come to rely on this clear voice [Ms.], this clear and honest and assertive voice, give us strength to continue the journey, because the work is not done. We've made some pretty good progress, but the work is not done yet."
We were feeling the emotional weight of the lives lost and communities destroyed by the hurricane, when Pat introduced the woman caterer she had chosen for the party, Chef Rossi, owner of The Raging Skillet. Chef Rossi's place on Houston Street had been flooded. She said, "We were watching cars float down the block." She was without power for days and almost gave up. She found her strength she said, because:
"This is a Woman-Power Moment! Because of all the heroism I saw around me, a miraculous woman in my neighborhood who helped others, because forty years ago I raged against being told as a young girl 'you can't do that.' And because of your great magazine, Pat and Gloria and all of you awesome babes who braved the storm to be here tonight, I called my staff and Labelle who schlepped all the way from New Jersey, to save the mango ginger sauce -- and it was worth saving... It's an honor to be here. Thank you for including me."
While Gloria crisscrosses the country every year, bringing back stories from the frontlines which we count on her to do, especially during election years, Pat has always been the "Mother Superior" who calls on us at a Ms. event to "testify" -- to tell our stories. Those who couldn't attend sent emails and others spoke from the pulpit. Memories and shared laughter echoed throughout the church.
Bringing Joanne Edgar up to speak, Pat said, "where would we be without her!" Joanne, she said was the first Ms. receptionist, editor, publisher and advertising department. Not exactly, Joanne explained. The reality was that after the Preview Issue there was no one else in the office. Gloria was out raising funds for the magazine. Pat was not there yet. So when people called, "If they wanted advertising, I was advertising," she said. "If they wanted editorial, I was editorial."
For the first issue of the magazine, Gloria was hard at work on a major piece about women voters. This article, Joanne believes was probably the first to articulate the concept of the gender gap. Gloria was still focused on the women's vote when deadlines were approaching, and she hadn't even started writing the cover article about Wonder Woman. So Joanne wrote it. "I was a childhood fan of Wonder Woman," Joanne said. "But when this plum writing assignment fell into my lap, I freaked. I had never written for any magazine before, yet alone one I cared about as much as Ms. But editor Ruth Sullivan came to the rescue, calmly coaching me and helping me find a personal voice. And I did it."
"George McGovern was on the cover of the issue that inspired me to show up at Ms. and ask Cathy O'Haire for a job on the Copy Desk. I look forward to raising a glass to him, and to Cathy, and to all of us." - Marge duMond, Production
"My era was pre-Internet. I became the editor of the newly expanded international news section. I was able to interview activists organizing against labor abuses in Nike factories and Saudi women who were fighting for the right to drive. Sometimes they made it to New York and to the Ms. offices. I was honored to meet these women and the experiences changed me forever. As did working for Ms." - Gayle Kirshenbaum - Intern, Editorial Assistant, Copy Editor, Assistant Editor, Editor, 1989-1996
"Nowadays, especially because of the 40th anniversary, the mention of my years at Ms. brings the loveliest expressions of warmth and gratitude to their faces as women tell me stories about their wake-up, 'click,' support or information -- or down-and-dirty laughs -- they got from the magazine. My recollections of working there are the same as theirs of reading it." - Suzanne Braun Levine, Editor, 1972-1988
Pat Carbine said that one of the goals she and Gloria set out for themselves 40 years ago was very simple: "We were going to change the publishing landscape. It was never going to be the same. Women had to be involved in every aspect of advertising because in those years it led to the publisher's office. The first person, she signed up was Cathie Black, who Pat said later went on to go higher and higher in her long career. Cathie said Pat didn't have a lot of choices at the time; 'the pickings were slim for anybody who had any experience in advertising sales.'"
Cathie's reaction to the Mad Men series was, she said "Oh My God, this is exactly what we encountered every single day. We came into their offices and they thought we came from outer space and they were terrified. They thought 'My God, my wife is going to go out to work.'" Pat coached us to say," Cathie added, "'It's really maybe not about your wife, but it is really about your daughters.' We had to explain the women's movement every single day, three-four-five times a day at agencies in New York, Chicago, Detroit, L.A., Memphis and Dallas or wherever they would have us."
It's not surprising that this group Pat called "the warriors" remain close today. As Cathie said, "We blazed new trails -- it was tough. We made mistakes. There were tears and Pat's embraces at the end of the day -- because we were obsessed with making it happen."
"My very first advertiser sent us unexpected creative, which turned out to be questionable for Ms. I marched it around the editorial department where it got a big thumbs down. It was disappointing, but I totally agreed." - Judith Kramer Stillinger, Advertising
"My 'guest' for the 40th Ms. Birthday party is Jim Parker my husband of 31 years, and one of the early advertisers in Ms. -- Rums of Puerto Rico. We met after my years at Ms." - Seena Harris Parker, Advertising
For the ad team, "the really big win for every one of us was being part of Ms," said Cathie. "I'm not sure we understood exactly how much it was going to fundamentally change our lives."
"Imagine," Pat said, in introducing Gloria, "she hasn't slept in three months. We'll never know how much of what happened yesterday is because of her years and years and years of tilling the ground, and still showing up. Our one and only, Gloria!"
Gloria told us she arrived from "campaign hell to a place of shared values, a friends' heaven." But she arrived at the party with a fever and cold and apologized for not being able to hug anyone.
She recalled that in the first issue of Ms., "we invented what I think was the first systematic methodology for rating a presidential campaign on women's issues. It was 'The Machismo Factor' ("Why Women Voters Can't Be Trusted," July 1972). It had no impact whatsoever on the Nixon race, he was elected anyway. But, it brought the Labor Party into power in Australia because the women picked it up there, and used it. I think so many things that we did were like that. We did something and we didn't know what would happen, but nonetheless it had some deep impact."
And, she added, "We had an impact on this election because those issues we identified didn't have names, weren't framed. Please remember how crucial, how important -- I always want to express this using my favorite word -- Fanfuckingtastic -- it was. We were a part of that, so please congratulate yourself."
So many people turned out in this election. Women made such a difference -- a 12 point difference:
We have 20 women Senators -- the largest number U.S. history.
Chris Murphy, who supported Planned Parenthood, won in Connecticut.
Tammy Baldwin became the first gay woman elected to the U.S. Senate.
Mazie Hirono became the first female Senator elected from Hawaii, a Buddhist and Asian-American woman.
Elizabeth Warren became the first female Senator from Massachusetts.
For the first time in history, New Hampshire will have an entirely female Congressional delegation.
A ballot measure prohibiting insurance coverage of abortion was defeated in Florida.
And, of course, both the 'Legitimate Rape Aiken' and the 'Rape is God's Gift Murdock' were defeated.
Same Sex Marriage won at the ballot box for the first time in U. S. history. Maine, Washington, and Maryland voted to legalize same sex unions, and Minnesota voted down a measure that would have outlawed it.
Young people made up 19 percent of voters, an even higher percentage than in 2008. As one young woman said, "Apathy My Ass."
Gloria added: "Talking after the election about the long lines to vote, President Obama said, 'We have to do something about that.' I saw this in Florida -- where Ms. is literally a life-line for women -- and the state is symbolic of how broken our system is. We have a lot of work to do. But, I hope that you congratulate yourselves for the creating the understanding you can't have equality or democracy without feminism."
"Here's what I recommend to you," she said, "that you go around the world with Ms. magazine on your forehead. Because that's sort of what I do and as a result people tell me stories about what the magazine meant to them. Profound, amazing and funny, ridiculous stories:
A woman came up to me in an airport and told me she started an auto repair business because of our classified ads,
Another told me she had just gotten out of a violent home to a shelter and she strongly feels we saved her life,
In Seoul, South Korea a woman came up to me in a restaurant and said she started a women's group with North Korean refugees because she read Ms.,
Women tell me they first read about female genital mutilation in the pages of Ms.,
People still come up to me and talk about "I Want a Wife," by Judy Syfers. And "Flo Kennedy's Verbal Karate" comes back to me line by line.
At one point as Gloria spoke, little Kumi let out a cry. I flashed back to the '70s when I frequently traveled with her to campuses and women's groups. At the first sound of a baby's cry, she would say: "Would the woman with the crying baby please stay in the room!" and it was always greeted with laughter and a burst of applause by all of the women in the room.
Forty years later, Gloria sparked that same warmth, generous laughter and applause!
"What I've taken away from tonight is the feeling that separately and together we did something that was extraordinary," said Pat, speaking for all of us. "For however long in your lifetime you were at Ms., you're part of that life-changing experience. So thank you for making it possible -- all of you."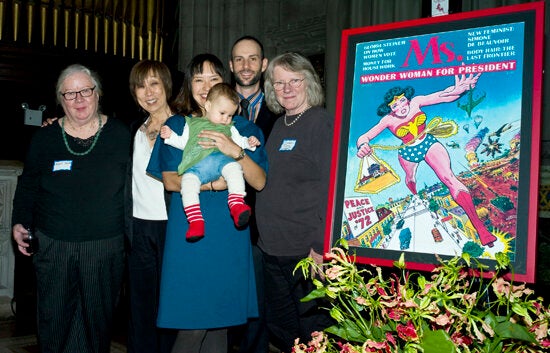 Ms. Magazine Celebrates Its 40th Birthday