Despite having to brave a Hoth-like terrain, I made it to a comic book shop this week to pick up Ms. Marvel #1. Written by G. Willow Wilson and illustrated by Adrian Alphona, this book is super exciting; any time a story is rebooted, it brings new readers into the fold of unfolded pages. My expectations were happily exceeded by the funny, charming writing and awesome art of this premier issue. The first of what will be a new monthly series, this issue introduced us to the new Ms. Marvel, a 16-year-old Pakistani-American Muslim girl named Kamala Khan.
Kamala is funny and nerdy. Ms. Marvel #1 feels almost more like a coming of age quirky comedy than a stereotypical superhero comic book. My favorite line is when Kamala's mom tries to pull her away from the computer to come down to dinner and Kamala stalls, "My Avengers fan fic has almost 10,000 upvotes on freekingcool.com." And her mom replies, "I didn't understand one single word of that sentence." I can totally hear this interaction in my own mother's voice. Wilson does an amazing job making the characters realistic and relatable for the audience.
The art is better than many superhero comics because all of the characters are drawn as individual people with diverse body types, as opposed to the same body drawn over and over again with different hairstyles. The characters are drawn expressively with big, animated personalities that convey and celebrate each character's unique weirdness. The style is fun and easy for the reader to get to know the characters, but it also empowers readers of different body types to feel better about themselves.
It's an overdone topic to extrapolate on why comic book culture doesn't cater towards women, but, that being said... as a woman, there are a lot of shy weirdo women out there who could really benefit from some escapism in their lives, and I'm so excited that increasingly there are more identifiable women role models for us in comic books, especially women of color.
It's important to have a Muslim teenage girl superhero for so many reasons. Marvel does a great job of portraying diverse heroes, which in turn widens the demographic of the audience. Additionally, in Kamala's particular circumstance, having a character who struggles with the dichotomy of adhering to her family's culture and faith, but also that of her social peers may mirror a superhero's struggle to fit into society, find their place in a world that doesn't understand them.
There are so many prejudices against young Muslim women, and I love the way Wilson openly addresses the issues. There are a few interactions with the school's popular kids and Kamala and her best friend Nakia, that illustrate the subtle, "I'm not trying to be racist, but I can't help being from the suburbs, and aren't you just soooo exotic," mentality in a funny and genuine way. For example, the popular blonde Zoe compliments Nakia's head scarf, "But I mean nobody pressured you to start wearing it, right? Your father or somebody? Nobody's going to like honor kill you? I'm just concerned."
I've always loved reading about superheroes who aren't traditional straight white men. As someone who's struggled a lot feeling like she deserves to take up space and have a voice, I love discovering characters who have to overcome adversity and then gain superpowers, and then use their abilities to help others. Reading about characters like that gives me strength.
The first issue of this series is funny, relatable and sweet. The characters look, sound, act like real people. This book is entertaining and important on a social political level. Ms. Marvel #1 is really empowering and Marvelous!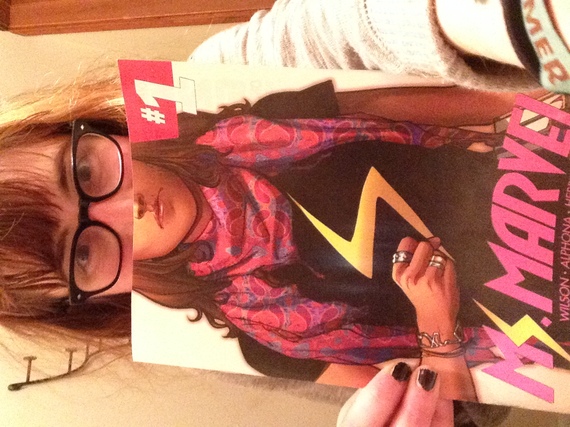 Popular in the Community