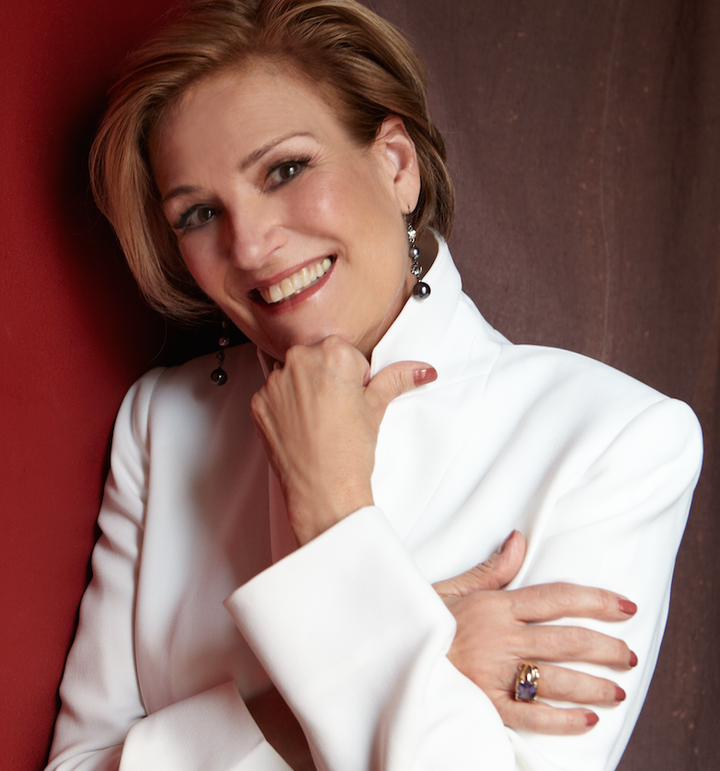 Luckily for New York theatre and cabaret fans, the current month starts with the letter "M"—Broadway star and chanteuse Karen Mason's favorite time to revisit her old stomping grounds, Don't Tell Mama. Her terrific current show, "Mason at Mama's in May" (the follow-up to "Mason at Mama's in March") includes selections from her new album "It's About Time" (Zevely Records), along with a mix of well-known and rarely performed Broadway tunes.
The ever-popular 12-time MAC Award winner appeared chic and luminous all in white, smartly accented by gold patterns on her billowy top and glittery earrings. Mason opened the show with three upbeat standards: "Our Love is Here to Stay" (George and Ira Gershwin), "Just in Time" (Styne/Comden & Green), and "Zing! Went the Strings of My Heart" (James Hanley). Her delivery was jaunty and lilting, much to the delight of her fan-filled audience. Mason then paused to talk about her history at Don't Tell Mama—she opened the legendary club nearly 35 years ago with fellow song stylist the late Nancy LaMott—and took a moment to praise the club's recent renovations. In a city where venues and performers come and go, it's reassuring and delightful that both Mason and Mama's are still going strong.
In her second song grouping, Mason slowed things down, starting with a pensive and heartfelt version of Frank Wildhorn/Jack Murphy's "Finding Wonderland," a lovely, relatively unknown tune from the musical Wonderland, which marked her most recent appearance on Broadway. The song (which also appears on her album "Just in Time"), is a perfect showcase for Mason's exceptional ability to convey the deep feeling behind a lyric. When she sang "I race around; I search high and low for a truth I used to know, when there was magic to be found" it was obvious that she understands the emotion behind the words.
The set's other rarely performed songs included "Play Me a Country Song" (Harry Manfredini), from Mason's 1982 Broadway debut in a show that infamously opened and closed on the same day, and "Rebecca," from the eternally Broadway-bound, but never arriving, musical of the same name (wryly described by Mason as "Playing in a courtroom near here."). In "Rebecca" Mason went big and bold, filling the modestly-sized room with her touching interpretation of the song's plaintive lyrics and melody.
"Mason at Mama's"' highlights were two oldies but goodies: Jule Styne/Bob Merrill's "Don't Rain on My Parade" from Funny Girl and the Harold Arlen/Yip Harburg evergreen "Over the Rainbow." For "Don't Rain on My Parade," Mason channeled her "inner Streisand" while reminiscing about a long-ago call back for a job as a singing waitress, when she belted the song because "I didn't know if I was good, but I knew I was loud." Mason got the job. Turned out she was (and still is) good, and she can belt with the best of them. Mason shared that for a long time she resisted performing "Over the Rainbow"—perhaps because the song is so often done, perhaps because Judy Garland's version is a tough act to follow. But because of her ability to convey the emotion behind the lyrics, Mason's version was hopeful and fresh, especially in the less famous intro ("When all the world is a hopeless jumble and raindrops tumble all around; Heaven opens up a magic lane…").
Mason wrapped up the evening with the original song (and title track from her album) "It's About Time," penned by her husband Paul Rolnick and Shelly Markham for her friends' wedding. She told the audience, "When Marriage Equality passed, I became a wedding singer. I was thrilled to be asked to sing at their beautiful day and told my husband he should write a custom song for the happy couple. It's about time for us all to stand up for what we believe." The inspirational lyrics state, in part: "It's about a love that is meant to last forever. It's about love and it's about time."
"Mason at Mama's in May" continues every Sunday and Monday throughout the month. Hopefully Ms. Mason's legion of fans won't have to wait until another "M" months rolls around to enjoy her artful interpretations of Broadway and classic tunes.
Don't Tell Mama is at 343 West 46th Street in Manhattan.
Related
Popular in the Community