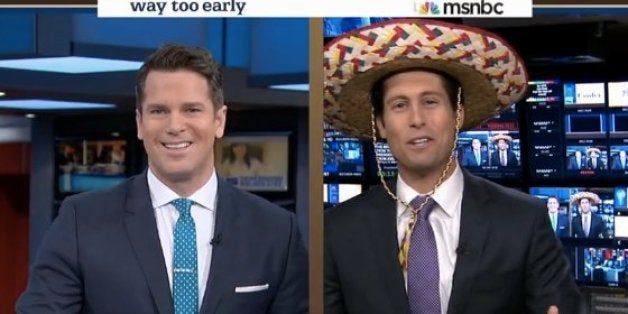 The network's "Way Too Early" drew fire for the way it "celebrated" the Mexican-American holiday on Monday, as HuffPost described:
MSNBC tried its hand at cultural commentary on Monday with a Cinco de Mayo segment featuring a stereotypical portrayal of a stumbling Mexican by a reporter pretending to guzzle tequila straight from the bottle.

As a visual reading "Mexican Heritage Celebration" appeared on screen, Way Too Early host Thomas Roberts explained the historical background of the holiday. As he spoke, a sombrero-clad Louis Burgdorf wandered around the newsroom shaking a maraca.
Hugo Balta, the president of the National Association of Hispanic Journalists, called the segment "abominable." On Tuesdsay, MSNBC apologized:
"On Monday, Cinco De Mayo, 'Way Too Early' made sarcastic references to the way some Americans celebrate the holiday. It was not our intention to be disrespectful and we sincerely apologize for the ill-advised references."
Note: we initially called Cinco de Mayo a "Mexican" holiday. While it is celebrated in some parts of Mexico, it is more commonly known as a Mexican-American holiday.
Related
Popular in the Community