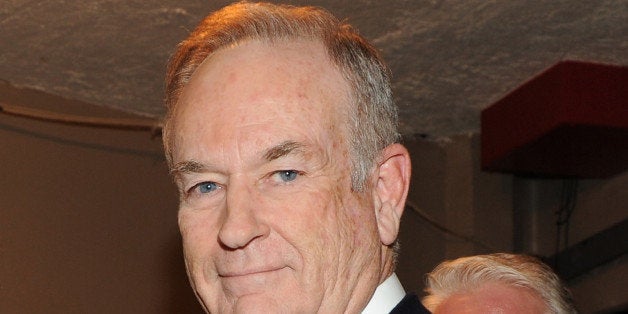 NEW YORK -- On Tuesday night, MSNBC host Rachel Maddow slammed Bill O'Reilly for threatening journalists who are investigating charges that the Fox News host exaggerated claims about his reporting on the Falklands War.
Maddow's nearly four-minute segment was the type of coverage one might expect from MSNBC. In recent years, the network has positioned itself as the liberal alternative to the top-rated Fox News, a trajectory that began with former host Keith Olbermann's broadsides against both the George W. Bush administration and Fox's conservative hosts.
MSNBC hosts continue to regularly call out Fox News stars, including O'Reilly. On Feb 18, the day before reports of O'Reilly's exaggerated claims surfaced, "All In" host Chris Hayes took O'Reilly to task for declaring that there is a "holy war" going on against Islamic State fighters, arguing that such rhetoric is "exactly what ISIS wants."
Yet Maddow's was the only critical segment MSNBC has done on O'Reilly since Mother Jones' David Corn and Daniel Shulman reported on Feb. 19 that the Fox News host had exaggerated stories about his time reporting for CBS in Argentina in the 1980s. Corn and Shulman said that O'Reilly had a "Brian Williams problem," a reference to the now-suspended NBC anchor who lied about coming under rocket-propelled grenade fire in Iraq and who continues to be dogged by questions over a number of other claims he made.
Since the Mother Jones story was published, several of O'Reilly's former CBS News colleagues, and other correspondents who covered the 1982 Falklands War, have disputed O'Reilly's statement that he had been in a "war zone" and pushed back on his suggestion that a violent riot in Buenos Aires constituted a "combat" situation.
However, Maddow's focus Tuesday night was not on O'Reilly's disputed claims, but rather on the threatening remarks the Fox News host has made to journalists who are looking into the allegations against him.
Other than that, though, the O'Reilly fracas has mostly come up in passing on MSNBC, according to a search of monitoring service TVEyes. In two of three instances, it was brought up by guests, not hosts.
On Monday, The Nation's Dave Zirin called O'Reilly a "lying thug" on "The Reid Report," though the swipe didn't come as part of any segment on the Falklands controversy. The next day, a guest referenced O'Reilly on "Hardball," but host Chris Matthews quickly moved on.
The only discussion came on Wednesday's "Morning Joe," in which co-host Joe Scarborough defended O'Reilly and said the controversy was "much ado about nothing."
Surprisingly, Corn, who co-wrote the original story and is a paid MSNBC contributor, and has spoken with other outlets about O'Reilly over the past week, hasn't discussed the controversy on MSNBC.
Corn actually appeared on the network last Friday, the morning after Mother Jones broke the story. But he was only asked about other issues, such as former New York City Mayor Rudy Giuliani's inflammatory claim that President Barack Obama doesn't love America.
An MSNBC spokeswoman declined to comment on the network's coverage.

By contrast, CNN has covered the O'Reilly controversy 20 times, from news briefs to lengthier segments with guests, TVEyes indicated.
Brian Stelter, the host of CNN's "Reliable Sources," devoted much of Sunday's show to the controversy, interviewing former O'Reilly colleague Eric Engberg, who disputes O'Reilly's claims. Stelter has appeared in at least a half dozen CNN segments over the past week.
In addition, on Wednesday morning, CNN's "Early Start" briefly covered new questions about O'Reilly's claims of witnessing the suicide of a friend of Lee Harvey Oswald, the assassin of former President John F. Kennedy.
There are a few possible reasons why MSNBC is not covering the O'Reilly story more zealously.
First, MSNBC doesn't have a media reporter, while CNN employs several, including Stelter. Still, that hasn't stopped MSNBC hosts from sounding off about O'Reilly, Sean Hannity and other Fox News pundits over the years.
A more likely reason is that MSNBC remains skittish about aggressively covering O'Reilly's apparent embellishments while NBC's investigation into Williams' dispute is ongoing.
MSNBC didn't extensively cover the Williams allegations either, but did mention the embattled anchor on air several more times than it mentioned O'Reilly in the corresponding time period. The network referenced the Williams story a dozen times in the six days after Stars and Stripes initially broke the story on Feb. 4, according to a TVEyes search.
Most of MSNBC's mentions of Williams were brief and linked to specific events, like the anchor taking himself off air and later being suspended by the network. However, the network did have the late New York Times media columnist David Carr on during primetime to discuss the Williams situation.
MSNBC's lack of attention to the O'Reilly controversy is especially notable as the network continues its shift away from personality-driven daytime shows toward a greater emphasis on news. While MSNBC isn't abandoning its liberal perspective, it is looking to broaden its focus beyond politics, and it remains to be seen whether partisan fights between cable news networks will continue to get as much coverage on MSNBC in the future.
UPDATE:, 5:10 p.m. -- MSNBC announced Wednesday afternoon that Corn would appear that night to discuss the O'Reilly controversy on "The Rachel Maddow Show."
Disclosure: Jackson Connor is a former employee of MSNBC.
Support HuffPost
The Stakes Have Never Been Higher
Related
Popular in the Community