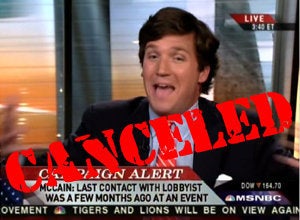 UPDATE: David Gregory will headline a show in Tucker's old timeslow. Read about the changes here.
Insiders tell TVNewser Tucker Carlson's 6pmET show Tucker is getting the axe, but Carlson stays on as a political contributor to all MSNBC shows at least through the 2008 election. The official announcement, expected tomorrow, will include details about who will replace Tucker at 6pmET as well as other political programming additions. Sources say the network is going to beef up its schedule with more NBC News talent.

In recent days, Jossip, as well as other blogs, ratcheted up the talk that Tucker would be replaced "for a new project." In its 33-month run, Carlson's show has had two names, four time slots and multiple formats. At 6pmET, it builds on its Harbdall lead-in on some days, but loses audience on others.
Michael Calderone at the Politico spoke with Carlson Sunday night, who confirmed that MSNBC canceled his show:
Tucker Carlson's MSNBC show "Tucker" has been canceled, with an announcement from the network coming tomorrow.

I spoke with Carlson this evening, and the host confirmed reports on media blogs in the past few days about the show getting canceled. But otherwise, Carlson declined comment at this time.

Carlson was on his way to New York where he'll appear on Joe Scarborough's "Morning Joe" at around 6:30. Have a feeling Scarborough will bring it up then.
Rumors have been flying recently that Tucker Carlson could soon be on the way out at MSNBC. In a report that aired this morning on NPR, Phil Griffin, a senior vice president at the cable network, described Keith Olbermann and Chris Matthews as part of the MSNBC "brand". Asked whether Mr. Carlson was also part of that brand, Mr. Griffin replied: "He is right now."
Calling all HuffPost superfans!
Sign up for membership to become a founding member and help shape HuffPost's next chapter