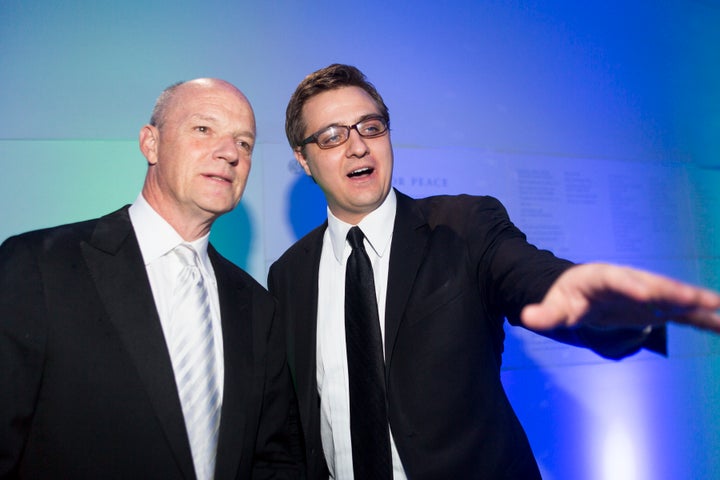 NEW YORK -- MSNBC highlighted last week just how far it's shifted away from the "lean forward" Obama years in a new ad promoting its growing stable of conservative voices. "People might start accusing us of leaning too far to the right," the network boasted. 
The ad campaign dropped the same day network president Phil Griffin reflected on the once-avowedly progressive channel's trajectory in a Politico story, "MSNBC's year of standing straight." After canceling its liberal afternoon lineup of last summer, MSNBC has increasingly integrated with NBC News, and management has emphasized a delineation between the network's 9 a.m. to 5 p.m. hours, dubbed "dayside" programming (breaking news, nonpartisan political coverage), and primetime (progressive opinion). 
Given this much-hyped shift, network staffers have been wondering why Chris Hayes, a liberal host who kicks off MSNBC's primetime lineup at 8 p.m, has lately been pulling double duty at 4 p.m. 
In May, Hayes anchored 14 of 21 live 4 p.m. weekday broadcasts, and he's slated to be back behind the desk on Monday afternoon. Hayes has ably handled the straight news anchor role at 4 p.m. to cover major stories like last month's EgyptAir crash. He's landed key newsmaker interviews, including one with Democratic front-runner Hillary Clinton that bled into "MTP Daily," the 5 p.m. politics show hosted by Chuck Todd.
Such coverage fits into MSNBC's dayside "breaking news" mold. But last Friday, Hayes moderated a roundtable segment about Donald Trump's racist attack on a federal judge that wouldn't have been out of place on his 8 p.m. show, "All In," or on a previous incarnation of MSNBC's afternoon lineup. The final episode of "Now With Alex Wagner," which aired on July 31, similarly kicked off with political journalists and pundits weighing in on Trump's latest comments. 
A network spokesman declined to comment. 
MSNBC sources say management hasn't communicated a clear strategy for 4 p.m., describing the mood inside 30 Rock as uncertain while executives tinker with the daytime lineup and appear reluctant to make long-running assignments permanent. 
By not permanently assigning hosts or officially announcing new shows, network executives are free to mix things up without the pressure that accompanies heavily promoted launches. The downside, however, is that anchors and producers are left in limbo over the daily schedule, and potential viewers and guests don't know what to expect. 
For example, since the 2016 election is the hot story, politics junkie Steve Kornacki has commandeered the 9 a.m. hour for months, but hasn't officially been named host for that hour. While some slots are considered secure, like Andrea Mitchell's at noon, there's been a rotating cast of anchors for the afternoon lineup. Major breaking news adds an additional ingredient into the mix as Brian Williams -- who, as part of the cable channel's makeover, returned to MSNBC after his suspension -- often takes the lead.  
Recently, MSNBC also soft-launched the election-themed "Road Warriors," a roundtable program featuring young campaign correspondents like Katy Tur, Hallie Jackson, Kristen Welker and Kasie Hunt. The show aired for three consecutive Fridays at 4 p.m. in late April and early May, but hasn't appeared again in that slot.  
NBC News chief Andy Lack, who oversees both NBC News and MSNBC, has lately been especially focused on the cable channel, according to sources. He's said to be a big fan of the "Road Warriors" format, though it's unclear how such a show would work day to day. By definition, roving campaign correspondents aren't typically available in the same studio at the same time.
Griffin suggested in the Politico interview that MSNBC's election-year ratings boon has given executives the chance to try out different formats. But there's only about a five-month window for such experimentation, since the frenetic political season MSNBC and its rivals have enjoyed will soon come to a close. 
Calling all HuffPost superfans!
Sign up for membership to become a founding member and help shape HuffPost's next chapter
BEFORE YOU GO