 CHARLOTTE, N.C. -- MSNBC president Phil Griffin is a happy man.
On Wednesday afternoon, Griffin learned that MSNBC was the top-rated cable network for the opening night of the Democratic National Convention, a first in its 16-year history and a validation of the network's progressive shift in recent years.
"I'm thrilled. You kidding me?" Griffin told The Huffington Post, shortly after getting the news. "You have to take a moment. For all of us in here, we're just taking a moment. Nobody thought we could do this. But to beat CNN and Fox on a big night like that? To beat ABC and CBS on a big night like that? That is friggin' fantastic. Everybody at MSNBC should feel great."
Griffin spoke Wednesday from the MSNBC Experience in Charlotte, where fans of the network had just lined up for a book-signing with Melissa Harris-Perry, taken part in a Google+ chat with Ed Schultz and gawked as Chris Matthews made his way to an outdoor set. Inside the MSNBC Experience, fans grabbed buttons with personalities like Rachel Maddow and Lawrence O'Donnell and a few posed next to a huge picture of Al Sharpton.
With the exception of Matthews, the aforementioned hosts didn't have their own shows this time four years ago -- and neither did Chris Hayes, Alex Wagner or Martin Bashir. Back then, the network's biggest star was Keith Olbermann, who has since joined and left Current TV.
Griffin said MSNBC has "evolved" over the past four years. The network, he said, is "about smarts, it's about depth."
"People connect with us," Griffin said. "It's not about just having your ideas reflected back at you. That is bogus. That is wrong. It is about trusting people who do their homework, who know it, who live in the world of facts. They connect with all these people. There is a personal connection between our hosts and our audience. They believe in them. They trust them because they do the homework. They do the hard work. So they come in here and they want their picture taken with the picture of the guy. They believe in them. That's a powerful thing."
MSNBC came in first Tuesday night in both total viewers (4.107 million) and in the 18-49 demographic (1.432 million). CNN ranked second (3.88 and 1.368 million), with Fox News -- the dominant cable news network and the big winner during the Republican National Convention -- coming in third (2.398 and 550,000 million).
While Fox News has steered clear of lavish parties or branded locations at the conventions, and CNN has opened "Grills" in both convention cities that cater mainly to the political and media elite, MSNBC chose to open its doors in Charlotte to the Democratic faithful -- the voters, and viewers, most likely to flock to meet the network's liberal hosts.
But while those mobbing MSNBC stars in Charlotte are clearly fans of the network's convention coverage, some have been critical. A harsh review in The New York Times, for example, called the network Fox News' "evil liberal twin," with TV critic Alessandra Stanley writing that MSNBC had offered "counterprogramming, not coverage" of the Republican convention.
And on Tuesday, Sam Feist, Washington bureau chief for CNN, told The Huffington Post that "if you watch MSNBC during convention coverage, you have a cheering section for the Democrats."
Griffin rejected the notion that the network's hosts are supporting one party over the other.
"My problem with that is it doesn't give credit to what we've done," Griffin said. "That's painting in big, fat, ugly strokes and it's just not right. If you look at our coverage, if you look what our people said during the Republican convention -- It wasn't cheerleading for the Democrats when Ed Schultz says 'a star is born' with Ryan and gives him a ton of credit for that speech, when Lawrence O'Donnell comes right after the Romney speech and says 'best speech of his career, of his life, that's what they needed to do and they did it,' when we have Steve Schmidt on our desk explaining the strategy of everything they're doing."
"Yes, we have a sensibility," he continued. "And yes, it's progressive. But I think that there's a difference between us and Fox and a big difference between us and CNN. And that is, we go deeper. We're not afraid to have depth. Our shows require you to sit down and listen and we connect with the audience."
Griffin said he wished MSNBC "had what Fox has, where people just turn it on and just leave it on all day." Instead, he said, "people come to us because they like all our individual people. I think we've created something strong and different than the other guys."
"Going into 2008, we were a distant third," Griffin said. "Then we got to be a close third. Going into 2012, we were a distant second. Now we're going to be a closer second. It only bodes well for the future."
Related
Before You Go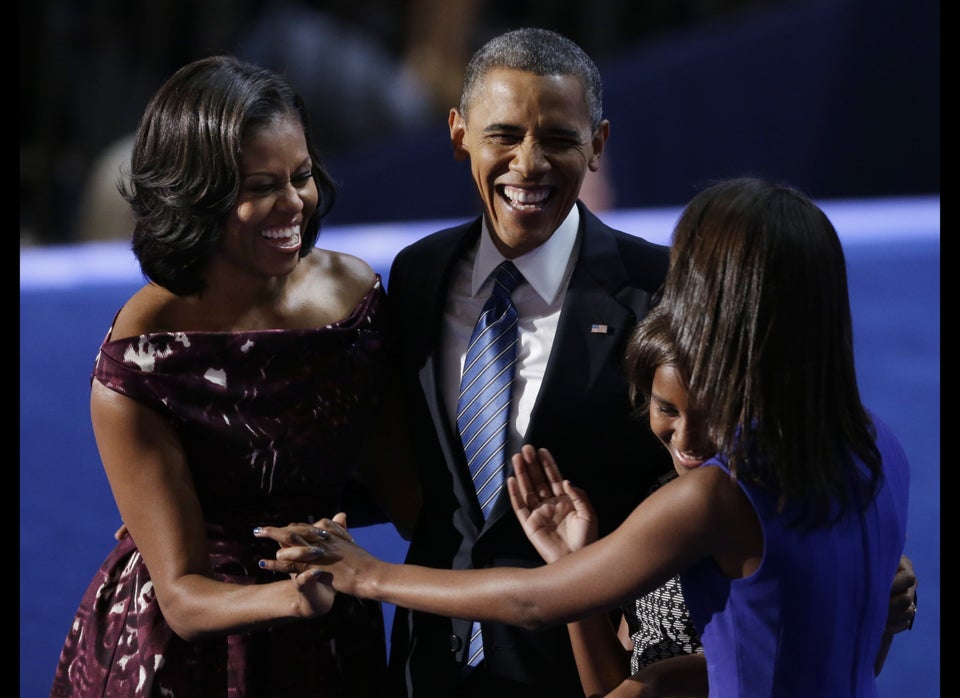 Obama Rocks Democratic Convention
Popular in the Community