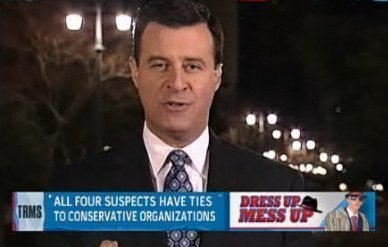 MSNBC says one of its anchors, David Shuster, went too far in criticizing conservative filmmaker James O'Keefe for his alleged attempt to tamper with Senator Mary Landrieu's phones.
"@JamesOKeefeIII a) you are not a journalist b) the truth is you intended to tap her phones c) it's a felony d) you will go to prison," Shuster tweeted Tuesday night.
"The comments were inappropriate," an MSNBC spokesperson told Politico's Michael Calderone Thursday. "We have talked to David about them."
This isn't the first time Shuster has gotten himself into trouble with the network.
Shuster will continue to cover the O'Keefe story for MSNBC.
Watch Shuster report on the story below:
Related
Popular in the Community