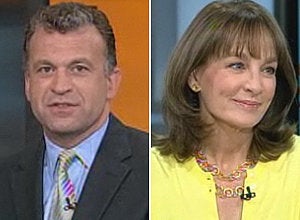 It's a big day for MSNBC, with the network launching its high definition broadcast signal, unveiling a new daytime lineup (including two new shows), and debuting a new set of on-screen graphics.
"I love our anchors and our people being looked at in hi-def. But this is about being in the neighborhood. You get your regular core audience to tune in, but a good chunk of our [total] audience is people who are flipping around....

"I think you've got to be [in HD] now," Griffin points out. "And I think in a year or two it will definitely make a huge difference. If you want to be competitive in this game, it's the price of entry."
B&C further reports that the HD rollout will be gradual based on service providers:
MSNBC in HD will launch at different times on different MSOs. It will debut on Cablevision on June 29 and on Time Warner in July. By the end of August, MSNBC HD will be available in 11 million homes.
Along with the addition of an HD signal, MSNBC has shaken up its dayside lineup, adding "Morning Meeting" with Dylan Ratigan from 9AM-11AM and "Dr. Nancy" at noon. Carlos Watson will anchor the 11AM hour, Andrea Mitchell will continue at 1PM, and David Shuster and Tamron Hall will co-anchor from 3PM-5PM. There are no explicit plans for the 2PM hour.
"It's the right time," Snyderman told the Daily News about her health show, which premieres with Health and Human Services Secretary Kathleen Sebelius, Elizabeth Edwards and FDA Commissioner Peggy Hamburg as guests.
Her show, she said, will be different than others because she has the resources of NBC News and the ability to quickly jump on a story that breaks that day.

"There really isn't going to be anything taped," she said.

"We're raising the bar," Snyderman said. "This is going to be very smart programming. If I don't think something's true, it's not getting on."

She's also realizes she must make medical mumbo-jumbo palatable for the everyman. "That's the burden for me," she said, "to take complicated and dry medical information and make it compelling."
Calling all HuffPost superfans!
Sign up for membership to become a founding member and help shape HuffPost's next chapter