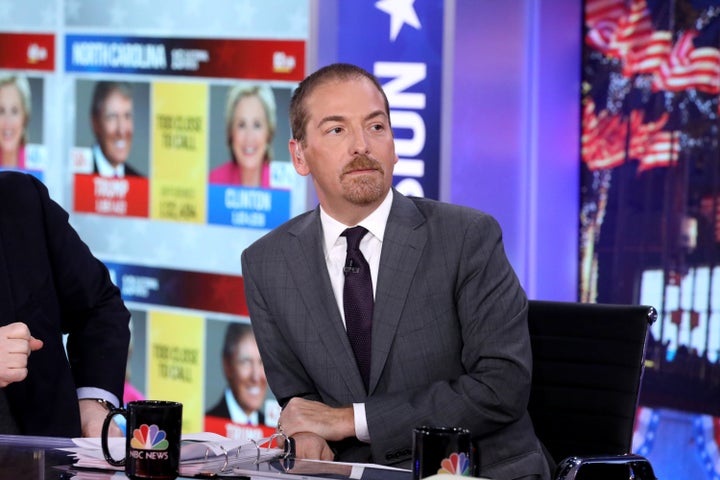 NEW YORK -- Chuck Todd never wanted to give up "The Daily Rundown," his weekday morning politics show on MSNBC.
But when Todd was handed the reins of "Meet the Press" last fall, NBC News President Deborah Turness decided he should focus on the Sunday show, one of the broadcast network's marquee franchises, according to network sources. Some inside 30 Rock viewed the move as another example of management trying to maintain space between the NBC News and MSNBC brands.
NBC News Chairman Andy Lack, who took the reins of the broadcast and cable networks in March, is bringing Todd back to MSNBC for a new weekday politics show that he'll host in addition to "Meet the Press" Sundays on NBC, according to sources.
Todd's return to MSNBC is part of a re-NBC-ization of the cable network, which began drifting left in the later years of the Bush administration under former star Keith Olbermann. The cable network, which never had its own identity before Olbermann, next launched primetime programs, such as "The Rachel Maddow Show," before adding liberal opinion-focused shows throughout the dayside schedule, too.
Lack, a former NBC News president brought in to steady the ship amid the Brian Williams mess, is trying to better integrate the two channels and shifting the focus at MSNBC to more hard news during the day.
More sweeping changes at MSNBC are expected, according to sources, including replacing the channel's current 3 p.m. to 6 p.m. lineup – "The Cycle," "Now with Alex Wagner" and "The Ed Show" -- with more programming focused on hard news. Todd's forthcoming show could wind up in that block. Mediaite first reported on these anticipated moves.
As a result, rumors were flying Thursday morning when Lack held his first town hall meeting with both NBC News and MSNBC staffers.
But Lack kicked things off by telling employees assembled in Studio 8H, the home of "Saturday Night Live," that he wouldn't be breaking any big news at the meeting, according to network sources. As expected, Lack stressed the need for increased integration between MSNBC and NBC News that utilized the latter's newsgathering resources during dayside programming.
Lack addressed the return of Williams, emphasizing that the former "Nightly News" anchor's new position on MSNBC, as anchor for breaking news and special reports, should not be seen as a demotion, and that the two networks are expected to uphold the same editorial standards.
During a discussion about taped programming, Lack spoke highly of what Vice is doing. But one staffer said Lack seemed less familiar with "Shift," MSNBC's digital-first network.
MSNBC's Phil Griffin also spoke at the meeting, along with Turness. Griffin told staff there would be no announcements that day about line-up changes.
When asked if Olbermann might return to the network, Griffin said he hadn't spoken to him in some time.
The lack of specifics on anticipated schedule changes frustrated some network staffers. "Every one is pretty sick of finding out from the Internet what is going on," one said after the meeting.
An NBC News spokesman declined to comment.
MSNBC's "Morning Joe," which occupies the 6 to 9 a.m. time slot, and the channel's nightly opinion shows are unlikely to be affected by the upcoming changes.
The shift to more hard news on MSNBC dayside, and increased integration between the two channels, has been quietly happening for months under Lack's leadership.
Todd and several NBC News correspondents have been appearing more frequently on MSNBC during the day. Meanwhile, MSNBC reporter Kasie Hunt and Ronan Farrow, whose MSNBC daytime show was canceled a few months back, recently appeared on "NBC Nightly News." A Monday "Morning Joe" exclusive interview with John McCain, making his first comments since Donald Trump said he wasn't a war hero, was simulcast on NBC's "Today" show.
And Williams, a familiar face to NBC News viewers who is now wrapping up his six-month suspension for making exaggerated claims about his reporting, will soon start his new MSNBC role. Williams will also handle NBC News special reports when Lester Holt, who succeeded him as "Nightly News" anchor, is unavailable.
Williams was an MSNBC anchor from 1996 to 2004, while he was being groomed to take Tom Brokaw's chair on the "Nightly News." His return to MSNBC comes as the cable channel, which veered heavily into liberal talk in his absence, is starting to look a lot more like the network he's leaving behind.
This story has been updated to include details about Thursday's town hall meeting.
Popular in the Community