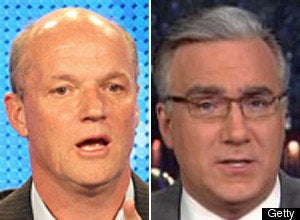 MSNBC President Phil Griffin vowed to fire Keith Olbermann if he went on other networks to discuss his suspension, The Daily Beast's Howard Kurtz reports.
Kurtz writes that the threat came during a conversation with Michael Price, Olbermann's manager, on Nov. 7, two days into Olbermann's suspension. Price told Griffin that, if the suspension was not resolved quickly, Olbermann would appear on "Good Morning America," "Larry King Live" and David Letterman's "Late Show" to air his side of the story.
"If you go on GMA, I will fire Keith," Griffin reportedly replied. Minutes later, though, Griffin released the statement announcing the lifting of the suspension and preventing an even more serious showdown. When Price asked Griffin why he had made such an extreme threat, Griffin told him, "we are at war."
Kurtz also writes that many within the broader NBC News organization had raised serious concerns about Olbermann with the top management. Chief among these, he says, was Tom Brokaw, who was one of several top NBC News stars to worry that Olbermann "has badly damaged MSNBC's reputation for independence."
Be sure to check out Kurtz's whole report at The Daily Beast.