With the Obama Administration going after the Associated Press and making a media martyr of James Rosen of Fox News Channel, it's hard to believe that the internet would be ablaze with any other media story. Even as some liberal sites are trying to minimize it in exactly the way they accused conservative sites of covering up for right-wing media failures. MSNBC has hit a ratings low in primetime not seen since the days that the network still carried a show hosted by raspy-voiced Fox News refugee Rita Cosby. Chris Hayes' new 8 PM lynchpin show has lost a third of the audience Ed Schultz had a year ago -- and Schultz himself had been relegated to weekends due to low ratings. Rachel Maddow's 'demo' audience was off by 20 percent and Lawrence O'Donnell's by 33 and it had all happened overnight!
As in polling, you can get television numbers to tell you anything you want to hear. But even in that context, when ratings changes are this profound, they tell a story that can be relied upon in terms of direction if not always in terms of exact degree. May 2013 was a month of crushing ratings lows for MSNBC, but there are implications in those ratings that point to fissures and flaws at the network from months and years ago. From May 13th to May 17th, MSNBC averaged 350,000 in total viewers and 94,000 in the 25-54 demo, making it not merely the least-watched and lowest-rated total day results of the year thus far, but the lowest total-day demo results the network has had since the week of June 26th - July 2nd 2006 when it averaged just 83,000 in the demo. By way of explanation, "the demo" is the average number of viewers age 25-54 estimated to be watching a channel at any point in any given quarter hour. It may or may not be true, but television networks, advertising agencies and advertisers believe this is the main barometer of the reach of their commercials.
When assessing the descent of MSNBC's ratings, it is tempting to use as an explanation the common misconception that A must always cause B, as Dominic Patten of Deadline Hollywood did in a recent article where he cites the recent Obama Administration scandals as the cause for the decline of the network's viewership. This answer ignores the fact that MSNBC's problems started long before the president's did. In April of this year MSNBC's primetime ratings were down ten percent in total viewers and one percent in the demo compared to the same month in 2012. These don't seem like startling numbers, however the 2012 audience was itself down five percent in total viewers and nine percent in demo viewers from 2011. "In cable, things build up slowly and they collapse slowly," a former TV news executive told me. "Last night's ratings are usually the result of things that happened two years ago. Sometimes fifteen."
Until the mid-1990s, the broadcast networks had merely contemplated or failed in launching an all-news channel in what was then a field monopolized by CNN and its kid-brother, CNN Headline News. But in 1996, partnering with Microsoft in what proved to be a never-more-than-vague mix of mainstream television cable and the internet, NBC launched MSNBC. The parent-company saw the new venture as a wonderful opportunity to give its news division more airtime - specifically, it needed a place to train Brian Williams who by then had already been unofficially anointed as Tom Brokaw's eventual successor. NBC could also use MSNBC to get extra value out of personnel and amortize expenses.
The original network was so haphazardly put together that for the first big story it covered, the crash of TWA Flight 800 on July 17th 1996, Williams literally had to hold up a road map and point to it to give viewers an idea of where the plane had gone down, "again, absent any graphics all we have to go on is a rather crude Rand McNally map showing New York's Long Island."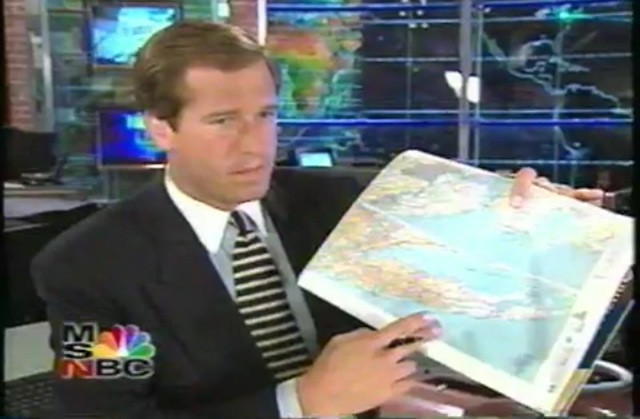 Minutes later the network accidentally put its aviation correspondent Robert Hager on camera while he was still on the phone trying to find out what had happened.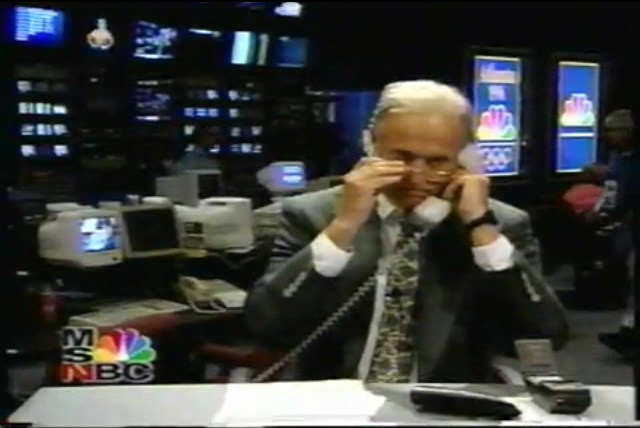 A little less than three months after MSNBC's premiere, a channel without a broadcast news division as its foundation signed on. Fox News Channel had to get New York Mayor Rudy Giuliani to threaten Time Warner before the giant would put the new channel on its cable system. On the first day, October 7th 1996, when only ten million homes could even see it, among the networks first premieres were "Hannity and Colmes" and something called "The O'Reilly Report." Fox's political tone was set from the outset.
Meanwhile, MSNBC tried to be everything all at once and then one at a time. The original network was officially neutral, but it premiered with what was a coffee-klatch of supposed hipsters who would interrupt the news at regular intervals to shout their opinions at one another. Among these contributors were everybody from Laura Ingraham and Ann Coulter to Lawrence O'Donnell and Katie Couric's late-husband Jay Monahan.
In truth, the man responsible for putting both MSNBC and Fox News on the map was President Bill Clinton. Neither network had touched CNN in the ratings prior to the Lewinsky Scandal. Those who demanded that Clinton be investigated and/or impeached turned to Fox News in huge numbers and those who wanted to follow the story without feeling like they needed to take a shower afterwards tuned in in record numbers to a new MSNBC show hosted by an unlikely hire, an ex-sportscaster named Keith Olbermann. When he fled the network shortly after telling the 1998 Cornell graduating class that covering Lewinsky every night often made him weep, MSNBC's brief ratings-surge flatlined. Within three years, it would try to out-Fox Fox. After hiring away some of Fox's producers, MSNBC put on shows starring the Iran-Contra scandal star Oliver North, Michael Savage, Tucker Carlson and even a just-resigned, Right-Wing Congressman named Joe Scarborough.
In March 2003, Olbermann returned to MSNBC and the network premiered what was supposed to be simply a fast-paced newscast. Instead within weeks, the program became the first to report that the rescue of Iraq-war-prisoner Jessica Lynch had been wildly exaggerated by the US Military. Within two years, Olbermann was questioning whether all of the Bush terror warnings were apolitical. And within another year, he had begun his series of "Special Comments." A year later, he introduced as his guest host a woman named Rachel Maddow.
In 2005, MSNBC wanted a liberal foil for Tucker Carlson's show. Maddow was brought in on a regular, freelance basis. But within a year, Carlson's show had failed, its budget had been slashed, the president who promoted had been fired and Maddow was let go as an unnecessary, albeit tiny expense. A little more than a year later, MSNBC brought her back as an unpaid guest. On one of Larry King's 2012 internet shows, King recounted how four years earlier he had actually booked Maddow to be his guest one Primary night for $200 before MSNBC realized it could lose her permanently and stepped in with cash of its own. She finally got her own hour around Labor Day 2008.
With the inclusion of Maddow, MSNBC's primetime lineup consisted of "Countdown with Keith Olbermann," followed by "The Rachel Maddow Show," followed by a replay of "Countdown," followed by a replay of "Maddow." Expenses were low, and both shows could be counted on to beat CNN in their own live time slots and do the same or nearly with their reruns at no additional cost. The network boasted two successful progressive shows, but two successful programs does not necessarily a successful network make. And when management decided they had to have a third progressive program at 10pm, the cloth was suddenly cut three ways and it just kept getting smaller. With the implementation of "Now With Alex Wagner," "PoliticsNation with Al Sharpton" and "Melissa Harris-Perry," it was no longer necessary for viewers to watch the 8pm show or the 9pm show, because they could get the same thing if they watched on the weekend or during the afternoon or at 10pm. As a source told me, "the draw for them [MSNBC] was that people were tired of only seeing two things on TV: an all right-wing channel like Fox or something like CNN where they were afraid of being branded any one thing. The value of MSNBC was they were presenting something different. It's not different anymore - it's now repetitive, it's formulaic, it's now as ass-kissing as Fox is."
As Countdown had sacrificed its guest host to create Maddow's show, MSNBC repeated the move with its next guest host, Lawrence O'Donnell, so he could do his own show at 10. In the same time fram management also tried to expand not just later but earlier. Ed Schultz and then Cenk Uygur and finally Al Sharpton were brought in to do 6 PM shows. A variety of daytime hosts - ranging from Martin Bashir to Alex Wagner - were given hours and expected to take the same political line as the weeknight hosts. Weekend programming, long an afterthought, soon had liberal shows with Chris Hayes and Melissa Harris-Perry, and more recently Steve Kornacki.
It may have seemed a natural expansion, but it all may have spread MSNBC's "products" too thin. The urgency of 'having' to watch the 8 or 9 PM weeknight shows was affected by the simple reality that they were no longer the only places to see any left-of-center products. And staffing them began to resemble the old premise of the network sitcom spin-off of the '70s and '80s. "Maude" was spun off from "All In The Family" and "Good Times" was spun off "Maude" and then "The Jeffersons" was spun off "All In The Family" and "Checking In" was spun off from the "Jeffersons" and then "Gloria" was spun off from "All In The Family" and nearly a quarter of a century later CBS was still trying it by spinning off a show called "704 Hauser" in which the only connection to Archie Bunker was that both shows were set in the same house.
As CBS's prime time schedule must have begun to look like one long episode of "All In The Family" (and some actors who had been great guest stars proved to be not so great star stars), so too has MSNBC's entire programming line-up begun to look like one long episode of Maddow, or even Countdown. With the swapping in of Hayes on April 1st, all of MSNBC's primetime hosts were now ex-8 PM substitutes, and virtually every host in the day time or on weekends had begun as regular guests or even formal contributors to those nightly programs. Even the newest host wasn't free of the Archie Bunker effect. Kornacki did his first regular television work on Olbermann's ill-fated show on Current TV.
In March of 2013, MSNBC announced that Ed Schultz's 8pm program, "The Ed Show," would be replaced by "All In With Chris Hayes." For the network, it would be the fourth different 8pm program in two years. Unfortunately, "All In" wasn't the success executives were hoping for, with its April ratings down 18 percent in total viewers from that month's numbers in the previous year for "Ed." Seemingly the only thing "All In" has succeeded in doing has been knocking off a portion of "The Rachel Maddow Show"'s viewers, which itself is down seven percent from April 2012. Apart from the hard math of the ratings, critics are beginning to pick apart Hayes' performance. As Noah Rothman of Mediate noted in a May 23, 2013 article (disclaimer: Mediaite was founded by a man fired by MSNBC as both host and general manager, Dan Abrams):
"Hayes' problem is not just that his show rejects the drama and contention of heated debates between pundits with opposing viewpoints - a cable news staple. It is that his professorial effort to inform his audience lacks the requisite entertainment value to keep them watching."
Another problem is the sheer lack of anchoring experience among the current hosts at MSNBC. Maddow, Hayes, Harris-Perry, O'Donnell, Joe Scarborough, Chuck Todd, Wagner, Kornacki, Schultz, and all the hosts of the afternoon gabfest "The Cycle" have literally never hosted an hour long show anywhere but MSNBC. And even veterans like Matthews and Bashir had only limited experience hosting their own shows elsewhere (CNBC and ABC, respectively.)
"Griffin, optimistically, believes he can beat Fox by 2014. It's a cockiness that has funneled down. In a recent staff meeting, one of Griffin's producers coined a new term for Fox News: 'Loserville.'"
It is not fair or accurate for the blame to be placed solely on the weakness of Chris Hayes' program, nor on the Obama scandals that viewers simply don't want to devote viewing time to. A series of things have to go wrong for a network to lose as much audience as MSNBC has. Roger Ailes, when his then-10pm host Paula Zahn was patted on the back by a reporter for growing Fox's ratings, noted "I could have put a dead raccoon on the air this year and got a better rating than last year." Alies was paying tribute to the concept of the lead-in, in his case O'Reilly at 8pm and Hannity at 9pm. The problem becomes what happens if you put a dead raccoon on not last, but at the start of primetime at 8pm? In that event, even a 9pm O'Reilly would be in trouble. In going from its founding liberal to his last guest host, Lawrence O'Donnell, to Ed Schultz, to the pleasant but exceedingly dry Chris Hayes, MSNBC has found a series of increasingly sick television raccoons.
Popular in the Community