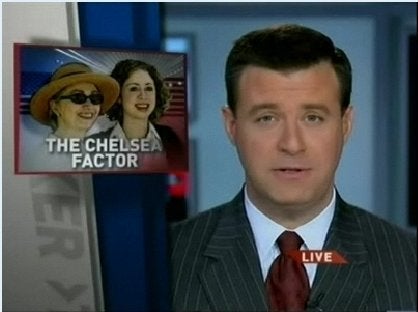 UPDATE 4:00PM EST, SATURDAY FEB 9:
Clinton wrote to NBC News President Steve Capus:

"Nothing justifies the kind of debasing language that David Shuster used and no temporary suspension or half-hearted apology is sufficient," Clinton wrote to NBC News President Steve Capus, who apparently had already called Clinton to personally apologize.

"I would urge you to look at the pattern of behavior on your network that seems to repeatedly lead to this sort of degrading language," Clinton wrote. "There's a lot at stake for our country in this election. Surely, you can do your jobs as journalists and commentators and still keep the discourse civil and appropriate."
Keith Olbermann apologized to the Clintons on behalf of MSNBC during Friday's Countdown, calling Shuster's comment "utterly inappropriate and indefensible." Watch Olbermann tell the Clintons, "We are, literally, dreadfully sorry."
Politico's Michael Calderone reports that David Shuster initially defended his statements in an email exchange with Clinton campaign spokesman Philippe Reines. An excerpt:

-----Original Message-----

From: David Shuster

To: Philippe Reines

Date: Thu, 7 Feb 2008 8:51 p.m.

Nice to hear from you, philippe.

It is a fact that chelsea has made calls to superdelegates, as your campaign colleagues have acknowledged. It is also a fact that the campaign has reacted quite harshly to any media who have sought to interview chelsea. That was the point. By slamming any reporter who seeks to chat with chelsea while simultaneously having chelsea do campaign tasks such as trying to convince super delegates to support her mom, that's the reference.

Chelsea is polite and does a fine job of saying "I don't want to talk.". But for campaign staff to then jump down the throat of a reporter who seeks to talk to chelsea...that's an issue.

--------------------------

Sent using BlackBerry
Read the entire exchange here.
David Shuster appeared tonight at the top of "Tucker," where he first made the offensive comment yesterday, to apologize. Watch below:
On Thursday's "Tucker" on MSNBC, David Shuster, who was serving as guest-host of the program, made a comment about Chelsea Clinton and the Clinton campaign that was irresponsible and inappropriate. Shuster, who apologized this morning on MSNBC and will again this evening, has been suspended from appearing on all NBC News broadcasts, other than to make his apology. He has also extended an apology to the Clinton family. NBC News takes these matters seriously, and offers our sincere regrets to the Clintons for the remarks.
UPDATE: The Clinton campaign is fighting back against MSNBC. Top campaign adviser Howard Wolfson has responded to David Shuster's comments, calling MSNBC out for a "pattern" of negative Hillary Clinton coverage and threatening that Hillary will no longer participate in MSNBC-sponsored debates:
A distasteful comment about Chelsea Clinton by an MSNBC anchor Thursday could imperil Hillary Rodham Clinton's participation in future presidential debates on the network, a Clinton spokesman said.

In a conference call with reporters, Clinton communications director Howard Wolfson Friday excoriated MSNBC's David Shuster for suggesting the Clinton campaign had "pimped out" 27-year old Chelsea by having her place phone calls to Democratic Party superdelegates on her mother's behalf. Wolfson called the comment "beneath contempt" and disgusting.

"I, at this point, can't envision a scenario where we would continue to engage in debates on that network," he added.
This morning on "Morning Joe," Shuster ate his words (but he did not repeat them), apologizing for yesterday's comment that some saw as "pejorative."
Shuster was already having a bad day before he had to apologize on air. At 8:05 am "Morning Joe" host Joe Scarborough was on the phone and Shuster tried to cut him off. Joe would have none of it, saying in part, "He is sitting in my seat just because I'm allowing him to."
Watch Shuster's bad day begin:
Related
Popular in the Community