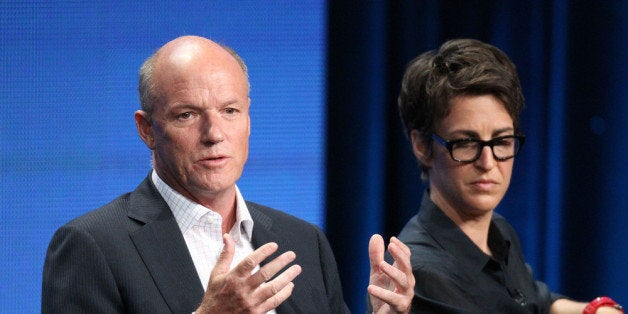 NEW YORK –- MSNBC's growing up, and at age 17, is getting the keys to its own website.
On Tuesday, the network will launch a preview version of its new site and will take over the MSNBC.com address in late October.
MSNBC president Phil Griffin joked with reporters Friday that it's "a pretty remarkable thing that a network that tries to think of itself as, you know, leaning forward and on top of things, really gets its own website in 2013."
NBC News and MSNBC have been trying to untangle their unique brand identities since last year's split with Microsoft, which co-owned MSNBC.com. Microsoft teamed up with NBC Universal on the cable TV and web venture in 1996, but hasn't had a stake in MSNBC since 2005.
MSNBC, which has shifted away from NBC's news division by building a stable of liberal hosts and adopting a progressive sensibility, moved temporarily to TV.MSNBC.com while NBC News took NBCNews.com.
Richard Wolffe, the executive editor of MSNBC.com, described the forthcoming site as the "first true digital home for MSNBC," and rattled off a number of other "firsts" during Friday's presentation to a small group of reporters.
For instance, MSNBC.com users will be able to watch the network's broadcasts live (on MSNBC Now) if they have a cable TV subscription and see full episodes at their leisure. In addition, they'll soon be able to create personal feeds, save content, vote on issues and search video archives.
The new home page will be arranged around 10 main stories, which Wolffe suggested won't be as difficult for MSNBC as it might be for other news outlets, since the network has a strong sense of its brand.
"We know who we are," he said. "We know who our audience is. We're not trying to cater for everyone. We're not trying to be a portal. This is about the spirit of MSNBC."
The home page will also feature tabs that allow users to dig deeper on topics ("Explore"), get clips and episodes ("Watch"), discuss stories in user-created groups ("Join In") and weigh in on issues ("Speak Out").
Both NBC News and MSNBC have been hiring reporters and editors to produce content for the new sites, and Wolffe emphasized that MSNBC is "serious about the journalism." ProPublica's Dafna Linzer joined in March and in recent months, the site has hired staff from The Washington Post, Talking Points Memo, Mother Jones, Salon, Politico and The Huffington Post.
In terms of coordination between the TV side and growing web team, Wolffe said the two operations hold joint editorial meetings at the beginning of the day and remain in contact thereafter. Some of MSNBC.com's new recruits, like reporters Benjy Sarlin and Suzy Khimm, have been appearing on air, too.
The Huffington Post asked Griffin how building a more dynamic site would help MSNBC's position in the long-running cable news ratings race, in which the conservative Fox News continues to lead, albeit with an aging audience.
In the short-term, Griffin suggested the site could help MSNBC grow and tap into what he described as around 50 million progressive, or somewhat progressive, media consumers. "I think that can help us on the TV side in a big way," he said.
Griffin also described MSNBC as "a young business" that only began positioning itself as the progressive alternative in cable news about six years ago.
"I like to say, this is only the second full election cycle," Griffin said. "So, to a degree, we've still got to get our brand out there so people fully understand it. People are aware of us. They're aware of some shows, but we still have some room to grow and reach people and I think this will help in the short-term."
In the long-term, he said that TV networks "better be in this space or you're going to become irrelevant," referring to the web.
Griffin added that "if you're under 30, not a lot of people are watching MSNBC live." He recalled hearing from college students who are fans of host Rachel Maddow, but don't necessarily turn on a TV at 9 p.m. Instead, they're watching at different times and on various platforms.
And in five to 10 years, Griffin said, "who knows how people are going to access MSNBC."
"But we do know that a lot of it is going to be through a digital way and tying it into their TV, the Netflix model, and we've got to be set up for it," he continued. "This is just the price of admission now. And if you're not in this space in the next few years, in a big way, in a smart way, as advanced as we are, you are not going to succeed."
This post has been updated with additional information about how users can access broadcasts on MSNBC.com.
Related
Popular in the Community