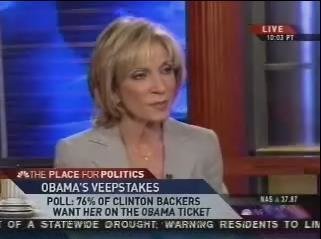 One of the things we noticed as the race for the Democratic nomination wended its way toward its conclusion was how the media focused on those so-called "bitter" white voters from rural Appalachia. For a time, following Mayhill Fowler's "bittergate" scoop
Which leads us this afternoon, when MSNBC's Andrea Mitchell briefly - and oh-so-awkwardly! - let slip the mask, referring to the residents of Bristol, VA, a southwestern-Virginia town on the Tennessee border, as "redneck." The haughty-sounding chuckle sure didn't help!
MITCHELL: Interesting images today. Barack Obama, Mark Warner, in Southwest Virginia. This is real [chuckle] redneck...sort of...uhm...bordering on Appalachia...country. This is not the Northern Virginia...uh...you know...high-tech corridor. And these are voters that he would not logically...be...you know, gravitating to.
Popular in the Community