Most people see JJ Ramberg, the host of MSNBC's Your Business, as a polished TV star who's got it all: A successful career. A family. A business degree. Even the entrepreneurial venture, GoodSearch.com, that she founded with brother Ken has taken off, raising more than $9 million for 100,000 nonprofits since 2006.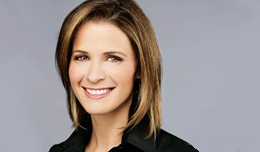 But don't let those accomplishments fool you, Ramberg recently told a group of attendees at WomanCon, an event for women entrepreneurs in New York. In the spirit of "lifting up the curtain" on what her life is really like, Ramberg began her keynote address with a short video showing her three small children, sitting on a staircase, all wailing loudly. "This was taken a few months ago, but it could have been this morning," she said.
Ramberg credits her babysitter, husband and supportive teams at MSNBC and GoodSearch with helping her make the daily juggle work. Still, entrepreneurship isn't an easy gig. "When it's good, it's great," she said. But on the days when running a company is overwhelming, she offers these tips.
1. Keep telling yourself, "I think I can." That's especially important in the early days of running a company, when you have an untested business idea, zero customers and a lot of naysayers. "If you can convince yourself you can do it, you can convince others," she said. Other businesses may have a similar product or service to yours, but "people will want to invest in you and work with you because of you and your confidence."
2. Know when to say, "I think I can't." It's equally important to recognize what you aren't able to accomplish. Everybody has moments of doubts, Ramberg said. The successful entrepreneur will figure out what's not working -- and then come up with solutions, whether that's hiring help, devising a new business strategy or simply taking a vacation to recharge the battery. People who aren't successful will say "I think I can't" and then throw in the towel.
3. Try to never say no, especially to customers. As an example, Ramberg recounted a story about a reception desk at a pilates studio. When a walk-in customer asked if the studio offered yoga lessons, the receptionist didn't say no, but instead outlined the studio's array of pilates classes. As a result, the customer signed up for pilates. As an exercise, practice not saying "no" and see what an eye-opening experience it is, Ramberg said.
4. Hire for personality more than skills. When you're adding staff, don't make the mistake of hiring a dud who's only perfect on paper. Qualities like ambition and perseverance are "hard-wired," Ramberg said. A person who's not a good fit for your workplace culture "will ruin everything for everyone," she said. "Skills can be taught."
5. Practice simple tricks to boost your confidence. That's especially important for women entrepreneurs, as feeling powerful in a business situation may not come naturally. Ramberg shared a few of her simple tricks. One is to stand with your legs apart and your hands out wide, which she said increases testosterone. Another is to sit in a chair and put your feet up on the table. "Do it before a meeting," she said. "You've got nothing to lose."
Related
Popular in the Community