With less than 50% children under 5 being read to daily and 32% of American children entering kindergarten without the ability to recognize letters of the alphabet, early literacy is not just a parental challenge but also a political issue.
Having dedicated my life to ensuring all children have a chance to succeed and working on the front lines of urban education for the past 20 years, I was excited when Melissa Harris-Perry was given her own show on MSNBC.
Melissa Harris-Perry is a brilliant political science professor at Tulane University, dynamic commentator, and national advocate for social justice and education equity.
As the CEO of Reach Out and Read, an early literacy initiative that impacts 33% of all children in poverty, I was honored Dr. Harris-Perry could share her favorite children's books, parental insights and thoughts on the politics of education.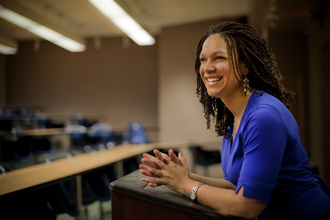 Courtesy of Chris Granger
Earl: What are some of your favorite children's books?
Melissa: I love Charlotte's Web. It is a classic story of friendship across differences. I often tell my best friend, Blair, that she is my "Charlotte" because when she first met me and I was just a humble pig, she could see much greater things for me in the future. Of course she doesn't like the part where Charlotte dies young! I also love Edwina, The Dinosaur Who Didn't Know She Was Extinct. I actually preach a sermon from that book! I love Grace for President and have read it with my daughter hundreds of times. We love the Harry Potter series, and I'm still not over the fact that the series ended! Toni Morrison has a children's book called The Big Box which I give as gifts to my graduating seniors as a reminder not to conform, but to find their own voices.
Earl: How did you introduce your daughter Parker to reading?
Melissa: Parker and I read Goodnight Moon every night for the first year of her life. She was born into a nursery full of books, most of them left over from my own childhood. I'm notorious for throwing things out in my house -- I hate clutter! But I never throw out books. So Parker has always been surrounded by books. Still, she is only now, at 10, developing her own taste in books. She definitely likes silly, funny, adventurous stories.
Earl: Why do you think urban education is so politicized?
Melissa: I think it's because we have defined education as a commodity, one that wealthy parents feel they have a right to give to their children as an exclusive commodity. We typically don't assume that wealthier people should have better roads to drive on, but we seem to think rich parents should be able to give their kids better science labs, more extracurricular options, and higher quality instruction without any sense that the kids of poor parents deserve exactly the same things. I find our tolerance of educational inequality absolutely intolerable. But, as a parent of privilege, I am part of the same system that offers more options to my kid than it does to others.
Earl: In addition to politicians and policy makers, do you intend to have community leaders as guests on your show?
Melissa: Absolutely! We are only three weeks old as a show and we are still finding our footing. I looked around my education panel the other day and in the middle of the interview my brain said "Oh my! There are no classroom teachers on this panel!" Obviously we couldn't stop the show, but when we got back to the office I immediately said, "OK, when are we having the next education show, because we missed a lot of voices here." Over the months to come we will build both a broad and a deep bench of voices on the issues that matter.
Earl: All children deserve a world class education and to be held to the highest standards. What do you think it will require for all children to succeed?
Melissa: A fair distribution of resources that reflects an understanding that we have to give more to those who have the least. Racial integration in neighborhoods and schools so that we have diverse learning and play environments. Higher pay and better working conditions for teachers, so that we can attract the best people to become career educators, not just TFA one-timers. Affordable health care, so that children and their families are well when it is time to learn. Food security, so that kids don't have to try to learn while hungry. Elimination of zero tolerance policies that criminalize kids for school infractions. The end of high-stakes testing and new definitions of measuring school success. Greater investment in music, art, drama, athletics, and creative pursuits, so that children can be inspired in school.

Earl: What do you like the best about the Melissa Harris-Perry Show?
Melissa: My staff. They are the most extraordinary group of people. I just want to sit with each of them for hours and learn everything there is to know about them.
Melissa Harris-Perry can be seen on MSNBC on Saturdays and Sundays from 10am - Noon.
Calling all HuffPost superfans!
Sign up for membership to become a founding member and help shape HuffPost's next chapter