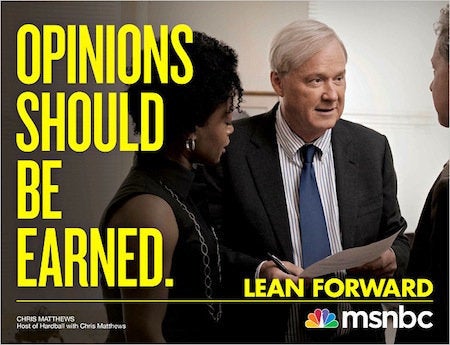 MSNBC is rolling out a major new ad campaign, along with a new tagline that it tells the New York Times is meant to highlight its progressive identity: "Lean Forward."
The two-year campaign is being launched Tuesday, with ads in train stations and bus shelters and in newspapers and websites, as well as commercials directed by Spike Lee that will appear on MSNBC and other NBC networks.
The tagline "defines us and defines our competition," said Griffin...his inference being that the Fox News Channel, the No. 1 cable news channel and a home for conservatives, is leaning backwards. Fox's best-known tagline is "Fair and Balanced."...

"It's an umbrella that's pretty wide, but that does have a progressive sensibility," he continued. "We're confident. We're strong. Let's not live in the past, let's not live by fear."
The network is expected to continue using "The Place for Politics" as well.
One of the new ads, featuring Chris Matthews, appeared in the Times: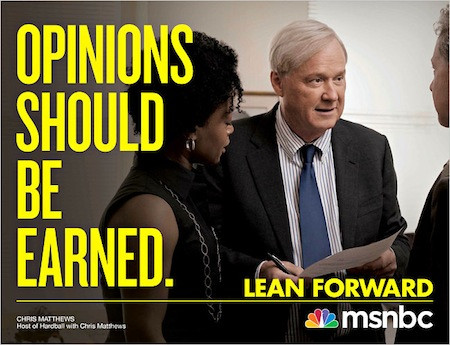 And MSNBC released the first two ads directed by Spike Lee on Monday night:
But is the new slogan any good? Vote in our poll to tell us what you think.
Related
Popular in the Community