Michigan State University athletic director Mark Hollis resigned Friday, two days after disgraced physician Larry Nassar was sentenced for seven counts of first-degree criminal sexual conduct.
Hollis served in his role for 10 years, and oversaw the athletic department while Nassar treated some of the school's athletes. The university employed Nassar for about two decades, until a report came out in the Indianapolis Star in September 2016 that alleged the doctor had sexually assaulted patients. Nassar also worked for USA Gymnastics, and treated some of the most high-profile gymnasts in the country. 
"Michigan State University is a great institution, and its greatest strengths are the people who call themselves Spartans," Hollis said in a statement. "Many, if not all, of those Spartans are hurting, especially the courageous survivors of Larry Nassar's abuse. My heart breaks thinking about the incomprehensible pain all of them and their families have experienced. Along with many, I was brought to tears as I listened to their statements. There simply aren't the right words to express our sympathy."
Hollis' last day at the university will be Jan. 31, a spokesman for the athletic department confirmed to HuffPost.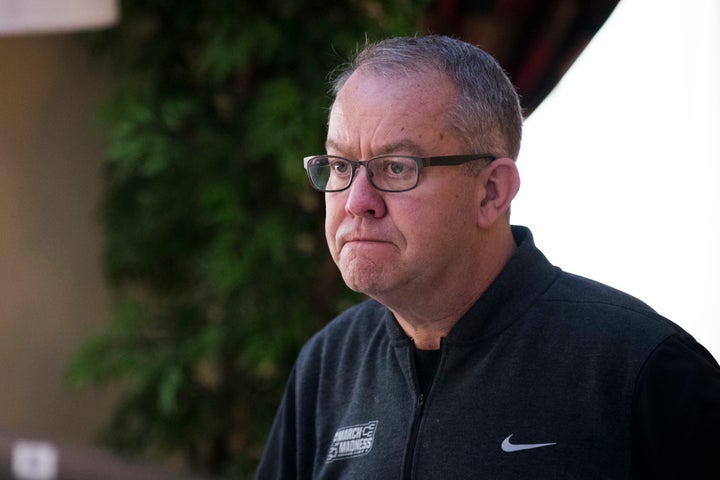 Nassar's abusive behavior was reported multiple times, so MSU faces severe scrutiny over the way it handles complaints of sexual assault ― most notably from several of the 160-plus young women who read victim impact statements in court this month. A Detroit News report alleged that more than a dozen university employees were made aware of Nassar's abuse and did not stop him.
Both the National Collegiate Athletic Association and Michigan's attorney general are expected to investigate MSU over the scandal. Hollis said Friday that he plans to "fully cooperate" with any investigation.
He also said in his statement that he did not know about the abuse allegations until September 2016. 
"I have always been a Spartan, and always will be," he said, then warned against "jumping to conclusions" about any part he might have played in the scandal. "I am not running away from anything, I am running toward something. Comfort, compassion and understanding for the survivors and our community; togetherness, time and love for my family."
Judge Rosemarie Aquilina concluded a week-long hearing on Wednesday by sentencing Narrar to 40 years to 175 years in prison. 
"I've just signed your death warrant," Aquilina said in court.
Nassar pleaded guilty to his crimes in November. He is currently serving 60 years for possession of child pornography, and is now expected to spend the rest of his life behind bars.
"Little girls don't stay little forever. They turn into strong women that return to destroy your world," Kyle Stephens said last week in her impact statement. Stephens said Nassar, a friend of her family's, abused her when she was 6 years old.
Calling all HuffPost superfans!
Sign up for membership to become a founding member and help shape HuffPost's next chapter