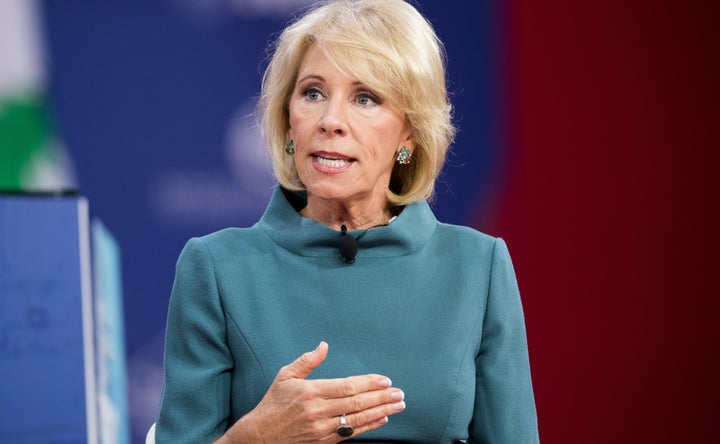 The Education Department announced on Monday that it will open an investigation into Michigan State University and how the school handled reports of child sexual abuse involving former doctor Larry Nassar.
"This new Title IX investigation will look at systemic issues in the University's handling of sex-based incidents involving Dr. Larry Nassar," Secretary of Education Betsy DeVos said in a press release.
Nassar served as the team doctor for USA Gymnastics and for several different sports teams on MSU's campus. During this time, he sexually abused over 260 young girls and women under the guise of medical treatment. He recently received three concurrent sentences of 60 years, 40-125 years and 40-175 years in prison for child sexual abuse and child pornography.
According to the Education Department's statement, the Office for Civil Rights is heading to East Lansing, Michigan, where the school is located, to join the Federal Student Aid team to begin the investigation.
"I appreciated seeing acting President [John] Engler's directive to the entire university to cooperate fully with our ― and with all ― inquiries into the university's actions," DeVos said. "We expect MSU's full and complete disclosure about its actions to protect students from sexual assault."
MSU's last president, Lou Anna K. Simon, resigned in January after 13 years in the role amid criticism that she did not do enough to stop Nassar's abuse.
In a statement to HuffPost, MSU's vice president for communications and brand strategy, Heather Swain, said the university was notified last week of the Title IX investigation.
"As we have been, MSU is cooperating fully with this and all investigations," Swain said. "Our focus is on taking the actions that demonstrate the voices of the survivors have been heard and on creating a culture that provides a safe environment for all members of our community."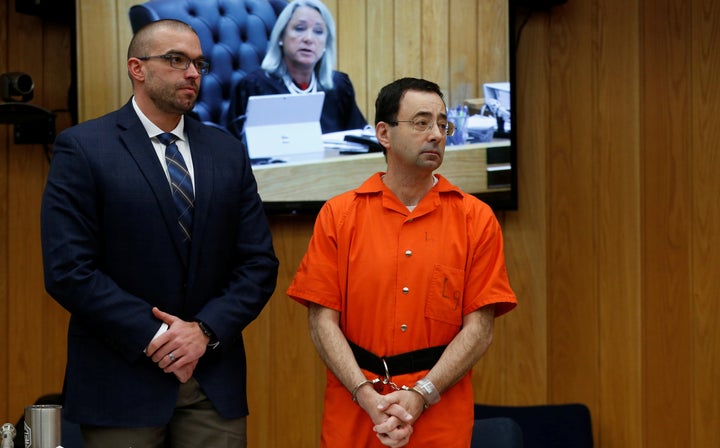 DeVos said the crimes Nassar committed are "unimaginable," and went on to applaud the bravery of the dozens of survivors who spoke out against him.
"The bravery shown by the survivors has been remarkable. My heart goes out to them as they have had to relive their horrific experiences and as they begin the long road to healing," she said.
"Every student across every campus should know that I am committed to ensuring all students have access to a learning environment free from sexual misconduct and discrimination and that all institutions that fall short will be held accountable for violations of federal law," DeVos added.
During Nassar's sentencing hearings earlier this year, 265 survivors and family members read impact statements in court. Their statements were emotional, cathartic and powerful, taking the news cycle by storm. Many of the survivors called for investigations into MSU, USA Gymnastics and the U.S. Olympic Committee for how poorly the organizations handled the accusations against Nassar.
"I knew that he abused me. I reported it. Michigan State University had the audacity to tell me I did not understand the difference between sexual assault and a medical procedure," survivor Amanda Thomashow said in her victim impact statement.
MSU has repeatedly denied covering up Nassar's behavior in any way.
"Any suggestion that the university covered up Nassar's horrific conduct is simply false," MSU spokesperson Jason Cody told HuffPost in January. "Nassar preyed on his victims, changing their lives in terrible ways. As President Simon has said, MSU is truly sorry for the abuse all victims suffered, the pain it caused, and the pain it still causes."
Earlier this month, President Donald Trump signed a bill that aims to protect amateur athletes from sexual assault in the wake of the Nassar scandal. In January, Michigan Attorney General Bill Schuette (R) announced that his office will also conduct an "independent, thorough, transparent and prompt" investigation into MSU and its handling of the Nassar case.
This article has been updated to include a comment from an MSU spokeswoman.
Popular in the Community