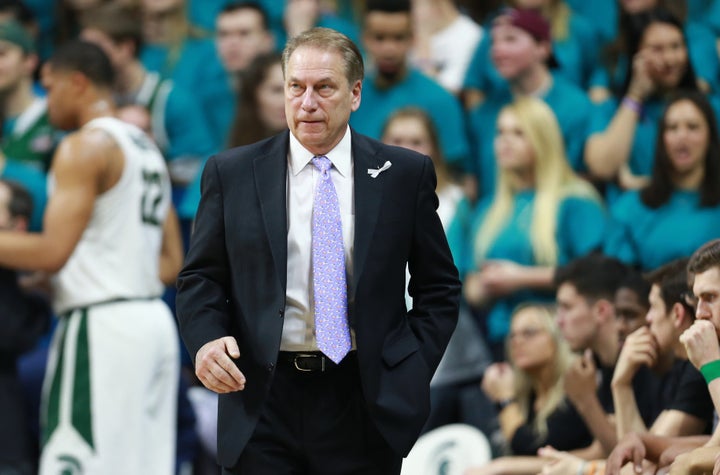 In a show of support for the courageous survivors who were abused by sports doctor Larry Nassar, students flooded the stands with teal at Michigan State University's basketball game Friday night.
The sea-colored supporters covered the Breslin Student Events Center's student section, also known as the Izzone, for coach Tom Izzo. Teal is the official color of Sexual Assault Awareness Month, which occurs in April, according to the National Violence Resource Center.
MSU beat the University of Wisconsin, 76-61.
After dozens of women delivered emotional statements in court, Nassar, 54, was sentenced to 40 to 175 years in prison for child sexual abuse this week.
Some students channeled Raisman's fierce words to Nassar ― "You are nothing" ― by printing the statement on their apparel.
Raisman, who revealed in November that she was also a victim, expressed her disgust with Nassar last week in court.
"Larry, you do realize now that we, this group of women you so heartlessly abused over such a long period of time, are now a force and you are nothing," the Olympic gymnast told the doctor.
"The tables have turned, Larry. We are here, and we are not going anywhere."
In the wake of Nassar's sentencing, MSU has faced its own firestorm of criticism. The university's president, Lou Anna Simon, and athletic director, Mark Hollis, have succumbed to the pressure and resigned this week.
Nassar's victims blame Michigan State University and USA Gymnastics for enabling the doctor to treat athletes even after allegations of abuse were reported.
Simon told Detroit News that she learned about abuse compliants against Nassar in 2014, when a Title IX complaint and police report were filed.
Popular in the Community