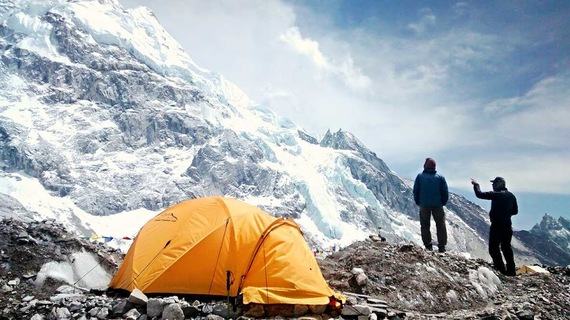 Although I'd been to the Everest base camp multiple times before, I'd never actually slept there. This time wasn't just a visit; I was climbing Mt. Everest for real, making base camp my new home for the next couple of months. I must say, sleeping at base camp is an experience all its own. Every night, you sleep tossing and turning to the sound of a moving glacier beneath you. I hadn't slept to the lull of the shifting ice for enough nights to get used to the feeling when I heard a foreign noise, which I would soon learn was the sound of an avalanche.
On April 18, I woke up around 7 a.m. to a commotion at the base camp. Climbers and Sherpa alike were standing outside their tents, pointing towards the Khumbu icefall area. Immediately, I knew something terrible had happened.
I rushed toward our dining tent, a gathering spot. Tim, one of my guides, was sitting inside listening on the radio. When I asked him what had happened, his response was my worst nightmare -- there had been a huge ice-avalanche in Khumbu icefall and few Sherpa were missing.
For the first few hours, we were glued to the radio listening for any new information about what was happening on the mountain. We were relieved to find out that the injured Sherpa, who had come to feel like brethren, were rescued, thanks to the impressive team effort and coordination of the mountain rescue crew.
Once the rescue operations were complete, a grim task awaited the rescuers. I witnessed something that will continue haunting me for years to come. A helicopter flew into the icefall and brought out the dead bodies of our brothers one by one, as everyone watched in complete horror. And, that wasn't even the hardest part of the day for me emotionally.
Our Sirdar Sherpa, Tashi Thundu, came by and spoke to me. Tashi has completed nine Everest summits, and he's the youngest Sirdar on the entire Everest circuit. This was my fourth expedition with Tashi and, over the last few years, he had become a very dear friend. This is the first time I saw a different side to Tashi. His face was stricken with worry and fear.
Tashi came to the dining tent, face drained of blood, and said that he had missed the avalanche by 30 minutes. His mind began to play a horrifying game of hypotheticals. What if he had been caught in the avalanche? Who would have taken care of his children? His wife? His father? Mid-sentence, he began to cry, breaking down with conflicted emotion. He was overcome with relief that he had escaped death, but, at the same time, had seen his friends suffer a different fate.
Although I thankfully never made it to the icefall, I couldn't help but ask myself the same questions about my own family. Who would have taken care of my mother and wife, and especially my father who suffers from dementia, for whom I had made the journey? The mere thought of it was too much to bear.
As the day unfolded, it became known that 16 of our Sherpa brothers were lost to the mountain. It was one of the deadliest days in the history of Mt. Everest expeditions. All of us at the base camp were left utterly devastated.
I was beside myself over the loss of our Sherpa brothers on the mountain, not thinking of what this meant for my own expedition. I knew I needed to let myself recover emotionally before thinking about the next steps. I called home and let my mother and wife know that I was safe. Both said that they would support any decision I made, even if I decided to continue with the climb on a different, more difficult route.
Originally our expedition was set to begin on April 1 and, on April 18, we were scheduled to go through the icefall. This was the same day as the tragedy. Due to complications, our plan was delayed, and we began the expedition on April 3 instead. Despite the late start, our team made good time, putting us on track to still make our first visit to the icefall on April 18. However, my bags consisting of all our technical gear never made it to the base camp, which meant our schedule was delayed again.
Call it fate or destiny or luck, or whatever, we never went through the icefall on the 18 and here I am alive and writing this post.
Ultimately, despite support from my family and team, I made the decision to postpone my long-awaited climb until next year. It wasn't an easy decision to make. I had trained for years for this moment, only to have my dream literally come tumbling down the mountain. But, I am grateful beyond words for my safety. I will use this experience to help in my training in the coming year to prepare for next spring, when I will face Everest again. I will still climb for my father, and dementia awareness, but also for those who lost their lives.
The mountain was there long before me, and it will remain for many years to come. I can wait one inconsequential year to see it again.
Calling all HuffPost superfans!
Sign up for membership to become a founding member and help shape HuffPost's next chapter