CHICAGO ― The police shooting of a black man on Saturday in a historically heavily segregated Chicago neighborhood, home to a significant portion of the city's police officers, sparked tense protests on Sunday between police supporters and anti-police-brutality protesters.
Joshua Beal, a 25-year-old father of two from Indianapolis, was in Chicago to serve as a pall bearer in his cousin's funeral when he was killed by an off-duty police officer. The next day, an estimated 200 pro-police demonstrators showed up to drown out the press conference of roughly 20 people calling for police accountability and protesting on Beal's behalf.
Some of the counter-protesters hurled racial slurs at Beal's supporters and yelled "go home!"
Iggy Rucker, who numbered among the small group of people protesting to support Beal, told The Huffington Post by phone that some in the pro-police crowed called him racial slurs and "monkey" and told him to "get a job."
"Being part of the scene made me feel like I was back in the '60s," Rucker said.
Police and bystanders have conflicting narratives of what happened in the moments leading up to Beal's fatal shooting.
Chicago Police Superintendent Eddie Johnson characterized the situation, which occurred around 3 p.m. Saturday in the South Side neighborhood of Mt. Greenwood, as a "road rage" incident that escalated into a shooting.
In a statement, CPD said Beal's vehicle, as part of the funeral procession, was stopped in traffic in front of a firehouse, illegally blocking a fire lane. This led to a "verbal and physical altercation" after an off-duty firefighter confronted the passengers about blocking the lane, prompting them to exit the car, police said. An off-duty police officer at a nearby business joined the scene, while a third official, a uniformed sergeant on his way to work, also pulled over at the stop and drew his weapon.
The argument escalated until officers fired on Beal, who police claim was holding a gun that he refused to drop.
Warning: This video has disturbing audio.
Family members and bystanders who saw police shoot Beal, who later died at an area hospital, say the scene unfolded very differently.
Cordney Boxley, who identified herself as Beal's younger sister, told the Chicago Tribune that a motorist ― who she believes was an officer ― cut her off amid the funeral procession and then tried to run her younger sister off the road as she drove in a separate car.
Boxley said both the motorist and the family members in the funeral procession got out of their cars to confront one another. The driver Boxley said cut her off got back inside his car only to emerge and then "just started shooting."
Bullets hit the windshield of the car Beal was in, prompting him to grab his gun. Family said Beal was licensed for concealed carry and never fired at officers. Police said they were testing the weapon to see if it had been discharged.
During the protest the next afternoon, between 10 and 20 protesters returned to the scene where Beal was shot to call for the police to be held accountable for what they decried as an unjust shooting.
"How is it every time the Chicago police encounters a black person, they manage to use deadly force?" one protester said in a video shared by DNAinfo Chicago. "If this had been a white person, they'd manage to de-escalate and do respectful engagement."
The video shows a small circle of protesters trying to speak to news crews as their voices are nearly drowned out by an estimated 200 pro-police demonstrators who used a bullhorn to shout "stop shooting cops" and sing the "The Star-Spangled Banner."
"Being part of the scene made me feel like I was back in '60s.""
In a blog post for The Huffington Post, Chicago Public School teacher Dave Steiber noted that Mt. Greenwood has a troubling history when it comes to racism and exclusion of black people, dating back to the 1960s, when more than 70 residents picketed a school where 11 black children had transferred.
Dee Williams, who stood in solidarity with the Beal supporters, said by phone that the demonstration "was like being followed by a lynch mob."
"It reminded me of footage I'd seen of white protesters attacking freedom riders in the South," she added.
Williams, who is white, said the counter-protest crowd was mostly men. Several people told her they were cops or family members of cops, Williams said, adding that many of them shouted support of CPD and Republican presidential candidate Donald Trump.
CPD said the officer involved in the shooting has been placed on 30-day administrative leave, per department protocol when an officer fatally shoots someone.
As the department promises an investigation, Williams said a coalition of groups like Black Lives Matter Chicago and the Revolution Club of Chicago hope to get support of local religious groups and others.
She noted a few young Mt. Greenwood residents knew some of the counter-protesters but joined the demonstrations supporting Beal instead. "They said 'we know some of the people from this crowd and we're not going to stand for it.'"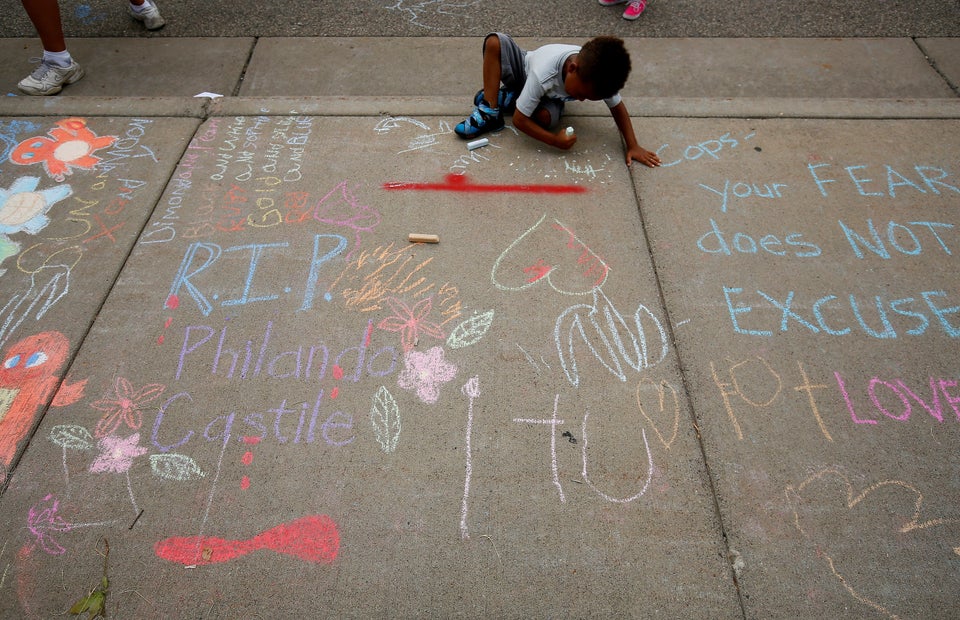 Children Protest Police Killings
Popular in the Community