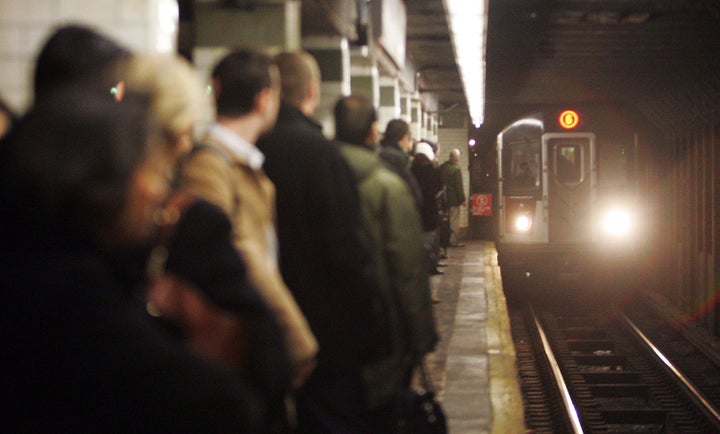 MANHATTAN -- A scathing audit says the MTA and New York City Transit are on the wrong track when it comes to diversions related to subway work, with millions in cost overruns and an increasing number of changes.
All the while, straphangers are being kept in the dark about the projects, with inadequate signage and announcements, according to the joint study by the office of City Comptroller John Liu and State Comptroller Thomas DiNapoli that sampled 50 diversions over a two-year period beginning in January 2009.
Diversions, changes in service that have to be staffed by flagmen and others, can include anything from trains that have to slow down while they bypass work sites to entire lines being shut down, officials said.
"Sadly this confirms the nagging suspicion of riders, residents and business owners alike, that subway service is taken down more than necessary," Liu said in a statement. "The MTA must understand that the City never sleeps and weekend service is neither ancillary nor expendable. We expect the MTA to maintain and repair the tracks, while keeping disruptions to a minimum."
On Sunday, for instance, there was planned work on the 2, 4, 5, 7, D, F, G, L, N, Q and R lines, according to the MTA's website. Some of the projects, like signal work on the 7 line, are expected to last years.
The report estimated that city transit wasted $10.5 million on more than 3,300 diversions over an 18-month period beginning in January 2009, in part because jobs started late and ended early.
Transit management could only provide documents that track the time spent on staffing service changes in 29 of 50 sampled cases. Of those, work started late on 28 projects and ended early on 21.
Auditors found work was not being done during the diversions some 10 to 27 percent of the time. Officials said that the estimated amount of money that was lost during these periods was based on the conservative estimate.
In addition the study found that four of 15 diversions sampled went over budget by a total of nearly $27 million for a total cost of more than $83 million.
MTA officials said that figure represented only a small fraction of the hundreds of work contracts the agency has, but Liu's office said that the sample size was within government auditing guidelines.
The audit also found that between 2008 and 2010, the number of weekend disruptions rose from 47 to 74. And those lasting more than a month jumped from 7 to 57 over the same time period.
On top of that, the report says transit didn't do enough to warn and inform straphangers about the changes.
The comptrollers found that the agency's 2010 budget for telling the public about the work was a mere $228,000 for its 2.3 billion annual riders whereas the Long Island Railroad, with a fraction of the ridership, had allotted $742,000 for that purpose.
During a visit to 39 stations that were affected by diversions in June and July 2010, auditors found:
No more than 20 signs at each station when transit said it would post 50
No signs in a language other than English, going against transit policy
No signs in cars, platforms and at street level in 10 stations on the 1 and 2 lines
Just two of the 13 stations designed for people with disabilities had signs in elevators
Newspaper ads are the only written notification method for service, and they were only created for two of the 50 sampled projects
It wasn't just the subways that were a mess, according to the audit. Investigators found that shuttle bus service, designed to give riders a lift when subways aren't running, was based on 6-year-old ridership estimates.
"Our audit found that MTA's service diversions are increasing in frequency and leaving taxpayers on the hook for millions of dollars in cost overruns," said DiNapoli of the study, which sampled 14 weekend diversions, 14 weekday diversions and 1 extended weekend diversion.
"The subway system is showing its age, but the MTA has to do a better job managing all aspects of these diversions, from rider notification to budgeting."
MTA officials shot back against the allegations.
"Due to the 24-hour, seven day a week operation of the subway system, planned service diversions are necessary in order to perform maintenance and capital work," the agency said in a statement. "We make every effort to minimize customer inconvenience by coordinating work -- performing multiple jobs in the same area so that we do not have to go back again.
"However, some projects are extremely involved, requiring several shutdowns."
And as far as informing straphangers: "We strive to keep customers aware of the diversions, utilizing station, and in car signage along with announcements, both in stations and onboard trains," the MTA said. "Detailed information is also provided on the MTA website and through our email and text alerts."
Popular in the Community