Pull back the curtain on the MTV Movie Awards tonight, and you'll see a few things that the stars are invited to that the rest of the world probably knows little about.
Award shows offer their guests invitations to 'gifting suites' several days before the show, where many high end designers and vendors come together to offer the guests their wares for free. The branding theory is called "Influencer Marketing" where you hope to have a 'Brand Influencer' like your product enough to use it in their daily life. That is equal to, or more effective, than old school advertising so the theory goes.
If, for example, women see Jennifer Lawrence with an item, they will probably be interested in knowing about that item and want to have it too. When suddenly a simple sweater becomes the sweater your favorite hunk or hunkette enjoys, it carries a lot more cache. So the gifting suites pamper as they hope to entice people of interest, impress them with their products and trust that a satisfied customer is satisfied enough to have their friends notice.
Secret Room Events have been doing gifting suites for years for the major award shows, including the Academy Awards, Golden Globes and the Emmys. I visited their MTV Movie Awards gifting suite Friday, before tonight's award show. Secret Room Events usually partner with a charity and this year their charity is TWLOHA "To Write Love On Her Arms", which is a nonprofit movement dedicated to presenting hope for people struggling with depression, addiction, self-injury and suicide.
Filling the downstairs ballroom, 40 vendors chatted with guests, celebrities and other invitees about their products, services, their hopes and dreams. For nominees a separate area provided 'carpet ready' attention from facials, hair styling, a cigar lounge and massage.
Inside I found everything from exotic resort vacations, to high end health care, natural beauty care, sports items and luxury fashion items. I found high end jewelry next to high end phone chargers, health food next to fine wines and designer sweets.
Stars score big, and it's definitely one of the fun parts of being on the public stage. You have to remember, stars didn't magically get to where they are to be on the invite list. They've put in tireless years of work with no guarantee of attainment to achieve the success they have. And in this town, where everyone wants something from everyone, particularly those with influence, this is one of the perqs.
I spoke to Malea Rose, pictured above, who you've seen in Two And A Half Men and New Girl and who is in the upcoming Halle Berry film 'Kidnapped' as one of the bad guys. She describes the film as a female 'Taken'. She had her eye on the very high end skate boards by JaseBoards when I ran into her, but she was really appreciating the health and beauty products. "I'm really excited about the HempMeds products, I know how healing hemp is supposed to be, and this company has a full product line," she said.
She was with Lauren Shaw, from Zero Dark Thirty as the ill fated CIA colleague of Jessica Chastain and who recently played Antoinette in NBC's Crossbones. Her new film is The True Memoirs Of An International Assassin.
"I like these events because it's an amazing opportunity to connect with people you'd never meet normally," she pointed out. At this point she had scored a skate board and I asked her if she'd use it. "Well, I grew up in New Zealand, then Hawaii where I did ride," she said laughing, "and then to Alaska before back to LA, so I know how to use them." She was looking forward to actually trying the long board when she got home.
The boards from JaseBoards were handed to them by Jase Bennet himself, who was there talking about his company out of Oahu. He started the high end skate board company when he ran over the board of his friend's child and destroyed it. "The kid was crying, it was the worst moment of my life," he said. He decided to make a board that couldn't break. "200 iterations later, I had figured it out," he said laughing. The boards are bamboo on either side and maple in the middle, for strength and flexibility, and their top of the lines go for $250. "We build out of Oahu, and are the premier Hawaiian skate brand, they don't warp, don't crack, and now we're going global. We're selling almost as many a day in South Korea as in America," Matthew McDonald, head of marketing told me.
Next to them I found Allison Hall, who designs the Gris jewelry line of diamond jewelry who had many of her rings, bracelets and necklaces with rose cut diamonds on display and are real works of fine art. With each bejweled creation in the thousands of dollars, it was fun to look at table with $100,000 in original diamond jewelry and talk with the designer. Next to her was Jim Rimoshytus, a fireman with 30 years on the job, who's still on the job, and who started his company Furrfighters Gear, which removes per hair from clothes. "I had to figure out how to stop going to work covered in hair from my dog on my gear," he said laughing. "What I came up with became it's own business." He's been editor's choice from several Pet magazines. Next to him was the Repeat Cashmere table, one of the leading labels in Europe in luxury cashmire design, this time showing their capes, scarves and ponchos and delighting the attendees by handing out their designs.
Weslye Saunders, tight end most recently for the Colts, currently a free agent, was most intrigued by the Infra Slim Pressure Therapy Booth, that promised reductions in waistlines by 1 to 2 inches in 2 sessions. "I came into the Colt's camp once chiseled at 255 and felt pretty good about myself and was actually told I was too light," he said laughing, "I thought I looked great, but the coach said I had to put on weight because in my profession, sometimes you need a little more weight. So obviously, I'm geared towards the fitness items here."
And speaking of Jennifer Lawrence; Renae Moneymaker (pictured above) has been her stunt double on her last seven films. "I started working with Jennifer five years ago on the Hunger Games and it's been seven films now, she is so great to work with," she tells me she just recently wrapped the film Passengers starring JLaw and Chris Pratt, a hard sci-film in space and did weeks of wire work to simulate zero-G, fine tuning the 70lb. costume for talent as well as doubling for the actress. "I really liked the wine from JaM Cellars, and Michele (Michelle Truchard, co-owner) was so nice, so friendly, great at bringing people together and they had great wine as well."
And there was plenty more. Smart Flour baked goods who use non GMO and gluten free flour in their pizzas, to Aloha brands health drink with the two most adorable saleswomen, Sarah and Ella, the pre-teen daughters of Jim Trachtenbreit the owner, who then told me calmly about the natural ingredients, only 11 grams of sugar and are 20% aloe.
You a vape smoker? Hydra Vapor tech says they've built the best case for all the Vape hardware and were there to gift vape smokers with their high tech design. "Meeting and talking with people is still the best way to introduce your brand," said Eric Oligschlaeger, the owner. "If you do vape, there's a lot of knick nacks that go with it, and people easily forget them, lose them, so we built a high end case where they all fit together."
The Hemp Meds brand was impressive. The first company to make and ship a full line of CBD (cannabidol) health and beauty products, as well as anti-aging and rejuvinative products showing the versatility of the Hemp herb. Hemp, of course, is the natural plant high in CBD and low in THC (found in Marijuana) so it's not psychotropic, merely medicinal. Their RSHO line (Real Scientific Hemp Oil) is currently one of their most successful, and the first cannabidol product to be approved for import into Brazil, for prescription used to treat approved medical indications including epilepsy and chronic pain syndrome. That international recognition is a significant milestone for this company, and in the world of healing as well, acknowledging the efficacy of the herb. The HempMeds professionals on staff here were careful not to say that RSHO could treat anything, however, as legally our FDA doesn't allow them to. But a quick check on the internet shows that RHSO is linked to helping treat Dementia, neurological disorders, including a long list of ailments.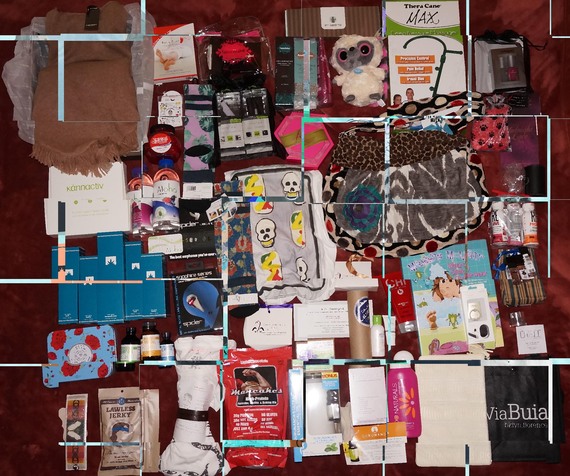 The haul is impressive, including a designer purse from Via Buia, clothes from fashion brand Sagjol, and carry bag from Lola Blue, Fake Bake natural self tan, wine from JaM Cellars, nail polishes from Nailtiques and lip glosses from LipGarb, natural essential oils from Gurunanda, CHI For Dogs styling gel for dogs, every USB accessory from Xentris, bangles and braceles from Fleur-de-lis who also made the VIP bracelets for the event, and fine chocolates from STF cakebits.
Work hard enough to get famous. The tell tale cue is one day you might find yourself on a Secret Events Room gift suite guest list, and you'll know you're on your way.
PHOTO CREDIT: Philip Morton

Like the work? Follow me on Twitter for regular updates! @PhilipDMorton