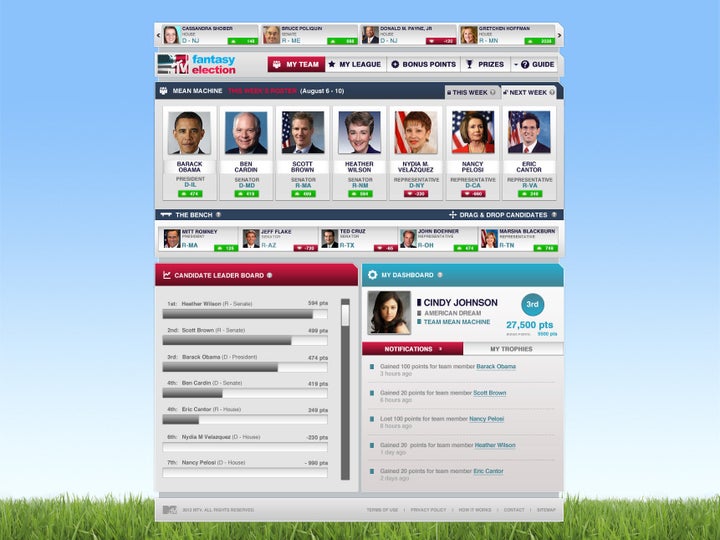 NEW YORK -- When MTV executives began conducting research about 18 months ago for their 2012 youth vote campaign, the results were uninspiring.
Jason Rzepka, MTV's senior vice president of public affairs, summed up the phenomenon as "election avoidance," with young people appearing less likely to flock to registration sites and campaign offices than they did four years ago. MTV executives quickly realized that they would need more than "Choose or Lose," their initiative of the last 20 years to engage the youth vote for this election. And "Boxers or Briefs?" wouldn't cut it, either.

"We recognized if we were to do a conventional election program -- PSAs, a website with how to register to vote -- that wasn't going to be enough," Rzepka said in an interview with The Huffington Post. "We needed something that went beyond that that pulled people into this election, served them an on-ramp."
MTV executives hope that "Fantasy Election 2012," which takes its rules from fantasy sports and applies them to politicians' behavior, will pull youth voters more into the political process.
Here's how it works: Players and the other members of their league choose politicians, and lose or gain points based on their behavior, as judged by websites like PolitiFact.com and Project Vote Smart. When a politician performs poorly in the five categories -- transparency, honesty, engagement, civility and public opinion -- you lose points. When he or she performs well -- for example, by posting a Facebook status or Twitter update to engage with his constituents -- you gain points.
The gamification idea came after extensive research revealed how game culture has infiltrated most aspects of younger generations' daily lives -- from how many "likes" a picture got on Facebook to comparing who has more Twitter followers to use of phrases like "winning" or "fail." MTV's goal is to draw the already-politically minded of the 18-29 year-old demographic, but also those who might not otherwise keep up with the news or vote in the election.
MTV rolled out a beta version of Fantasy Election this week, but fully launches the game Aug. 27 at the Republican National Convention. And the winners don't only get online bragging rights. MTV has lined up more than 3,000 prizes to distribute, from smaller rewards like exclusive MTV content and sneak peeks of upcoming shows to big-screen TVs and iPads for players who do the best over the course of the entire game. The game's grand prize is an all-expenses-paid trip for the winner and three friends to the VMAs and a staggering $25,000 cash prize.
The fantasy game is not an all-encompassing election tool for the network. MTV's "Power of 12" site will feature links to voter registration information, Project Vote Smart's tool to help individuals figure out which candidate best represents their beliefs, and a game that asks you to guess whether a line was said by a politician or a pop star.
Given recent reports of diminished youth excitement this cycle, it's not surprising MTV might try something new to engage its target demographic. The New York Times, in a December piece on MTV's new "Power of 12" slogan, suggested that young voters may feel they chose in 2008 and still lost, hence rendering the long-running slogan obsolete.
The numbers for 2012 aren't particularly promising, either. A July 13 Gallup poll found that 58 percent of registered voters aged 18-29 said they would "definitely vote" in November, 20 percent lower than the national average. The gap between the youth vote and the national average in 2004 and 2008 were a mere 6 and 7 percent, respectively.
But Sarah Stern, communications associate at the League of Young Voters Education Fund, said the difference this election is not that young people aren't engaged -- it's just that they're not engaged with specific candidates. Stern pointed to youth participating in both Occupy Wall Street and Tea Party efforts as evidence of ongoing interest in politics. "They're still engaged with issues," she said.
In fact, Stern said, the numbers that the League's online voter registration tool have yielded only provide further proof that young people have not checked out of the election. The tool's analytics indicate that 39 percent of people who are registering on it to vote online were born after 1990 and will therefore be voting in a presidential election for the first time.
Stern also said social networks, like the ones "Fantasy Election" will capitalize on, have been key to her organization's efforts, which include voter registration and "get out the vote" efforts, particularly among low-income voter communities and African Americans aged 18-35. Twitter is the "number-one" way young African Americans communicate online, she said, far more so than their white peers. She noted the organization's efforts to gather Twitter handles have been far more effective than using the addresses and home phone numbers provided by local voter files.
"Online strategy was the icing on the cake in 2004 and 2008," she added. "In 2012, it's the heart of organizing."
Related
Popular in the Community