During a sketch with the cast of "Mike and Dave Need Wedding Dates," Anna Kendrick joked about finding her co-stars Zac Efron and Adam DeVine dates for the award show. 
"I scoured every dating site available -- Tinder, Bumble, Hinge, JDate, Craigslist, Angie's List -- to find Adam and Zac a couple of dates for tonight's show," Kendrick said. "I picked out four potential dates for these guys and I'm going to let you, the audience, pick the two winners. Let's bring out our lucky girls!"
After Kendrick's announcement, four girls with prosthetic pregnant bellies walked out onstage. Three of the girls sported various mismatched outfits showing off their stomachs, while one girl was dressed in an orange jailhouse jumpsuit. The only guy accompanying the girls was wearing a white tank top, gold chain and backward hat. 
"OK, these are not the girls I picked for the MTV date contest," Kendrick said.
"No ma'am, we're here to audition for '16 and Pregnant,'" one of the girls said in a Southern drawl while smacking on gum, as another whooped and cheered.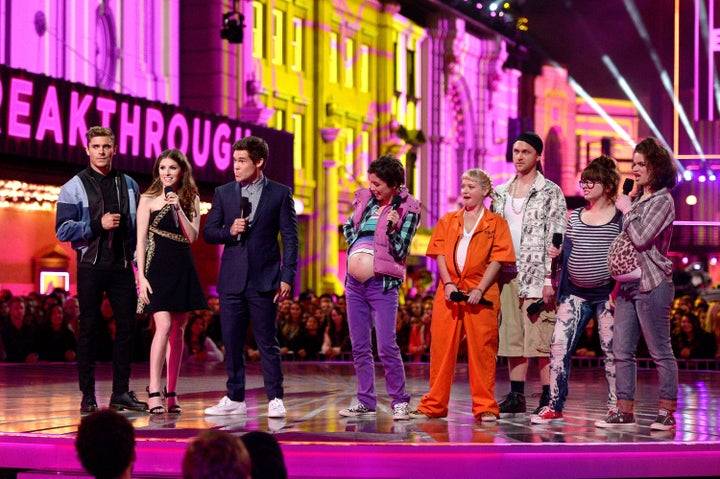 Out of all the networks to make a "joke" about teen pregnancy and the show "16 and Pregnant," MTV should know better. After all, the network began airing the "documentary series" in 2009, tracking the lives of pregnant teens as they faced countless hurdles in their lives. 
"Each story offers a unique look into the wide variety of challenges pregnant teens face: marriage, adoption, religion, gossip, finances, rumors among the community, graduating high school, getting (or losing) a job," reads the synopsis of "16 and Pregnant." "Faced with incredibly adult decisions, these girls are forced to sacrifice their teenage years and their high school experiences." 
But apparently, if you're MTV, airing the show gives you license to make fun of the girls at your own award show and reduce them all to white trash stereotypes. A few members of "16 and Pregnant" and "Teen Mom" were in the audience and we're wondering how they feel about the sketch right about now. 
REAL LIFE. REAL NEWS. REAL VOICES.
Help us tell more of the stories that matter from voices that too often remain unheard.
BEFORE YOU GO
PHOTO GALLERY
MTV Movie Awards 2016 Red Carpet