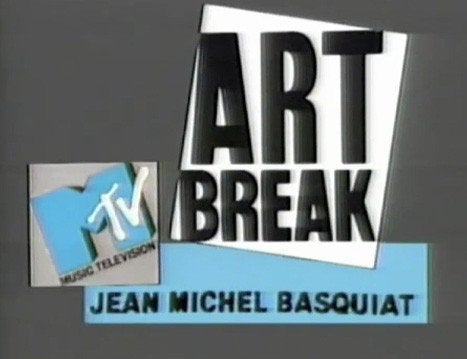 Just when we thought MTV was nothing but "Jersey Shore" reruns, they do something to make us remember the halcyon days when the station actually mattered. Melena Ryzik at the New York Times reports that MTV is bringing back its 1985 series "Art Breaks", a series of 30 second videos promoting contemporary art and artists which will be curated by MoMA PS1 and Creative Time.
The videos are somewhere between video piece and commercial for the artist, and the experimental imagery gives us a bite-sized taste of culture beyond TRL. The original series featured Jean-Michel Basquiat, Neo-Expressionism's radiant child, and Richard Prince, the photographer and provocateur. Both of these artists are now legends, yet 27 years ago, we saw them as fresh-faced youth trying to get a break.
The series revival will feature videos from artists including Mickalene Thomas, Jani Ruscica, Mads Lynnerup, Rashaad Newsome and Tala Madani, all of whom have a partnership with MoMA PS1. More artists will be revealed as the show progresses, so we're holding out for a Terence Koh appearance at some point. (Don't disappoint us, MTV.)
From what has been revealed thus far, we are pretty excited for the new wave of "Art Breaks." Mickalene Thomas' video features a dreamy video portrait of a woman with a white-blonde afro, right where film noir meets disco. Rashaad Newsom's video, a part of his "Swag" collection, depicts a kaleidoscopic flow of hip-hop luxury, like a Kanye West video on mushrooms. This new generation of "Art Breaks" seems to be even more experimental than the previous, although only time will tell if these artists rise to the same status as their predecessors.
Regardless of what happens in the future, we are pleased to see that instead of dumbing themselves down for the millennial youth, MTV is challenging their viewers and themselves. Maybe what the kids of America want is less spray tans and spring break and more avant-garde art pieces. We certainly hope so!
Which artist would you like to see on "Art Breaks"?
Popular in the Community