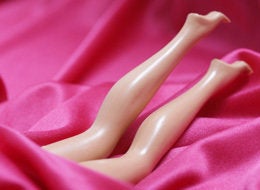 I decided to reflect my thoughts about this show in the form of a letter. A letter to MTV. In case they actually read it.
I remember when you used to be a music video network. That was a long time ago. Sometime since then you morphed into a "reality" television network. In fact, you started reality television with the Real World. Somewhere along the line (probably the Flavor Flav dating show The Flavor of Love) you began to delve into Surreality television. But now you have gone too far. With your new program Model Makers you are looking to actually create a new reality. A reality that is dangerous and destructive to the young minds of your target demographic. While trying to cash in on America's impressionable youth, you are edging closer and closer to absolute moral and ethical bankruptcy.
Let's take a close look at Model Makers. This is not just another modeling show interested in pretty faces and young women in turmoil. Yeah, you've definitely kept the "young women in turmoil" part, but you are also imparting a more direct and nefarious message: Transform young women into "high fashion" models by urging them at all times to lose weight.
"15 lucky women from around the country will get the opportunity of a lifetime when MTV hands them over to Michael Flutie and an expert team of trainers, nutritionists, stylists, and other industry leaders. Under the watchful 'eye' of these experts, models will endure twelve weeks of intensive physical fitness training to help them get down to their 'ideal size.' Models will also compete in various high fashion challenges to determine who has star quality. With weekly eliminations looming, models must put their best foot forward at all times while staying focused on losing weight."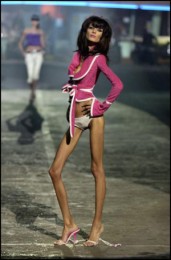 MTV then promises to award the winner of this contest: "$100,000, a professional modeling portfolio, a personal trainer for a year and the chance to jumpstart the career of your dreams."
Do the watchful eyes of your experts include an ounce (how about a gram?) of responsible, nurturing supervision? Most importantly, while the winner gets a nice chunk of change, what is the real cost of Model Makers? Well, here's a page from the diary of a teenage girl that recently died of bulimia. After your show airs, I'll keep you abreast of others that I receive:
Why must I chose being thin or poor?

Whole outlook of life is altered when you're overweight.

Look what Oprah goes through and Al Roker, Randy Jackson, Dolly Parton. All celebs had to have gastric bypass surgery, so how can I be successful without it...

I'll risk death to be thin. I understand, I'll try anything to be thin. I've tried all the diets, fin fin, etc. If I had the money, I'd do gastric bypass.

The battle never goes away, unless you lose weight of kill yourself.

I don't know my exact weight, if I did I'd kill myself.

I'd die to be thin.

Signed -- XXXXXX
Even though all of the celebrities in her letter didn't have gastric bypass as she stated, you get the point.
You want reality MTV? Let's take a sobering look at the reality of eating disorders in America. It is estimated that there are 1.3 million women with Anorexia Nervosa, 2.25 million women with Bulimia nervosa, and 5.25 million women with Binge Eating Disorder. If you don't have a calculator handy (I'm assuming you shipped those out with all of the videos you got rid of) I'll go ahead and provide the running tally -- Well over 8 million women in the United States suffer from an eating disorder.
These are not just numbers MTV. There are dire consequences for perpetuating the myth that women can't be beautiful or successful unless they are a size 0, or preferably, less. Young women are inundated with images of the perfect woman, and for some reason, they never seem to look like real people. Maybe that's because casting directors, the modeling industry, fashion magazines and now your network has forgotten that the average American woman is 5'4'', weighs 144 pounds and is a size 12-14. Hell, Marilyn Monroe was on the high side as a size 14.
Did you take that into account when you allowed Model Makers to develop the following casting guidelines?:
"If you are between the ages of 17 & 24, 5'9" to 6' tall, and 130-190 pounds, please send a recent photo of yourself (head shots and body shots in a bathing suit) to mtvmodel@madwood.tv..."
Thanks for supplying an email address but I've got a better idea of what we should be sending. More letters like this one. To you, MTV, and the producers of Model Makers.
By the way, were you aware that a psychological study in 1995 found that three minutes spent looking at a Fashion Magazine caused 70% of women to feel depressed , guilty and shameful! Incidentally, that is exactly how I felt when I found out about your new show.
Sincerely,
Darryl Roberts
Director -- "America the Beautiful"

Popular in the Community