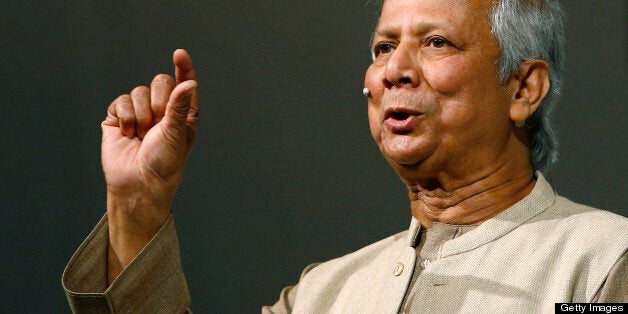 WASHINGTON -- Nobel laureate Muhammad Yunus was in Washington, D.C. on Wednesday to receive the Congressional Gold Medal for his work fighting global poverty. He called for overhauling existing economic and political systems to help alleviate people's suffering, an extension of the work he's done with his Grameen Bank in Bangladesh, which focuses on microcredit. But when asked for his opinion about the ongoing crackdown and oppression of bloggers in his country, Yunus simply walked away and refused to comment.
"I don't want to comment on such an issue right at this moment," Yunus said in response to a question from The Huffington Post on his views of the recent arrest of four so-called "atheist bloggers" in Bangladesh.
"All discussions today should be focused on this particular ceremony," he added as he walked away quickly.
The recent arrest of bloggers in Bangladesh came in the wake of threats from a little-known Islamist party called Hefazat-e Islam, which has resorted to violence to push its 13-point agenda, including death to "atheist bloggers" and a ban on women comingling with men.
Bloggers ignited the ire of Hefazat-e Islam by launching a mass protest on Feb. 5 advocating the separation of politics and religion, as well as justice for war crimes victims. The protest has continued non-stop in one of Dhaka's busiest intersections, Shahbagh, leading it to be dubbed the Shahbagh movement.
Despite his refusal to comment, Yunus' official speech was not focused merely on the ceremony that celebrated the "brilliant" and "innovative idea" to eradicate poverty through microcredit.
He also mentioned how he left his job in 1971 to settle down in Washington, D.C. to lobby with "as many U.S. senators as he could" for the sake of Bangladesh's independence, given that the United States was opposing the Independence War and Yunus was living in America at that time.
Yunus was also praised by both Democratic and Republican senators on Wednesday for what they said was his commitment to women's empowerment. In his speech, Yunus said he was receiving the award "on behalf of millions of women in Bangladesh," given that women are the main beneficiary of microfinance, and it was women who translated his dream of fighting poverty through social business into being.
Women have played a central role in the Shahbagh movement, having been part of the protests since the beginning. They have turned out in thousands to join the movement after Hefazat-e Islam voiced its demands about the interaction of men and women.
The news of Yunus receiving the award has sparked a fresh round of criticism on social media.
Online activists were critical of him, wondering how could he receive so many awards every year when he has seemed to express no opinion about burning social issues in the country.
With the latest -- the Congressional Gold Medal -- Yunus has now received as many as 103 awards in about 25 years, as listed by the Yunus Center, an organization formed to promote Yunus's philosophy. In 2009, he received the U.S. Presidential Medal of Freedom.
Calling all HuffPost superfans!
Sign up for membership to become a founding member and help shape HuffPost's next chapter