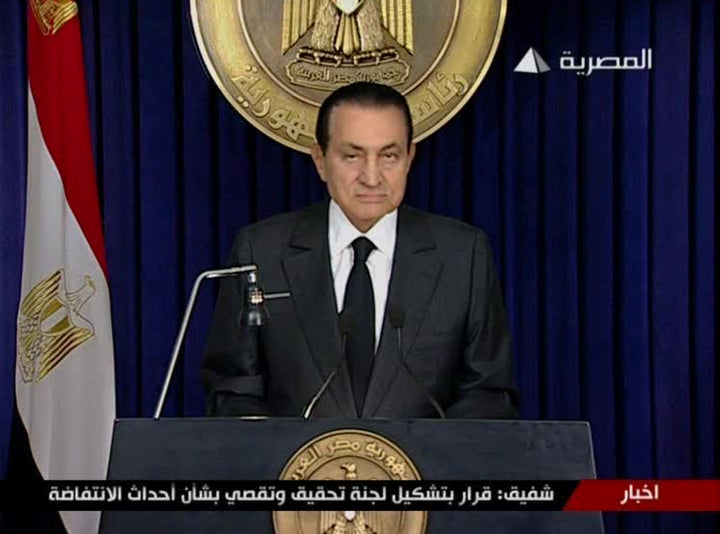 CAIRO -- Egypt's Hosni Mubarak refused to step down or leave the country and instead said he would hand his powers to his vice president Thursday, remaining president and ensuring regime control over the reform process. Stunned protesters in central Cairo who demand his ouster waved their shoes in contempt and shouted, "Leave, leave, leave."
(SCROLL DOWN FOR LATEST UPDATES)
The rapidly moving events raised the question of whether a rift had opened between Mubarak and the military command. Hours earlier, a council of the military's top generals announced it had stepped in to secure the country, and a senior commander announced to protesters in Tahrir Square that all their demands would soon be met, raising cries of victory that Mubarak was on his way out.
After Mubarak's speech, protest organizers called for the army to take action to oust him, and they vowed increased protests on Friday. Several hundred thousand had packed into Tahrir Square, ecstatic with expectation that Mubarak would announce his resignation in his nighttime address. Instead, they watched in shocked silence as he spoke, slapping their foreheads in anger and disbelief. Some broke into tears.
Around a 1,000 marched on the state television headquarters several blocks away, guarded by the military with barbed wire and tanks. "They are the liars," the crowd shouted, pointing at the building, chanting, "We won't leave, they will leave."
Prominent reform advocate, Nobel Peace laureate Mohamed ElBaradei, whose supporters were among the organizers of the 17-day-old wave of protests, issued a Tweet calling on the military to act.
"The army must save the country now," he said. "I call on the Egyptian army to immediately interfere to rescue Egypt. The credibility of the army is on the line."
Mohammed Mustapha, a protest spokesman, said, "We are waiting for a strong reaction from the army to Mubarak's speech." He said "huge numbers" of protesters were expected Friday and that many wanted to march on the Oruba palace, Mubarak's main presidential palace several miles away from Tahrir.
Immediately after Mubarak's speech, Vice President Omar Suleiman called on the protesters to "go home" and asked Egyptians to "unite and look to the future."
In his 17-minute speech on state TV, Mubarak spoke as if he were still in charge, saying he was "adamant to continue to shoulder my responsibility to protect the constitution and safeguard the interests of the people." He vowed that he would remain in the country and said he was addressing the youth in Tahrir as "the president of the republic."
"I saw fit to delegate the authorities of the president to the vice president, as dictated in the constitution," said Mubarak, who looked frail but spoke in a determined, almost defiant voice.
Suleiman was already leading the regime's efforts to deal with the crisis. The constitution allows the president to transfer his powers if he is unable to carry out his duties "due to any temporary obstacle," but it does not mean his resignation. Even in that case, the vice president still cannot request constitutional amendments or dissolve parliament.
Have a tip you want to share? You can leave a message for HuffPost at 00-1-315-636-0962. If you know someone there and have email access, send us an email at egypt@huffingtonpost.com. Our Skype account is HuffPostReports.
Related
Popular in the Community