When a large, loud and raucous group needs to get together and make some noise, an art museum isn't typically the first place you'd pick.
"We've never heard so many yeses," Chicago-based Mucca Pazza cheerleader Meghan Strell said in an email statement on behalf of the band. "MASS MoCA prepared a stage for us but we wanted to perform all over the factory campus and they let us."
"We felt an instant affinity with the color and movement of Sol LeWitt's wall drawings so we asked if we could dance with the drawings," Strell said. "MASS MoCA told us the drawings were chalk, but yes, we could dance with them, and film them."
The 30-odd-piece band, which plays everything from Eastern European brass music to American rock and funk to classic '60s TV themes, went on to perform five shows at the MASS MoCA in August as they filmed the video for the new single "All Out Of Bubblegum."
In the event program, the museum said "MASS MoCA strives instead to be an open platform" and "to make the whole cloth of art-making, presentation, and public participation a seamless continuum."
Turns out, letting a freaky, fun marching band with cheerleaders, helmet amplifiers, bikes and streamers into an art museum isn't such a crazy idea after all.
"The weekend was magic," Strell said.
This is the premiere of "All Out Of Bubblegum," the first single from Mucca Pazza's latest album "L.Y.A."
Before You Go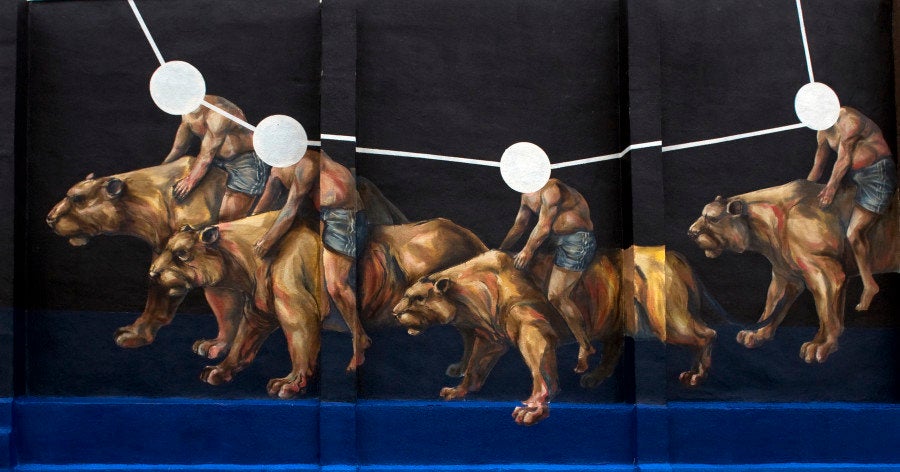 25 Street Artists' Works From Around The World
Popular in the Community