The Shakespeare Center of LA has done what a lot of non-profits never get the chance to do: grown up. Well into its twenties, now it seems to be fulfilling its potential and then profits didn't make, but SCLA, though still having to work hard for every penny, is at 28 a success story.
Started in 1986 as the Shakespeare Festival LA, it was the child of Ben Donenberg's heart. Donenberg, then a newly transplanted Julliard-trained NY theater actor, had a part time gig (like most struggling actors), working part time for composer Henri Mancini's wife Ginny. Casually mentioning his dream was to recreate in Los Angeles, the New York Shakespeare Festival held every summer in Central Parks Delacorte Theater. Mancini, a generous patron of the arts, impressed by the young man she'd come to know, handed him a blank check and said have at it. He wrote himself a check for three thousand dollars (which has long since been repaid) and with it created what has become his life's work.

The initial performance of the newly created Shakespeare summer festival was Twelfth Night. It was held downtown in Pershing Square, at the time the heart of LA's homeless and transient population. The audiences were comprised of friends, actors, and the lost souls who roamed the downtown streets. They all loved it! The homeless loved it so much they also became the first volunteers, showing up each night to show people to their seats and thank them for coming. After a while some of the homeless would bring recyclable bottles and cans as their thank you/admission tickets. On seeing that, Donenburg immediately saw another aspect of his dream. Community.
Better living through Shakespeare? So it seems.
In 1993 following the 1992 Rodney King ignited LA riots, when urban programs for teens were sorely needed, Will Power Youth was born as another arm of the Shakespeare Festival LA, and it's name changed to Shakespeare Center of Los Angeles, for the center it was indeed becoming. Launched with 14 kids performing a one hour adaptation of Romeo and Juliet in an outdoor plaza downtown, Will Power Youth was providing teachers who cared and paying jobs. Since then 20 to 30 teens are paid a salary to be a part of WPY Shakespeare Company for six weeks every summer. It has evolved into an amazing multi-leveled program many people would pay to be a part of! Teens, recommended by teachers and social workers, come together in the spacious downtown building, in need of a face life, that is home to SCLA, from 9 a.m. to 4 p.m., five days a week from mid June until early August. Under the direction and guidance of highly trained Shakespeare teachers and scholars, theater directors, producers, playwrights, costume designers, stage managers and set designers, they work as a theater company. From the time they clock in each morning to the time they leave in the evening they are studying, breaking down, interpreting and reinterpreting the words and meanings of William Shakespeare, a dude who dies in 1616, and loving it!
The vision of WPY, "transforming youth play by play," stems from its core belief in the transformative power of art. But how, or better, why, by Shakespeare, in the 21st century that moves to the beat of rap. The reasons, like the program, are multileveled and practical; Shakespearian themes have proven to be timeless. His plays deal with human emotions and issues of the heart that after 400 years are still the same and probably will be as long as humans have hearts.
Shakespeare's plays are about the human spirit and condition. The language is challenging and in so being forces learning, concentration and research. They must be broken down word by word to be understood and built back up again to be reenacted. This kind of work promotes literacy, vocabulary building employing dictionaries and thesauruses and thus creating academic growth. If an urban hip hop kid living below the poverty level in the year 2014 in LA, sporting orange, green or purple hair, or wearing hanging down jeans that could hold four of him, can breakdown, comprehend and spit back A Midsummer Night's Dream well that kid will feel she/he can do anything!
Human relations, a key aspect of succeeding in the workplace, is taught through the workplace environment, as is the commitment to a shared goal (creating a play) and by working together in teams, relying on each other to build something together. Acting, set designing, writing, choreographing, creating costumes, everyone has a part to play and a team to be a part of. Job skills, people skills, academic and research skills, honing these skills and changing the trajectory of these kids lives has been the goal and commitment of SCLA for over two decades and counting.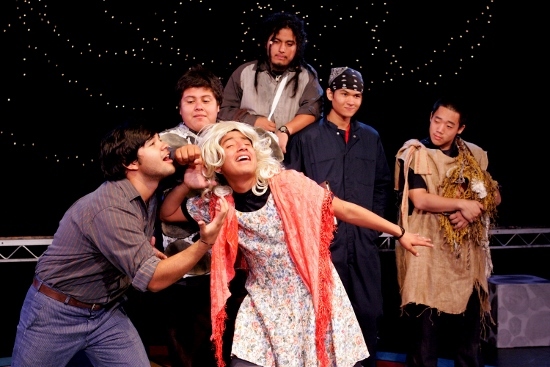 Proof of this commitment can be seen in the youth that reapply each year, well as in returning staff members who come year after year Shakespearean scholar and theater director, Elizabeth Rainy, has been directing the WPY plays since 1997. This summer, under her direction, the youth will be performing a modernized adaption of Hamlet with its local changed to the urban and edgy Echo Park area of Los Angeles.
On a recent morning downtown, Chris Anthony, the associate Artistic Director of SCLA who has been with the program for over 20 years, was changing hats as fast as she could. One moment she was fielding a call by a service provider about a bill, the next she was sitting in the circle of kids breaking down text. Five minutes later she was in the kitchen checking supplies in the kitchen that is stocked with crackers, peanut butter, apples and water so company members never go hungry or thirsty. Back in the circle Chris listens to the dialogue read by different cast members occasionally scribbling notes in her script. At one point she heads over to Elizabeth in the middle of the circle and whispers something to her. Not a moment later the kids are all up and stretching, touching toes and reaching for the sky in order to re-energize for another read through before the 45 minute lunch break. Clearly, Anthony has a beat on every aspect of Will Power Youth, and everything it stands for, and two decades on the job has only increased her passion and commitment to SCLA.
Before the cast of this summer's Shakespeare Festival play, Romeo and Juliet moved to its home, the Japanese Garden on the campus of Los Angeles County's VA in West Los Angeles, rehearsals were held in the downtown building. With 25 kids plus staff in the front and an entire professional cast and production team mapping out moves and staging scenes in the back of the house, the building, throbbed with creative energy. When the front room and the back united in the kitchen for "popsicle breaks" it was a boisterous co mingling of Yale Drama School trained professionals, East LA teens with tattoos, and seasoned Broadway actors yakking, about life and the dude who died in 1616!
Recently SCLA partnered with the Los Angeles Veterans Administration to create VIA, the Veterans in Art Program. With over 300,000 Vets in LA County, it is a multi-ethnic, mixed gender community in need. Through SCLA the Veterans in Art program provides paying jobs that help vets to rebuild their lives and, in some cases, re-enter society as productive members. For the past few years SCLA has employed upwards of 50 Vets a season. They work building sets, assisting stage management, ushering. They work as parking lot attendants, concession stand cashiers and grounds security.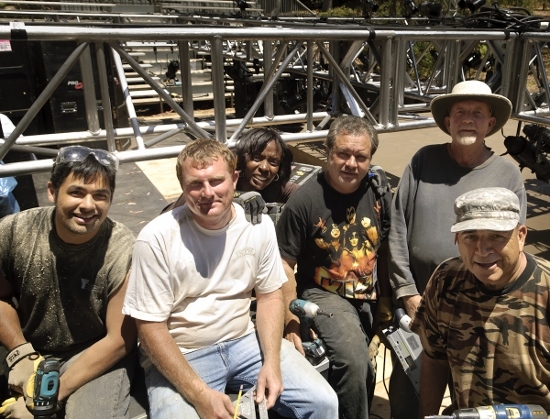 Again there are many repeat customers. A good many vet employees are in their third summer working at the outdoor theater in the Japanese Garden on the VA campus's home to the Festival component of SCLA. Jerry, one such employee, hired three years ago to help usher people to the auditorium, now lives on his own off campus, working part time in winter with another theater, credits SCLA for helping him to reenter the work force, and feel like a productive member of the working community again.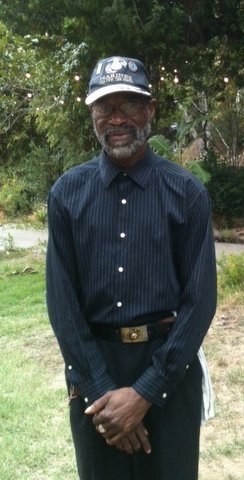 When Jerry talks about being around the cast and seeing the plays, he loses his war torn aged look and his drawn face lights up. You can see the hard working young boy from Chicago that he was. The skinny kid who "was raised right" comes out as the leathered lines soften when he laughingly refers to Ben as "Boss."
Before the performance one night last week, two other vets, sat at a picnic table in the Garden with Ben talking about what the VIA program has given them. Curt and Felicia who have become good friends through working on this summer's production finish each other's sentences about how the partnership between SCLA and the VA has affected them. Both appear to be in their early forties and both have what can be called American good looks that are marred by the same sadness seen in Jerry's eyes. There is a heaviness about them both. The heaviness of too much witnessed, too much felt, too much disappointment in life or others. This heaviness is lifted when they talk about working for SCLA. Curt, in an eloquence of his own calls the partnership between the VA and SCLA "a marriage between the eloquence of Shakespeare and the no quit attitude of the military." Felicia, who has also recently moved into her own apartment downtown says she loves coming to work and looks forward to the 2nd act when it's dark and the stars are out and she sits in the garden and "gets her Zen on" allowing her to lose the sadness in her blue eyes. How refreshingly wonderful and life affirming to hear in their own words, that vets are being given back dignity and hope through this program.

This summer's fare, Romeo and Juliet July 8th to the 26th, sets our young lovers in 1920's Los Angeles and their warring families as enemy newspaper magnets in spats and flapper dresses. The racially mixed cast of professional actors gives us a very fair haired, pale Romeo, played by Jack Mikesell, whose credits include guest starring in Rizzoli and Isles this past spring. His Juliet, as dark as he is fair, is played by actress and Harvard grad, Christina Elmore. Ms. Elmore was in the highly acclaimed film, Fruitvale Station, and is a series regular on TNT's series, The Last Ship. The rest of the cast, also stellar and highly credentialed, come from the Yale Drama school, Broadway, Off Broadway with several having performed in Shakespeare Festivals in London. The alchemy created by ingénues and seasoned performers in this rendition of the Bard's classic love story, lights up the night.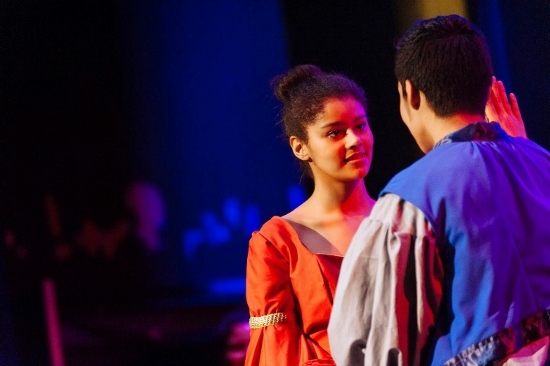 Watching people stroll onto the grounds from the parking lot through to the Japanese Garden, filing in as couples, in groups, as families, or strolling in alone, with wicker picnic baskets, blue foam coolers and blankets, feels exciting and festive, like something special is about to happen, that there will be magic in the night. It's a timeless feeling... people have felt it in Central Park for decades, at Stratford-on-Avon, for centuries.Hopefully the good citizens of Los Angeles will feel it in the sanctuary called the Japanese Garden at the LA campus of the VA until our 20 something year old SCLA grows very old indeed.
Year after year, through grants (The Ralph M. Parsons Foundation, The Green Foundation, The Los Angeles Arts Commission), private donors, and their yearly celebrity studded fund raiser called Simply Shakespeare, Donenberg works to make that happen. Tom Hanks and Rita Wilson, major friends of SCLA, have been the organizations guardian angels from the very beginning. 2013's Simply Shakespeare event may be hard to follow. Starring Sir Paul McCartney, costarring Tom, Rita, (who got to sing on stage with Sir Paul) and Martin Short, it raised over a million dollars. Hard, yes. Impossible? Not for Donenberg. Nothing in the world is impossible for Ben Donenberg when it comes to his baby.
"How far that little candle throws its glow. So shines a good deed in a naughty world." -W.S.
Calling all HuffPost superfans!
Sign up for membership to become a founding member and help shape HuffPost's next chapter