In "The Walking Dead," Warm Bodies and the upcoming World War Z, zombies are leaving deep footsteps in Hollywood. Now, black filmmakers are adding their own imprint to the zombie trek with the short film Danger Word, starring veteran actor Frankie Faison as a man trying to keep his 13-year-old grand-daughter alive in a post-apocalyptic world.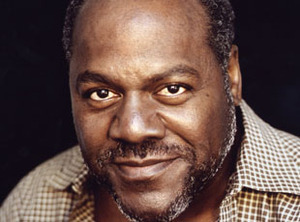 For anyone who has ever seen a horror film, a stalled car on the side of the road instantly evokes an image of an attack. But the same scene - a stalled car on a desolate road - might trigger special meaning for black audiences. Is this area "safe" for a black person alone in the woods?
Screenwriters Steven Barnes and Tananarive Due explore the convergence of these fears in their upcoming short film, Danger Word. Zombies are more than supernatural stalkers in the upcoming film. Instead, the zombie thriller is being re-invented as an extended metaphor with special messages for the black community.
"All post-apocalyptic horror fiction is a metaphor for how to cope when society falls apart," said Tananarive Due, black horror writer and one of the screenwriters for Danger Word. "For a lot of black families, they are already feeling that strain. Parents are in jail. Neighborhoods are in crisis. Yes, Danger Word is a zombie movie, but this is really about teaching us how to survive."
The film is also a message about self-determination, another critical theme for blacks in the arts. Barnes and Due adapted Danger Word from their novel Devil's Wake after deciding they were tired of waiting for Hollywood to embrace their work. Danger Word, produced and directed by Due's longtime friend Luchina Fisher, stars Faison (currently on Cinemax's "Banshee") and Saoirse Scott (formerly of "One Life to Live").
In Danger Word, the threat of a zombie plague in a rural location and the disruption of a man's relationship with his 13-year-old grand-daughter allow viewers to tap into our fear of the unknown, test our loyalty and explore the limits of survival through devastation and loss. The young girl and her grandfather have survived the zombie plague in his wooded cabin when her birthday goes badly awry. The fifteen-minute film, recently shot over Memorial Day weekend in upstate New York, is scheduled for release in the fall.
Though the short film is about the dangers of the supernatural world, the themes explored in the film are constant threats in the real world for many American men and women. These challenges especially resonate among black Americans. Even in our so-called post-racial world - where nearly half of the people incarcerated in the United State are black (black men are incarcerated at a rate seven times that of white men) and more than 27 percent of blacks live in poverty - danger is a familiar terrain.

Danger Word, currently in production, has been dubbed part of The Black Horror Revolution. Due and husband Steven Barnes, an accomplished novelist and screenwriter, originally wrote the short story "Danger Word" as part of the Dark Dreams black horror anthology. The story also led to their two collaborative novels Devil's Wake and Domino Falls, set in the same universe. Fisher, a journalist and television documentary producer, also wrote and directed the award-winning short film Death in the Family. She said Danger Word was a natural selection for her next project.
"Yes, Danger Word has a few zombies and fits within the horror genre, but at its heart, it's a story about a grandfather and his granddaughter and how they cope with loss," Fisher said. "In Death in the Family, I dealt with issues of loss. For me, how people manage loss is an endless source of fascination. It goes to the heart of who we are as human beings."

Faison, whose screen credits include The Wire, The Silence of the Lambs and Coming to America, is equally excited about his role as Grandpa Joe in Danger Word. The role in a zombie movie is a career departure for Faison, a distinguished character actor who recently played a police commissioner and bartender. Still, the role in Danger Word has special appeal for him.
"When I read this story, I saw that this was really about a grandfather trying to teach his granddaughter how to survive. I think it is so important to pass down knowledge and information to younger generations," said Faison, who was nominated for a Tony Award for his performance in August Wilson's Fences. "This character is so appealing. That is what attracted me immediately."
Faison is also looking forward to stepping into the horror genre: "I think this is a genre worth exploring. I don't do things by the book."
The fascination with the "walking dead" in the horror film genre has long prompted critics to deconstruct the allure and value of the zombie genre. Zombie vehicles have been examined as commentaries on class, modern-day materialism and isolation; Danger Word injects the novelty of the black zombie characters into the arena.
"We hope there are some subtle visual markers that give it a stamp of our cultural experience," Due said. "This gives the zombie genre a special meaning to our black viewers. For non-black horror lovers, the novelty of the premise is also attractive because all horror lovers are looking for ways to get scared. Horror lovers are attracted to novelty."
But the cast of black lead actors isn't the only thing novel about the film production. The production of Danger Word is also atypical. The film project is being funded by donations from friends, family and complete strangers who are invested in making the film a reality. And that, says director Luchina Fisher, also says something important about how black filmmakers are bringing projects to life in the film industry. Fisher's first film project, Death in the Family, was also an independent film.
Fisher feels encouraged about taking control of the creative process, especially right now: "What I learned from producing my first short film is that you don't have to wait for a green-light or permission from someone else to tell a story you've been dying to tell. Not only are there people out there who will support your project but there's a huge audience of people who want to see what you have to say. It's heartening to see that there are at least 10 films by or about black Americans scheduled to come out this year. A big reason for that is because black filmmakers have been working away on the indie circuit and not waiting for Hollywood to take notice - but, of course, Hollywood is noticing now."
The Danger Word project has amassed more than 100 supporters in its donor family, with some people giving as little as $5 to some topping $1,000. Funders include members of the military serving in Afghanistan, Daughters of the Dust director Julie Dash, and Oscar and Tony nominees. To complete the production on its shoestring budget of $15,000, almost everyone on set has made sacrifices. The group is still collecting donations and will begin a second round of fundraising for post-production. This is the same style of guerilla film-making that helped propel Spike Lee to the national stage more than 20 years ago.
Despite recent strides, the culture that still permeates funding for big film projects makes the grassroots effort a necessary step to bring many independent, black projects to life. Too often, Hollywood producers are eager to bankroll projects that perpetuate stereotypes, but reluctant to throw their financial support behind more complex and nuanced roles that challenge actors of color. Apparently, securing funding for a novel black film project that isn't rife with stereotypes is harder than battling the walking dead.
"We are underrepresented in horror movies and many other genres because we are not in control," Due said. "Even the most well-meaning filmmakers struggle with their depictions of characters of color. There are countless examples of where actors have to coon their way through it, act as the comic relief or serve as the sacrificial Negro. Our stories should not be limited by those roles."
Still, some may question whether black filmmakers should traffic in the supernatural world when life presents its own horrors. Barnes, whose television credits include "The New Twilight Zone" and "The Outer Limits" on Showtime, has made a successful career out of fantasy fiction. And Due, who won both the NAACP Image Award and the American Book Award on the strength of her speculative fiction, says the challenges of real life and the fight against zombies are not too far removed from each other.
"I've had some situations in my life that might as well have been a horror film; but for details itself, they are emotionally the same," Due said. "Horror is just a visual guide as to how we can maintain our strength."
Calling all HuffPost superfans!
Sign up for membership to become a founding member and help shape HuffPost's next chapter