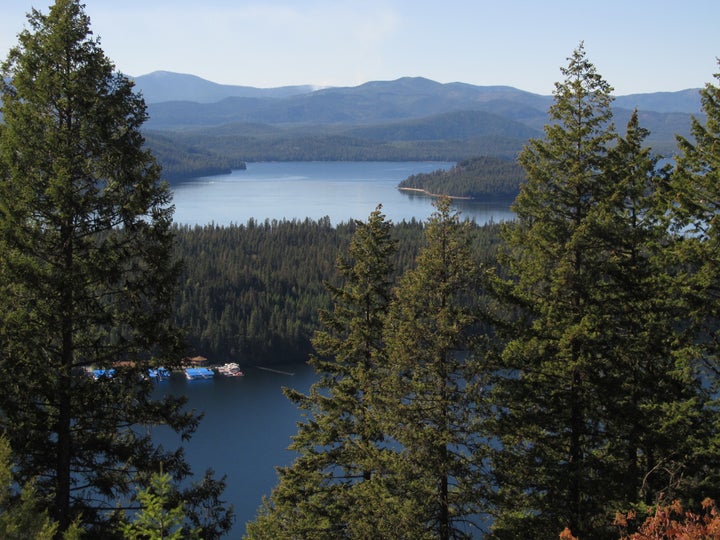 This is the reaction of my bewildered New Yorker friend when I tell her where I'm going for my first road trip ever.
"Because I don't know anything about it!" I tell her excitedly. Well, besides potatoes.
Over seven days in mid-September, my boyfriend and I set out to explore the northern reaches of Idaho, known as the "panhandle," where narrow, winding two-lane, roads cut through an infinity of forests and are a pleasure to glide over, retired couples in RVs and long logging trucks our only companions. Taking in the dramatic road signs--depicting wild animals, livestock, crumbling cliffs and careening trucks--is like reading a colorful and sometimes slightly alarming picture book about Idaho's fauna and flora.
I had read that outside of Alaska, Idaho contains the largest area of remote and rugged wilderness in the country. This pulled at me deeply, and I imagined a land of wise old forests and noble mountains, bears and moose roaming like ghosts, clear mountain streams and stunning glacier lakes. Turns out I imagined exactly right.
But I quickly realize that the fascinating array of people I encountered also helped to transform the trip into a truly unforgettable experience.
Like the mountaintop men who live and work in fire lookout towers. One of those men is John Crawford, and from his tower near the town of Priest Lake, Idaho, you can actually see his home state of Montana, as well as Canada, the lights of Spokane, Washington, and of course, Priest Lake. But Crawford doesn't work in a tower of glass and steel—he's 6,300 feet high in a delicate wooden lookout tower that sits atop Sundance Mountain, the site of a fatal forest fire back in 1967.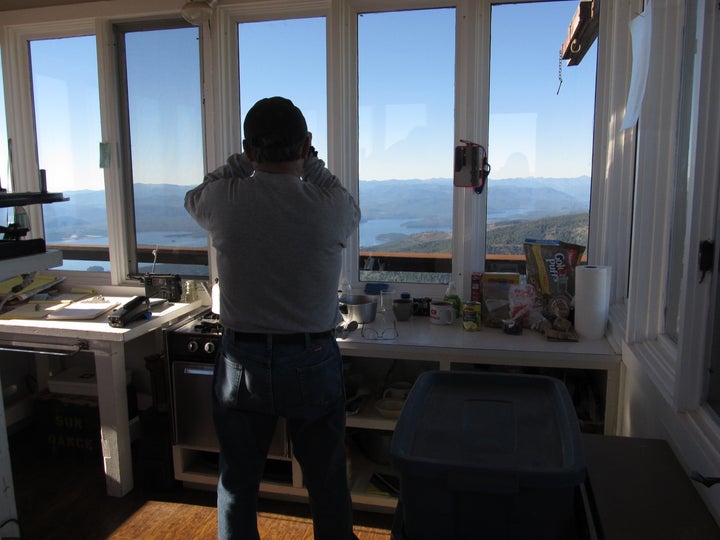 Crawford has volunteered to hang tight for six weeks (as others have done before him) in this cozy structure that sways in the occasional 60 mph winds and barely withstands the lightning storms, when he has to ground himself by sitting in a chair whose four legs each end in a glass cup.
Using binoculars and the Osborne Fire Finder system, invented by William B. Osborne in 1911, Crawford's sole duty is to discover any telltale signs of a potential forest fire, accurately pinpoint its location and radio back warnings to local forest officials.
His notebook-cluttered desk sits up against the large window, perpendicular to his perfectly fitted bed, underneath which are stored a solar shower and large, plastic tubs filled with cans of Campbell Soup and Dole fruit mixes.
The work never really stops, but Crawford still finds time to go for walks, gather the much-prized huckleberries ("you never give away your huckleberry patch") and read. Ironically enough, a worn, paperback copy of Fire on the Mountain by Edward Abbey sits on his notebook-cluttered desk like a product placement on a TV show, and I can't help but laugh out loud.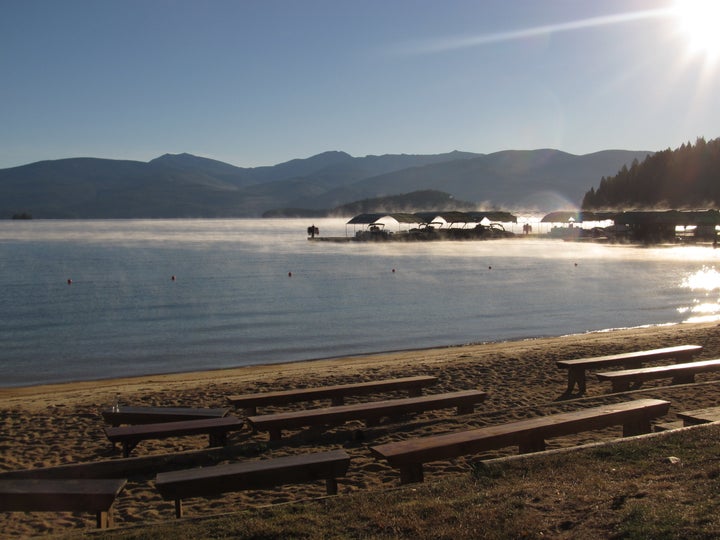 Back at our roomy lakeside cabin at Hill's Resort in Priest Lake, I sit on a wide patio bench as my boyfriend grills our dinner. The mist rising off the water and the peace of the surrounding forest is pure poetry that I cannot put into words.
But there's something else I can't quite grasp: aside from the state license plates declaring "Famous Potatoes" and a couple restaurants called "Spuds," the potato mania that the rest of the country associates with Idaho is not really a thing here.
Throughout the trip, I've randomly asked some Idahoans for their take on this, only to find out that the potato fields are all in southern Idaho. Finally, I chat with a woman from Boise who clues me into what's really going on: "We have all these mountains and lakes, but when people think that all we have is potatoes, they don't come here. That lets us keep all this gorgeous wilderness a secret."
Saying a heartfelt good-bye to Priest Lake, we continue onto Wallace, a historic place that proclaims itself to be the silver mining capital of the world, with over 1.3 billion ounces of silver mined in the last 130 years. Although the silver mining boom is over, Wallace chooses not to be forgotten, just as New York City transplant Rick Shaffer chose to appoint himself Prime Minister of this endearing little town of not even 800 people after moving here 24 years ago.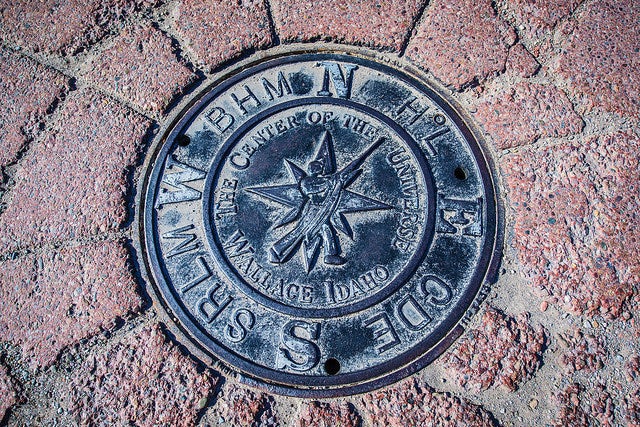 Shaffer and his governing group also made the important decision of pointing out that the Center of the Universe just so happens to lie in downtown Wallace. The almighty Center may just look like a nicely preserved sewer cap in the middle of a street that doesn't get much traffic, but it has become a popular visitor attraction. Aside from taking selfies, people come to get married and even divorced right on this spot.
Upon arrival to our hotel, which is none other than the Wallace Inn, the receptionist refers us to a nearby hiking trail in the Idaho Panhandle National Forest, the Pulaski Tunnel Trail. It turns out to be a very educational stroll, with highly informative signboards every 100 feet or so, turning a hike of two hours into almost three if you stop to read each sign in its entirety. Which I mostly did. I learned that I was walking through a forest that had almost entirely burned down to the ground in 1910 when Edward Pulaski saved the lives of about 40 forest rangers. Still, you can glimpse a few sun-bleached bones of trees, their naked trunks lone survivors and stark reminders of this powerful fire that swept across Idaho, Montana and Washington.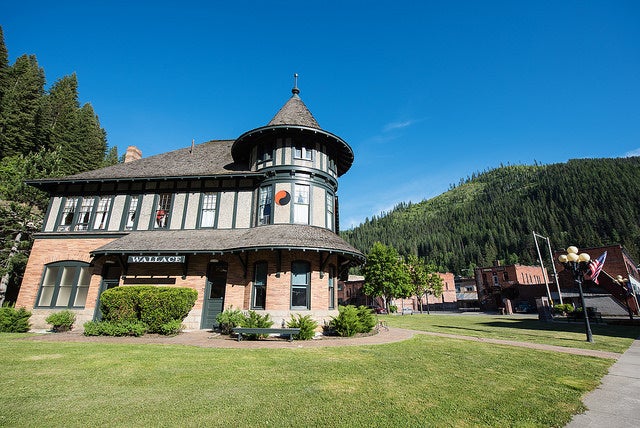 In the evening, we head to the City Limits Brew Pub, home to North Mountain Brew. While we are indulging in some mac n' cheese and a couple of very flavorful craft beers, I realize that the entire Pacific Railroad Convention seems to have swarmed the place, drinking and dining and talking trains. This is probably in part due to the fact that the brewery is located just beyond the Northern Pacific Railroad Museum.
The pub is my first encounter with the "crowler," a one liter aluminum can of beer, freshly packaged right before my eyes at the handy dandy crowler press that sits behind the bar. At $6.00 for a whole liter of incredibly fresh and flavorful local craft beer, well, you just can't go wrong. But buyer-without-a-cooler beware: these beers are so natural that they contain no preservatives and must be kept cold before opening.
I would eagerly travel anywhere to see a lumberjack festival, but luckily, Orofino (population of about 3,200) is just 3.5 hours away from Wallace. Entering Orofino, we follow the gently winding road along the Clearwater River, forested hills on either side. Our hotel room looks out onto the trees and the soothing river below, which is just steps away.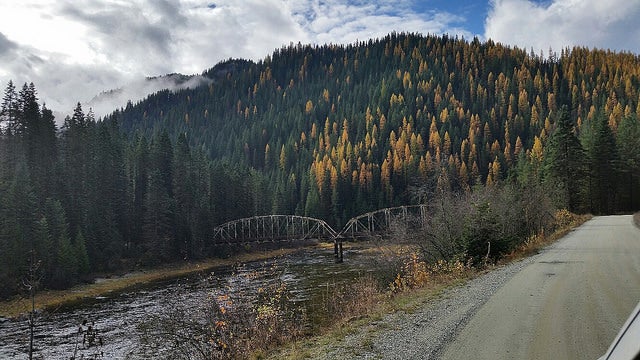 A few minutes walk from the hotel leads us to the fair grounds, where the crowds watch attentively from a semicircle of bleachers. The midday sun is glaring over the grunting, sweaty faces of men with axes and women gripping the ends of an enormous saw. Most participants are wearing sleeveless shirts that reveal practiced biceps straining to win or at least keep up.
I'm looking for a spot on the bleachers to witness the 69th annual Lumberjack Days festival when I hear the announcer casually mention that the three men competing in the springboard chop event are 70, 72 and 75 years old. The winner? The 75-year-old, of course; he has the most experience after all.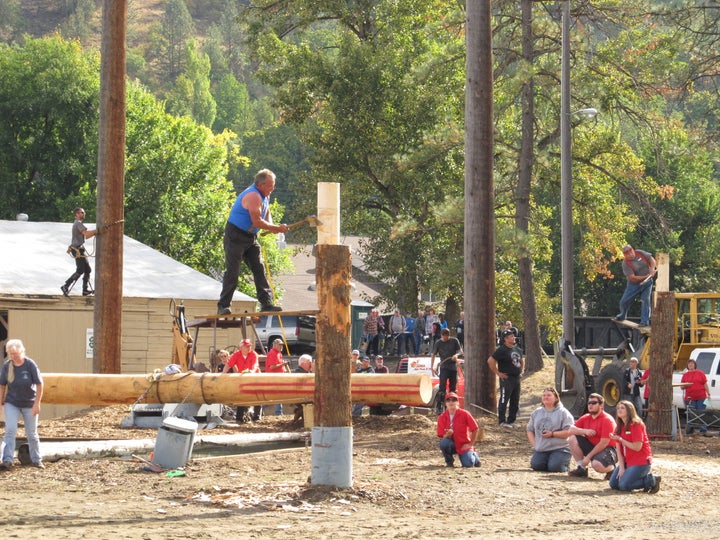 The announcer sounds like a swell guy and handles the events with grace. He's been doing this for at least a couple of decades from what I can gather. As two of the three men in the springboard ax event finish up, peach-colored wedges of trunk tumbling down to the ground, the announcer encourages the final competitor, the youngest of the three, and encourages the crowd to cheer for him. "Almost there! Come on, let's do it! Bring it home!" It's a good day to be a lumberjack.
Related
Popular in the Community