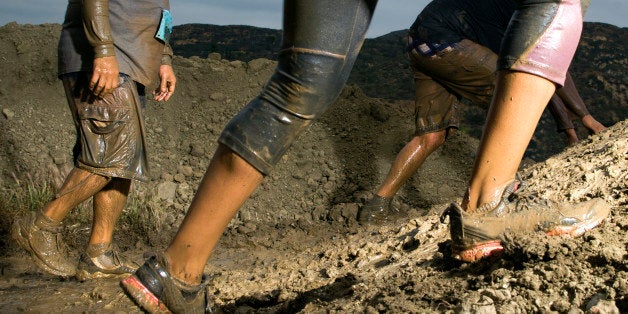 If you're participating in an obstacle race in the near future, you might want to make extra sure to keep your mouth closed during the mud-wading portion of the run.
The Centers for Disease Control and Prevention released a report showing that 22 people got sick during a long-distance adventure obstacle course because they had inadvertently consumed water that had been contaminated with cow or pig feces.
According to the report, three active-duty members of the military showed up to an emergency department in Nevada in October 2012 with symptoms of fever, bloody diarrhea and vomiting. After doctors interviewed them, they found that they had all participated in an obstacle adventure race on a cattle ranch, "in which competitors frequently fell face first into mud or had their heads submerged in surface water," the report said.
The Nellis Air Force Base Public Health Flight investigated further, and found that 22 people overall -- including 18 probable cases and four lab-confirmed cases -- had likely been sickened by Campylobacter coli, which causes diarrheal illness that usually lasts about a week. The illnesses occurred in both military personnel and civilians who had participated n the race.
"Primary and emergency care providers, as well as public health professionals, should be aware that obstacle adventure race events could pose a heightened risk for outbreaks from inadvertent ingestion of contaminated water or mud and might consider outreach to educate participants on the health risks from oral contact with contaminated surface water or mud," the researchers wrote in the study.
Because a lot of these races are held in more rural areas, it's possible for bacteria from animal feces to contaminate the slurry fields used in the obstacle courses. Therefore, "event organizers should consider including the risk for waterborne outbreaks in their participant waivers and advise participants to avoid drinking or swallowing unsafe water," they wrote. "Participants also need to be encouraged to seek appropriate medical care for postcompetition diarrhea, especially bloody diarrhea, and to inform medical personnel of their exposure."
Popular in the Community