WASHINGTON ― Former national security adviser Michael Flynn has offered extensive cooperation in the Russia investigation and shouldn't spend any time in prison, special counsel Robert Mueller's team said in a court filing on Tuesday.
Mueller's team, in two memos filed ahead of Flynn's Dec. 18 sentencing, said that Flynn participated in 19 interviews with the special counsel or other Justice Department officers and provided documents and communications. One memo ― heavily redacted ― specified some of the evidence that Flynn provided.
"His early cooperation was particularly valuable because he was one of the few people with long-term and firsthand insight regarding events and issues under investigation by the [special counsel's office]," Mueller's office wrote. "Additionally, the defendant's decision to plead guilty and cooperate likely affected the decisions of related firsthand witnesses to be forthcoming with the SCO and cooperate."
Flynn ― who joined in chants of "lock her up" against Democratic presidential candidate Hillary Clinton during the 2016 Republican National Convention ― admitted that he made a false statement to the FBI on Jan. 24, 2017. Flynn had denied that he'd asked the Russian ambassador not to retaliate over U.S. sanctions the Obama administration imposed in December 2016 in response to Russia's interference in the U.S. presidential election.
Flynn admitted in his plea that he spoke to the Russians at the direction of Trump transition team officials.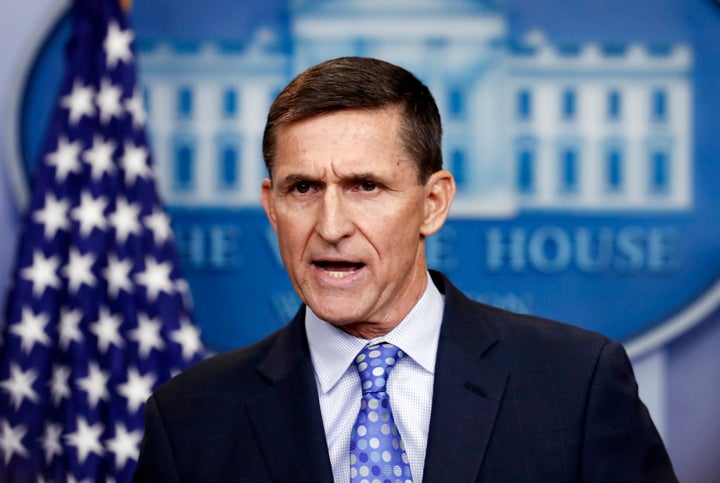 Flynn has played an outsized role in the investigation into Russian interference in the 2016 election. He had attended a 2015 gala in honor of RT ― the Moscow-controlled news station formerly known as Russia Today that later registered as a foreign agent of Russia ― where he sat next to Russian President Vladimir Putin.
After Flynn lied to FBI agents about his contacts with Russia in the beginning days of the Trump administration, former Acting Attorney General Sally Yates warned top Trump administration officials that Flynn was "compromised" and "could essentially be blackmailed" by the Russians. But Flynn refused to resign for weeks.
Flynn's name remained relevant to the Russia inquiry even after his firing. In a contemporaneous memo documenting his interaction with the president, former FBI Director James Comey said Trump expressed hope Comey could "see your way clear to letting this go," referring to the agency's investigation of Flynn, and called Flynn a "good guy."
Rudy Giuliani, one of the president's lawyers, claimed earlier this year that such a conversation never took place, but also said "there's nothing wrong with that" if it did.
On Tuesday, Giuliani downplayed the significance of the filing on Flynn, Politico reported.
"Wow big crime for a SPECIAL WHATEVER," Giuliani wrote in a text message to the outlet. "maybe a group of Angry Bitter Hillary Supporters who are justifying themselves by the goal justifies the means...."
After his firing, Flynn retroactively registered as a foreign agent for work his firm did for a Turkish company. A subsequently released financial disclosure report also revealed that Flynn received speaking fees from two other Russian firms in addition to RT.
The new filing follows a whirlwind week for Mueller's team. After receiving heavily vetted written answers from President Donald Trump on a wide variety of topics, Mueller's team last week accused former Trump campaign chairman Paul Manafort of breaking his plea deal by lying and extracted another guilty plea from former Trump personal attorney Michael Cohen, who pleaded guilty to a fresh charge of lying to Congress about talks between the Trump Organization and Russia about a potential Trump Tower in Moscow.
Former Trump campaign adviser George Papadopoulos also reported to federal prison last Monday to serve a two-week sentence after a judge shut down his last-minute attempt to back out of a plea deal, while conspiracy theorist Jerome Corsi ― who was in plea negotiations with Mueller's team ― made public a document that outlined Mueller's theory of contacts between Corsi, Trump associate Roger Stone and WikiLeaks founder Julian Assange.
Yahoo News reported this week that Mueller's team is "tying up loose ends" in the investigation and preparing to bring the probe, which began in May 2017, to a close.
This article has been updated with comment posted by Rudy Giuliani.
This is a developing story. Please check back for updates.
Popular in the Community